Crane Composites Executives Celebrate Tradition of Success and Generosity with University Leaders and Scholarship Recipients
Crane Fund for Widows and Children Continues Impact on NIU Students

Officials with Crane Composites, a Crane Co. company and the world's leading provider of reinforced composite materials for the recreational vehicle, building, and transportation markets, visited Northern Illinois University this Fall to meet some of the students who have benefited from scholarships from the Crane Fund for Widows and Children.

This year's event at Barsema Hall gave student recipients the opportunity to meet--and thank--the company's senior leadership including John O'Sullivan, '87, President of Crane Composites as well as Vice President of Supply Chain Bart Kittleson, '80, and Vice President of Human Resources Paul Storc.

With a fund established in 2010 through the NIU Foundation, Crane Composites has provided more than $200,000 in much-needed scholarships to students in the College of Business and the College of Engineering and Engineering Technology at NIU.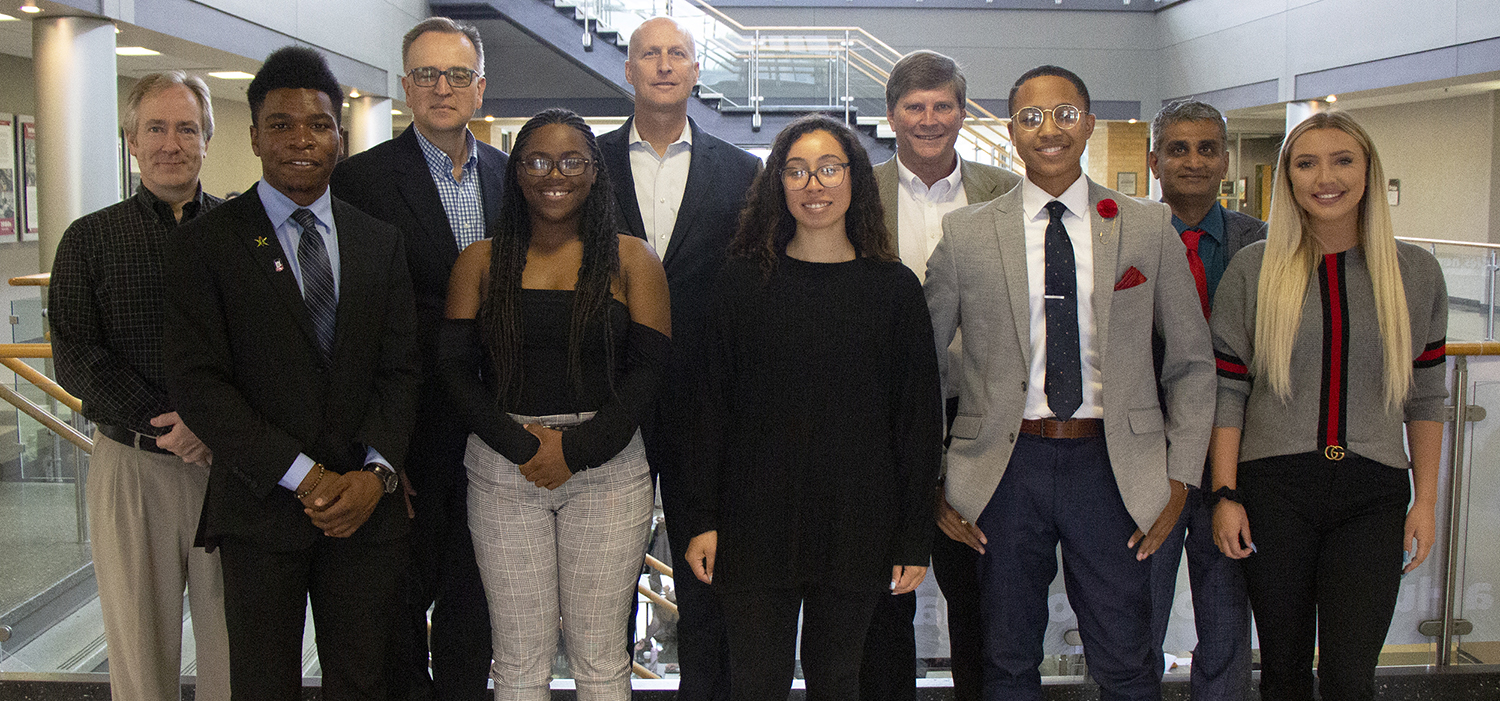 The group from Crane enjoyed lunch with grateful scholarship recipients from the College of Business Izabelle Blair and Samantha Keller. Recipients from the College of Engineering attending to thank the executives for their generosity included Edward Carter, Barbara Westerfield Robinson, and Di'Quan Ishmon.

Students at the event described the profound impact of their Crane scholarships, which not only have provided vital financial support but also personal and professional inspiration.

"I'm a full-time student and work two jobs to get through school, so this scholarship means a great deal to me," says Marketing major Izabelle Blair.

"I'm the oldest of four children," she explains, adding that the scholarship helps her serve as a role model for her sisters and brother as she finishes her degree.

Accountancy major, Samantha Keller, says she has big plans for herself in the years to come. After earning bachelor's and master's degrees in accountancy, she sees earning a CPA and landing a full-time offer with a public accounting firm in her future.

"I truly believe the sky is the limit," says Keller, adding, "I especially want to reach heights where I am in a position where I can offer scholarships at Northern for students like the generous support I've received."

Joining the students in their heartfelt appreciation were deans from both colleges: Balaji Rajagopalan, Dean of the College of Business and Don Peterson, Dean of the College of Engineering and Engineering Technology.

In both colleges, the scholarships are seen as a validation of the hard work, dedication, and vision of university leaders, faculty, staff, and students.

Engineering major Edward Carter sums up the sentiment. "I've been trying hard to get a scholarship for about a year now. Now that I received one, it's as if my hard work has been validated and that makes it all the more gratifying," he says.

Carter adds, "I keep in mind that even though I finally received a scholarship, that doesn't mean that it stops here. I won't ever stop in my efforts to propel myself in my studies, no matter what."