Finance and Investments
Investments
The Investment Committee of the Board of Directors has oversight responsibility for Investments. Members are professionals in the field who bring current expertise to the work. The Investment Committee conducts a thorough process to select and engage an independent consultant. This consultant advises on policy, setting strategy, and implementation of the strategy. The Investment Committee has adopted a diversified approach to investing that balances the goals of maximizing return while preserving purchasing power. By diversifying among asset classes and rebalancing toward target allocations, the Investment Committee expects to enhance the investments' real market value and provide a significant funding source to help meet the Foundation and University's funding needs.

Investment Policy
Endowment Management Policy
Assets
- As of June 30, 2021, the NIU Foundation's total assets were $170.6 million, $99.3 million of which were endowment.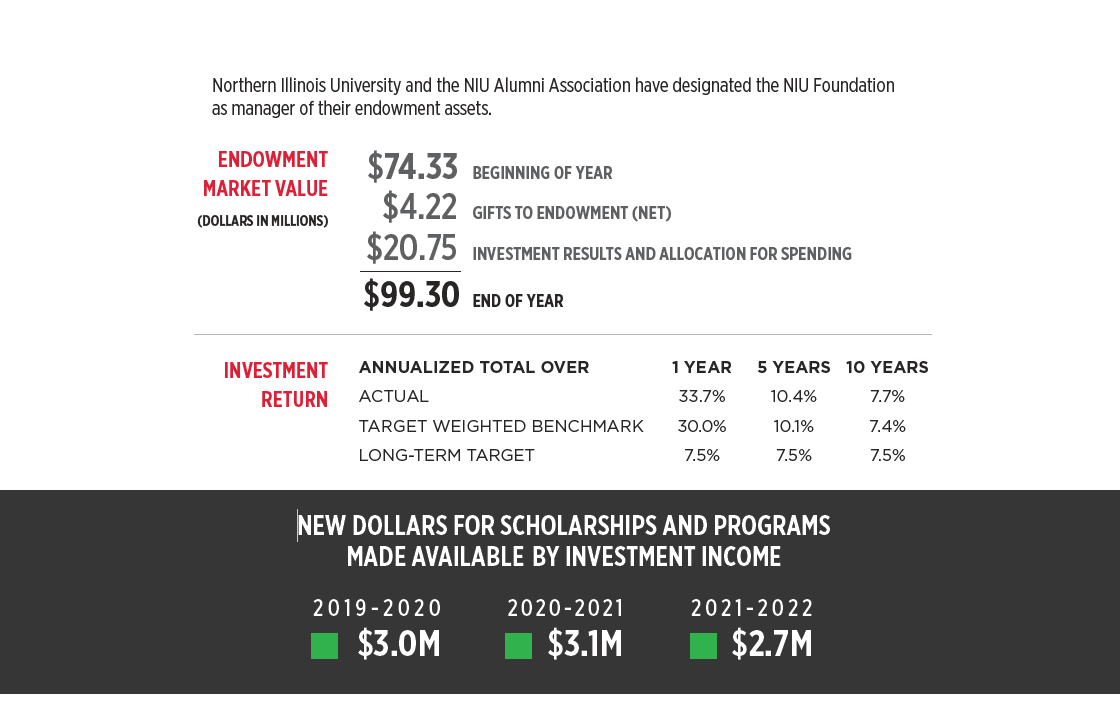 Endowment Market Value (dollars in millions)
Beginning of Year: $74.3
Gifts to Endowment: $4.2
Investment Results, net of spending: $20.8
End of year: $99.3
Investment Return
33.7% one year actual
30.0% target weighted one year return

10.4% annualized total over five years
10.1% target weighted return over five years
Endowment Returns Provided for Student Scholarships and Programs
$2.6 million (2017-2018)
$2.9 million (2018-2019)
$3.0 million (2019-2020)
$3.1 million (2020-2021)
$2.7 million (2021-2022)
The Northern Fund - Funding the Future
NIU alumni and friends understand the vital role private support plays in the life of Northern Illinois University and the profound impact it has on our students.
Each year, thousands of these donors become philanthropic leaders by providing gifts to support NIU students and to help create a transformational learning environment.
One of the University's most powerful sources of funding comes from unrestricted gifts. This support allows the University to respond to its highest needs, most urgent priorities, and areas of greatest opportunity. Unrestricted funding also supports the increasingly important mission of private fundraising through the NIU Foundation and allows the University to navigate and evolve in today's rapidly changing world.
Public universities like NIU employ a variety of methods to secure vital unrestricted funds. These methods include placing priority on unrestricted solicitations, using operating monies available to the University, assigning a modest portion of the endowment for unrestricted use, and designating a portion of each gift as unrestricted.
The unrestricted portion of each gift helps position the NIU Foundation to be the strategic partner that NIU needs and deserves. This portion is determined as follows:
When a donor makes an unrestricted gift, the NIU Foundation Board of Directors ensures that 100 percent goes directly to the highest and best use to advance and support the University.

When a donor makes a gift to the University Scholarship Fund, 92.5% of the gift will go directly to student scholarships and 7.5% will be allocated for unrestricted use.

If a donor wishes to support a specific campus program or another initiative, 85%of the gift will go directly to the named program or initiative and the unrestricted portion will be 15%.
The NIU Foundation pledges to its donors, and those who benefit from their generosity, to be a vigilant steward of donor gifts; to be judicious and efficient as we spend funds for development purposes; and to be transparent and ethical in the methods we employ to raise funds to support our students, faculty, and programs.
NIU Foundation Impact Reports