Finance and Investments
Investments
Investment Oversight
The Investment Committee of the Board of Directors has oversight responsibility for Investments. Members are professionals in the field who bring current expertise to the work. The Investment Committee conducts a thorough process to select and engage an independent consultant. This consultant advises on policy, setting strategy, and implementation of the strategy. The Investment Committee has adopted a diversified approach to investing that balances the goals of maximizing return while preserving purchasing power. By diversifying among asset classes and rebalancing toward target allocations, the Investment Committee expects to enhance the investments' real market value and provide a significant funding source to help meet the Foundation and University's funding needs.

For more information, please refer to the NIU Foundation Investment Policy and NIU Foundation Endowment Management Policy.

Frequently Asked Questions about the NIU Foundation Investment Strategy
Answered by NIU Foundation Treasurer, Jack Tierney, '75, M.S.Ed., '78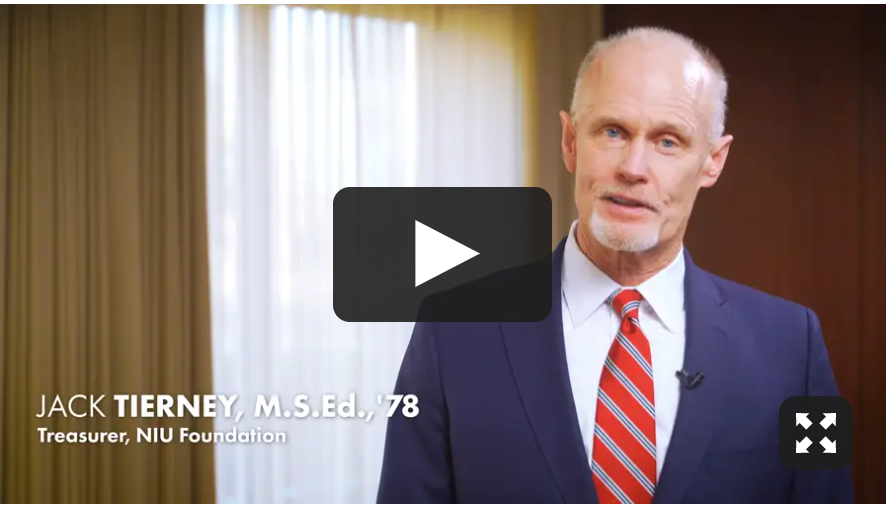 Environmental, Social, and Governance (ESG) Position
The primary investment objective of the NIU Foundation Endowment Fund is to achieve an annualized total return (net of fees and expenses), through appreciation and income, equal to or greater than the rate of inflation (as measured by the broad, domestic Consumer Price Index) plus any spending and administrative expenses, thus, at a minimum, maintaining the purchasing power of the Fund. The assets are to be managed in a manner that will strive to meet the primary investment objective, while at the same time attempting to limit volatility in year-to-year spending.
In addition to our primary responsibility of maximizing returns within the bounds of acceptable risk, the Investment Committee of the NIU Foundation will periodically analyze our investment portfolio for compliance with certain environmental, social, and corporate governance (ESG) criteria. This ESG monitoring will apply to the underlying holdings and practices of both new investment opportunities as well as existing portfolios. Although the Committee cannot dictate policy to pooled/mutual fund investment managers, the ESG monitoring process is intended to ensure that the holdings of the underlying funds are in keeping with our objectives and goals. The Committee acknowledges that investing in companies and portfolios that are models of good governance and global responsibility may enhance long-term performance and outcomes.
Endowment Performance - FY22
Assets - As of June 30, 2022, the NIU Foundation's total assets were $169.3 million, $89.7 million of which were endowment.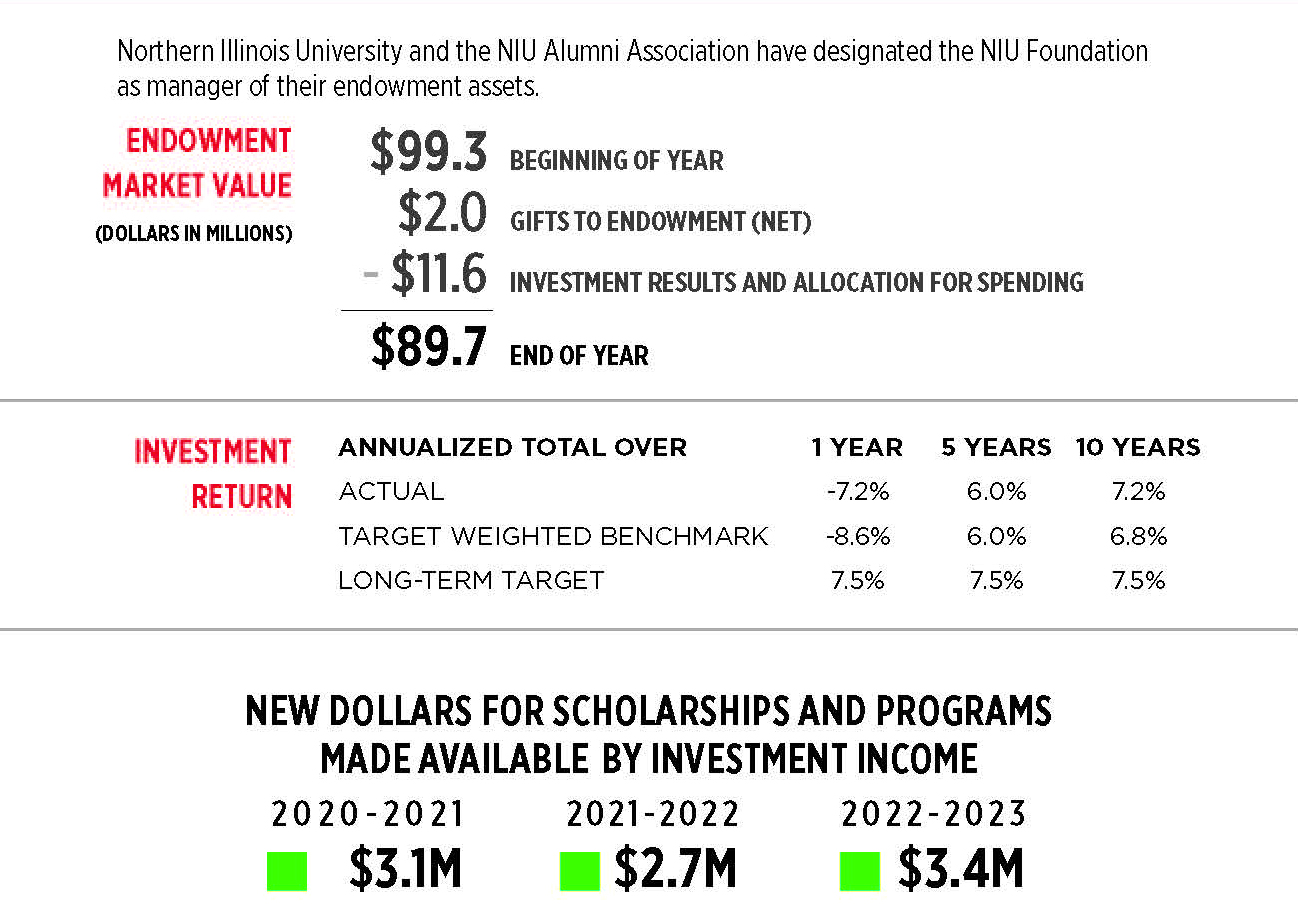 Endowment Market Value (dollars in millions)
Beginning of Year: $99.3
Gifts to Endowment: $2.0
Investment Results and allocation for spending: $11.6
End of year: $89.7
Investment Return
-7.2% one year actual
-8.6% target weighted one year return

6% annualized total over five years
6% target weighted return over five years
Endowment Returns Provided for Student Scholarships and Programs
$2.6 million (2017-2018)
$2.9 million (2018-2019)
$3.0 million (2019-2020)
$3.1 million (2020-2021)
$2.7 million (2021-2022)
$3.4 million (2022-2023)
FY22 Summary - Impact of Philanthropy
Throughout FY22, NIU Donors demonstrated an unwavering commitment to improving the lives of our students and empowering their full potential. Find out more here.
The Northern Fund - Funding the Future
NIU alumni and friends understand the vital role private support plays in the life of Northern Illinois University and the profound impact it has on our students.
Each year, thousands of these donors become philanthropic leaders by providing gifts to support NIU students and to help create a transformational learning environment.
One of the University's most powerful sources of funding comes from unrestricted gifts. This support allows the NIU Foundation to seize emerging and existing opportunities to help support the University. Unrestricted funding also supports the increasingly important mission of private fundraising through the NIU Foundation.
Public universities like NIU employ a variety of methods to secure vital unrestricted funds. These methods include placing priority on unrestricted solicitations, using operating monies available to the University, assigning a modest portion of the endowment for unrestricted use, and designating a portion of each gift as unrestricted.
The unrestricted portion of each gift helps position the NIU Foundation to be the strategic partner that NIU needs and deserves. This portion is determined as follows:
When a donor makes a gift to support student scholarships or a specific campus program or initiative, 95% of the gift will support student scholarships or the specific campus program or initiative. 5% of restricted gifts will support The Northern Fund – a pool of unrestricted support that allows the Foundation to seize emerging and existing opportunities to help support the University.

When a donor makes an unrestricted gift, 100 percent goes directly to the Northern Fund.
The NIU Foundation pledges to its donors, and those who benefit from their generosity, to be a vigilant steward of donor gifts; to be judicious and efficient as we spend funds for development purposes; and to be transparent and ethical in the methods we employ to raise funds to support our students, faculty, and programs.