Volunteer Spotlight
Marty Johnstone Felt Something Was Missing, So He Started Giving Back to NIU
By Eva Richards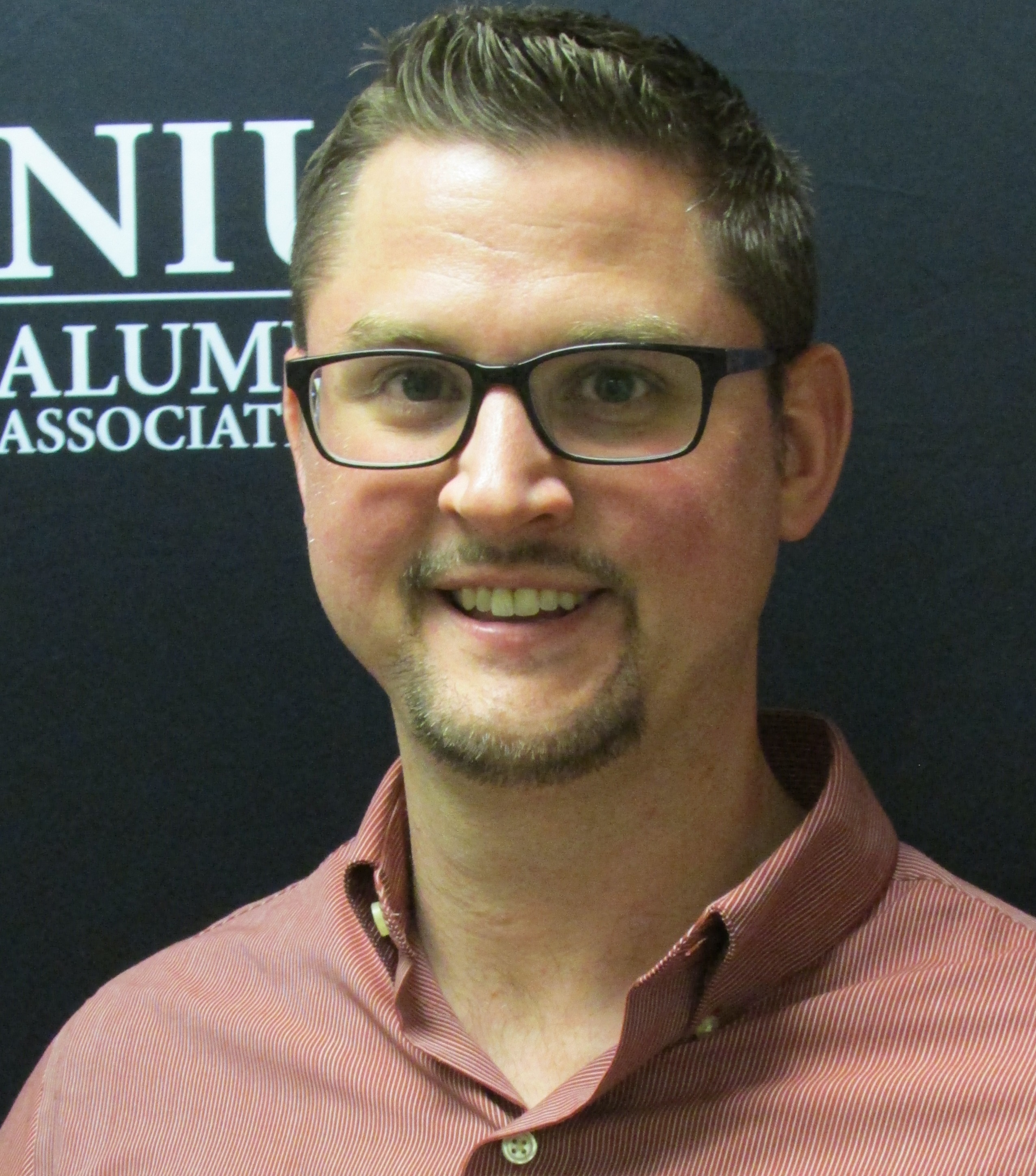 As president of the NIU Huskie Marching Band Alumni Council and a member of the Alumni Association's Board of Directors, Marty Johnstone is a dedicated Huskie. His enthusiasm for his alma mater is palpable in conversation, and he gives of his time and energy freely, helping students in various ways each year.

NIUAA: Tell us about your experience leading up to choosing NIU.
Johnstone: By the time I was in high school, I knew I was interested in finding a university that could do two important things—prepare me for a career in IT and also deliver a quality marching band experience. The summer before my senior year, my mom and I came to NIU. We toured the dorms and were impressed. We scheduled time with admissions to just hear what NIU had to offer, and heard that I might want to look into the College of Business' Operations Management and Information Systems (OMIS) major. I met with someone at the OMIS office and, after that day on campus, I was excited about what NIU offered. I was thrilled with the fact that an OMIS degree from the College of Business would potentially give me multiple career options after graduation. I was also drawn to performing in the marching band at a Division I school and the possibilities this brought for bowl games performances, ESPN games, and a larger football following.

NIUAA: Tell us about your experience while at NIU.
Johnstone: During my freshman year, I lived in Lincoln Hall and quickly made lifelong friends with other marching band members. That first year was very character-building and really tested me. During the first week of marching band camp, I failed to make the cut for a spot on the field. This meant that I was able to practice with the group, but I couldn't perform on the field for the first game. And I had to try out again before the next show. I was off to a really upsetting start, but being "cut" from the band my first year drove me to succeed and still drives me to never give up. That fall, I spent lot of time in practice rooms, working with upperclassmen and giving it my all to get better. Three weeks later, I got a chance to try the playing test again, and I made it!

Academics were not always easy for me either, as I was a "terrible test-taker" and struggled with then-undiagnosed ADHD. Still, the skills I garnered from the OMIS curriculum and hands-on experiential learning were life-changing. The most memorable experience was my senior year capstone class. We were put into project teams of six, then assigned to a company that had a business problem that we had to solve. The experience I gained in that course tied everything all together, helping me apply to the real world what I had learned throughout my years of college. Our group had been so successful in building an IT solution for the problem the company had that they asked us to be hands-on during the implementation.

NIUAA: Tell us about your experience after graduating NIU.
Johnstone: During the summer, I interned at the Chicago Mercantile Exchange in their data center engineering team. Two days after graduation, I started as a full-time employee in the data center team as an engineer. Understanding the day-to-day grind required to operate and maintain massive stock exchange facilities helped lay the groundwork for the rest of my career. I quickly moved into a project management role, overseeing multimillion-dollar projects and leading the data center team through many process redesign projects, and then moved up as a team lead. Along the way, I was introduced to his current company, RF Code, as I helped the company improve its processes. In 2016, RF Code approached me about working for them as a technical sales engineer, and for me, it was a dream opportunity. I loved the product, already knew most of the team in some capacity, and was excited to take on a new challenge. As expected, I quickly fell in love with my role, and am still enjoying it today. I have now been a part of multiple large multimillion-dollar sales to Fortune 100 companies, and I have been able to make an impact on growing our company.

NIUAA: Please share why you volunteer with NIU.
Johnstone: After graduation, I felt something was missing until I began giving back to the University. Now, as president of the NIU Huskie Marching Band Alumni Council, I help alumni band members connect with one another and current student band members. The most rewarding part of working with the alumni marching band is the interaction with the current students. When I am on campus, I try to make a point to get to a rehearsal or stop in the music building. I have even worked with a few members outside of the marching band in mentoring them through projects or preparing for life after college, as they start their careers.

NIUAA: In a few sentences, please share the impact NIU has had on your life.
Johnstone: Attending NIU was such a pivotal time in my life. I grew in so many ways, and the faculty gave me a lot of opportunities and helped me to build my confidence up. By the time I started my career, I felt like I had a lot of experience to go into my first day and be successful. I want to help make that happen for students now.

If you would like to learn more about how you can use our strengths and passions to benefit NIU, please contact Liz McKee, M.S.Ed. '14, at LmcKee1@niu.edu or 815-753-7400.