Sophia Arnold: New NIU Foundation Board Student Rep
The NIU Foundation Board of Directors has a new student voice.
At its summer 2020 meeting, the Foundation Board approved the appointment of Sophia Arnold as its newest student representative.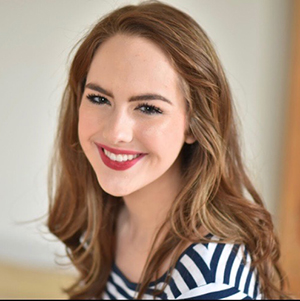 Arnold, who hails from Muncie, Indiana, is earning a Bachelor of Fine Arts in Acting at NIU and comes highly recommended by faculty in her department who describe her as mature, highly intelligent, confident, and capable.

Arnold commented on her new role, "I'm honored to be a voice for NIU students and contribute to the important work of the Board. The NIU community is incredibly important to me," she says. "This is a great way for me to give back to the students and faculty who have supported me and the school that has formed me."

For the past year and a half, Arnold has served as a student assistant in the College of Visual and Performing Arts School of Theatre and Dance where she has helped recruit students to the Bachelor of Fine Arts in Acting Program.

Her supervisor, Associate Professor Stanton Davis, nominated Arnold for the student representative position on the Board citing her stellar academic record and accomplishments as program assistant as qualities that make her well-suited to represent her fellow students.

Arnold is not only an accomplished actress but also an experienced musician and dancer, having 10 years of training in the violin and 15 years of training in dance.

"We truly appreciate the important perspectives our student representatives bring to our work," said Catherine Squires, '80, President & CEO of the NIU Foundation. "The Board greatly benefits from the voice of NIU students at the table. In addition to providing unique and important perspectives, the student directors are an active and present reminder of the importance of our work."

Serving the Board is a natural role for the actress who has a strong background in, and appreciation for, philanthropy. "To me, philanthropy means having the opportunity to use my resources and talents to better the community around me and to create a better world," she says.

Arnold's not-for-profit experience includes working with the NIU Communiversity Gardens, the NIU Food Pantry, and the Youth Symphony Orchestra of East Central Indiana. She has taught ballet classes at the Muncie Ballet and has completed an internship working to build community engagement with the Indianapolis Shakespeare Company.

"I firmly believe that even as a college student, I have the ability to provide philanthropic insight and positive change in the NIU community," Arnold says. "I am very thankful for the way not-for-profits have benefited my life and have a strong desire to do what I can to give back to organizations in the same way that they have provided experiences, growth, and opportunity to me," she says.

"I feel that Sophia would represent NIU very well in any circumstance," says Arnold's nominating professor, Stanton Davis. "I look forward to having her serve in such an important capacity."