NIU Alumni Association Announces 2020-2021 Board of Directors and Officers
The board elected Joseph Sener, '93, M.S. '10, as president; and
Sankat Patel, '00, as vice president.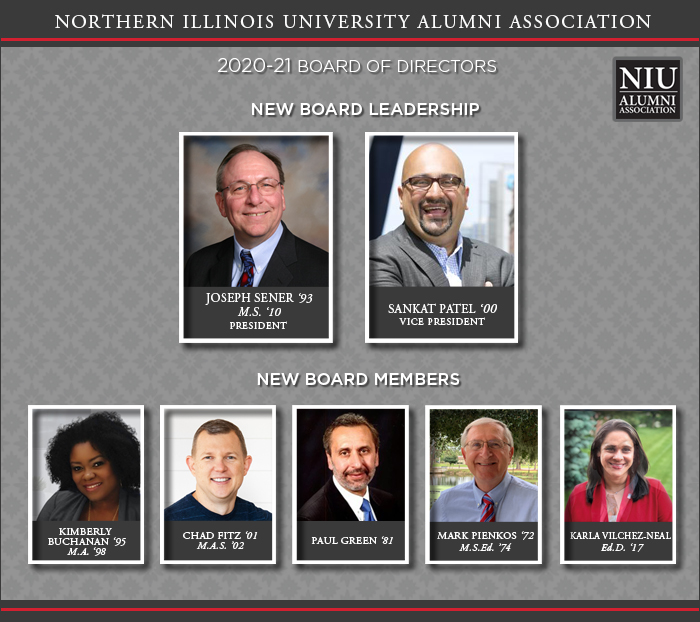 Joseph Sener, '93, M.S. '10 was elected by his peers and assumed duties as the NIU Alumni Association's board president on July 1, 2020, following his two-year term as vice president.

Sener succeeds Peter Garrity, '71, M.B.A. '76, who will serve as the immediate past president, while Sankat Patel, '00, fills Sener's vacancy as vice president.

"Joe Sener is is a forward thinker who not only has the best interests of NIU in his heart, but the alumni association as well," NIU Alumni Association Executive Director Reggie Bustinza said. "The transition from Pete Garrity to Joe will be seamless, and I believe that he will help continue the alumni association trending upwards. "

Joining the board were Kimberly Buchanan, '95, M.A. '98; Chad Fitz, '01, M.A.S. '02; Paul Green, '81; Mark Pienkos, '72, M.S.Ed. '74 and Karla Vilchez-Neal Ed.D. '17.

"I'm tremendously impressed with not only the quality of our new board members, but the character and experience that they bring to the table," Bustinza said. "Our board thrives on unique perspectives and ideas, and I believe that these Huskies are wonderful additions."
All new appointees began their term on July 1.
NIU Alumni Association
Board of Directors
OFFICERS
President: Joseph Sener '93, M.S. '10
Immediate Past President:
Peter Garrity '71, M.B.A. '76
Vice President: Richard Escalante '74, M.A.P.A. '78
Vice President: Sankat Patel '00
Treasurer: Michael Hughes '92, M.A. '93
Secretary: Reggie Bustinza

BOARD MEMBERS
David Albright '87
Louis Apostol M.B.A. '74, J.D. '78
Marlo Barnett M.S.Ed. '12, Ph.D. '17
Kimberly Buchanan '95, M.A. '98
Michael Cahill '12, M.A.S. '13
Lane Coleman '86
Chad Fitz '01, M.A.S. '02
Carlos Fulcher '90
Paul Green '81
Pat Gregolunas '77, M.S. '11
Donald Hubbartt '96, M.B.A. '01
Marty Johnstone '09
Thomas Libert '74
Jacqueline Marcus '72, M.S. '79
Kimberly Moore '01, M.M. '04
Vinay Mullick '00
Mark Pienkos '72, M.S.Ed. '74
Sherry Reynolds-Whitaker M.B.A. '09, M.S.Ed. '13, Ed.D. '16
Valerie Salmons '74, M.P.A. '77
Joe Sosnowski '99
Karla Vilchez-Neal Ed.D. '17
Fred Vinciguerra '88