Elizabeth Nielsen, '10, M.A. '12, Ensures 'Tiny Voices' Are Heard
By Eva Richards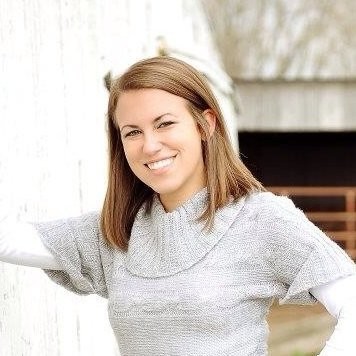 Nielsen, '10, M.S. '12, founded Tiny Voice Therapy Services, LLC, in Elburn, Illinois, which is a one-on-one speech-language therapy that is individualized to fit a child's specific communication needs.
Even as a child, Elizabeth Nielsen, '10, M.A. '12, wanted to help others to feel more understood.

Growing up in Plainfield, Illinois, with two older sisters, Nielsen was quiet and independent, but was always trying to assist her middle sister, who had disabilities, in navigating her environment.

"Growing up with a sister who has disabilities has made me the person I am today," Nielsen said. "I always strived to do my best at whatever the task may be. When I was in middle school, my mom found a therapeutic horseback riding facility for my sister to take lessons. We both took lessons there, and I volunteered helping other riders with various disabilities."

Nielsen, who now runs Tiny Voice Therapy Services in Elburn, Illinois—a one-on-one speech-language therapy clinic that is individualized to fit a child's specific communication needs—credits her mother with introducing her to the field of speech-language pathology when she was in middle school.

"When I was young, I wanted to become a teacher, but I was also fascinated with anatomy and had an interest of going into the medical field," Nielsen said. "Speech language pathology is a great combination of those areas of study, so my mom insisted I observe a speech language pathologist at the preschool where my mom was a paraprofessional. I enjoyed observing the interactions between the therapist and the students and to see the celebrations when the students met their goals."

Fast-forward to Nielsen's undergraduate career, and Nielsen and her mother became certified as therapeutic horseback riding instructors. Not long after, Nielsen transferred to NIU for her junior and senior years to pursue her bachelor's degree in speech pathology.

"I had heard NIU's communicative disorders graduate program was excellent," she said. "While completing my undergraduate degree, I built great relationships with the professors through being a teacher's assistant, conducting research with them and being the secretary of the Communicative Disorders Student Association. I loved the atmosphere NIU provided and the individualized attention from the professors."

Before earning her bachelor's, Nielsen had the opportunity to tour the NIU's state-of-the-art, speech language hearing clinic.

"After the tour, I knew NIU was where I wanted to obtain my master's degree," she said.

Even as she earned her degree, she knew she wanted to open her own private practice and, one day, to include animals into her clinic.

"I even did a presentation about opening a private practice for one of my graduate classes," Nielsen said. "So, I was doing the research even before graduating with my masters! I knew it was going to take time, effort, patience and perseverance."

Nielsen earned her master's degree in 2012 and began her career working in both the private practice, seeing early intervention patients at a clinic, and the school setting. While working full-time in the schools, she started gradually obtaining clients on the side.

"Pretty soon, I had quite a caseload and knew that I could comfortably do this kind of work full-time," she said, noting that September 2020 marks six years since the services opened.

Nielsen and her husband moved onto a farm in Elburn, Illinois, in November 2019. There, she was able to start incorporating animals into her therapy sessions. Today, she serves clients from birth to age 21, specializing in children with autism who utilize augmentative and alternative communication (AAC) devices. AAC devices provides speech and language to children who are minimally verbal or nonverbal and give them access to express not only their wants and needs, but to participate in every social and learning environment.

Every year, Nielsen also runs a summer camp for children who use AAC devices.

"We take community trips to assist the campers on how to use their devices out in the community and to provide parents with ideas as well," she said. "I also like creating awareness of devices to people out in the community and to teach community members how to communicate with a device user. It is important to educate others that these children have a voice and have a desire to communicate with others."

Nielsen takes pride in the fact that she provides a natural learning environment for her clients. With the use of the animals, her sessions are fun, engaging, and language-enriched. Her clients get to participate in all the chores on the farm—making snacks for the animals (horses, ducks, goats, pigs, and more), brushing them, and giving them food and water.

"I try to include all members of the client's family into my sessions, so that everyone can learn how to communicate with each other," she said. "Building a relationship with the family is fundamental for the client's learning, and I am honored I get to do so in the private practice setting."

In her daily work, Nielsen is always ready to run into a new situation where she may not have knowledge. She thrives on the opportunity to learn new aspects of her work while helping her patients to succeed.

Currently, Tiny Voice is in the process of constructing an indoor riding arena to incorporate horses into speech therapy sessions—a long-time dream that is finally coming true for Nielsen.

"My hope with this new addition is to hire other disciplines—physical and occupational therapy—to my team," she said. "I am hoping to use NIU undergrad students who are specializing in communicative disorders to volunteer their time during the therapy sessions involving the horses. My ultimate dream is to open a private school for children who use AAC devices, to provide an individualized program that is educational and functional."

Nielsen already provides NIU speech pathology graduate students with opportunities for internships and learning experiences. Each semester, she works alongside the students and gets to know them.

"I have built some great connections during my time at NIU," she said. "I love this tight-knit therapy community in this Northern Illinois area where I could always turn to someone for resources. I love that, through it all, I still have a strong connection with NIU."