Double Huskies Terry and Jackie Dickow Proudly Support College of Education
By Eva Richards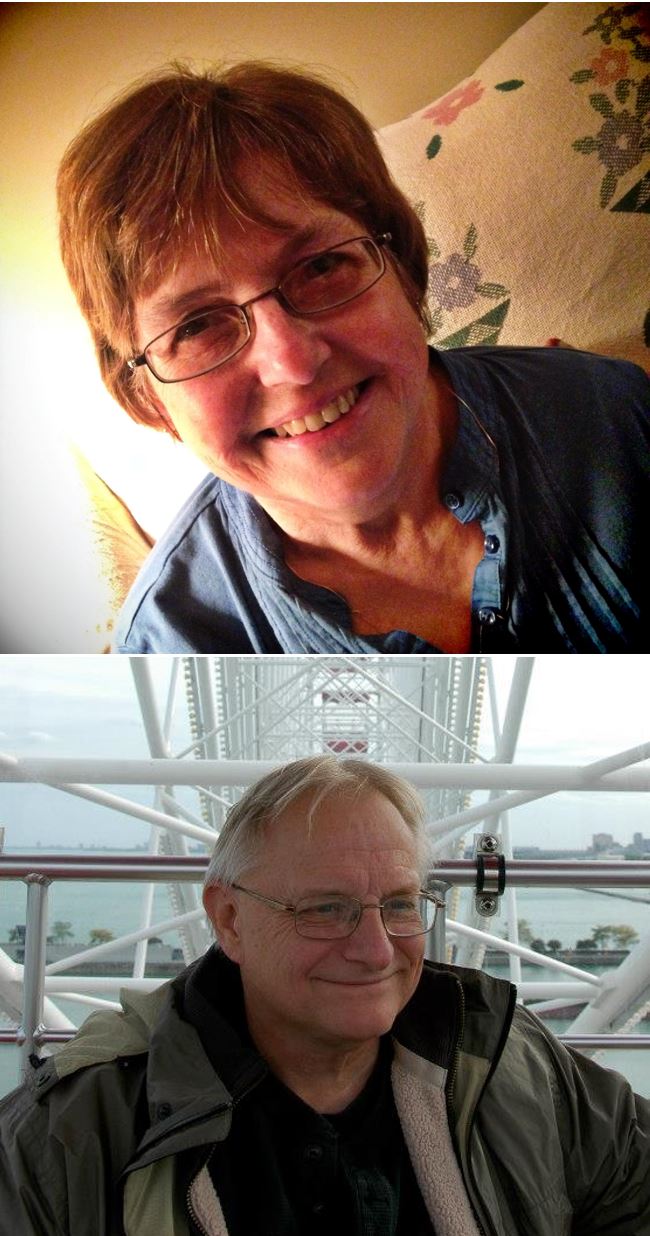 Jackie, '74, M.S.Ed. '81, and Terry, '71, M.S.Ed. '84, are committed to supporting the College of Education.
It all started with a blind date.

When Terry Dickow, '71, M.S.Ed. '84, agreed to go out with the friend of his housemate's girlfriend—Jackie, '74, M.S.Ed. '81—neither one imagined the evening would turn into more than 50 years of marriage, two daughters, Emily and Julia, and a shared dedication to education that would span their lifetimes.

As a freshman in college, Terry lived off campus, due to an on-campus housing shortage. Spending time with juniors and seniors in their house led to a suffering grade point average. When the weekend came, he would usually go home to the north side of Chicago to visit friends and family. However, after he met Jackie and saw what a committed student she was, everything changed. He refocused on his studies and became active with a group of students in the journalism department.

Growing up in Rolling Meadows, Illinois, Jackie and her family did not have a lot of money, so she worked hard to make the most of her opportunity at NIU.

"I was an Illinois State Scholar in high school, so I was able to receive free tuition to NIU," Jackie said. "My family was not rich, and that scholarship helped a lot. To me, grades were so important. Not coming from very much, I was very excited that I could go to college."

As Jackie and Terry began to spend more time together, they began building a friend group and making treasured memories. Together, they attended Huskie football and basketball games, seeing greats, such as Jim Bradley, playing live.

The two married in 1969, while still attending college, and welcomed a daughter, Julia, in 1970.

"It was harder to do the normal college things that we had once done when we had a baby," Jackie said with a laugh. "I remember bringing our 2-month-old to the bar where Terry was meeting some friends, and she kicked a beer onto the floor. Still, we took her with when we could."

They continued to support each other as they earned their degrees, with Terry receiving his B.S. in journalism in 1971. He secured a job as a reporter and photographer for the nearby Rochelle, Illinois, paper while Jackie finished her studies. When Jackie received her B.S. in elementary education in 1974, she was hired as a teacher in Steward, Illinois, where she worked for three years, and then moved to Tilton Elementary School in Rochelle.

In the meantime, Terry, who had moved up the ranks at the paper to become an editor, began to question his life's purpose.

"I wasn't satisfied," he said. "It just so happened that I was always the one on the paper staff who took the school groups on tours of the paper building. I remember that one of the teachers told me, 'You do so well with the students, you should be a school teacher,' and I kind of ignored it. But then, one morning after my 30th birthday, I started asking myself, 'What do I want to do with my life?'"

Terry had seen the positive impact Jackie had on her students, and he began to consider a career change. With his wife's encouragement, he decided to pursue a teaching career certificate, followed by a master's degree in outdoor education at NIU's Lorado Taft campus. As luck would have it, Terry was hired on as a fourth grade teacher at Tilton, where he taught along with Jackie for 28 years.

"I think it helped that I was a man, and there weren't a lot of male elementary teachers at that time," Terry said.

"Some people wonder how we could work together and be married," Jackie said with a chuckle, "but we were on opposite ends of the building. Our jobs never overlapped much, so it wasn't much of a challenge."

Today, Jackie and Terry are both retired, having stepped back from teaching in 2007 and 2008, respectively. Although Jackie has been diagnosed with multiple sclerosis and uses a wheelchair, the couple is still active in many ways in their community, including with NIU.

"Going back to my college days, I did some work for the College of Education office. One of the professors I knew there was Jerry Johns, and Terry and I have known him for many years," Jackie noted. "We know many teachers in this region, and kept in touch with professors at NIU, so we had a special connection to NIU's College of Education."

Because of this connection, the Dickows have made a commitment to routinely and generously give to the college's strategic priorities.

"The college is the main reason that we are blessed with the jobs and pensions we have had," Terry said. "It's not easy for a lot of people to go to school. We never take that for granted. We give on a monthly basis, and the funds are automatically deducted from our account. It is easy! I don't see why more people don't make it a habit to give in that way."

The couple remains active at St. Paul's Episcopal Church in DeKalb, Illinois, where they were married more than five decades ago and supports WNIJ public radio in DeKalb, a cause that is close to their hearts because of their belief in public education and Terry's start in journalism. Jackie is the president of the Library Board in Rochelle, while Terry writes a weekly column in the Rochelle News Leader in DeKalb, and is active in the Rochelle Rotary Club, community theater and his improv group, "Exit 99," which references the exit to Rochelle from Interstate 39.

Always ready to learn something new, the Dickows have also enjoyed exploring Europe for the last 17 years as, until recently, their daughter Julia worked in Switzerland for Nestlé.

"We were able to visit her and use her apartment for a base for exploring," Terry said. "We went for three weeks each summer and visited places that we never thought of going. I am in love with France—with the food, the people, and the language. We like finding smaller towns where we can really get a feel for how people live there."

While the pandemic has halted their travel plans for now, Terry hopes to be able to return overseas soon. In the meantime, the Dickows quietly support their causes, including the NIU College of Education, making a positive difference in the community around them.

"In our small way, we are helping students to maybe have a chance to have success in life," Jackie said. "We are happy to support these deserving causes."

To learn more about how you can impact students' lives by giving to the NIU Foundation, visit www.niufoundation.org.