Patterson Scholarship Winners Humbled by Award, Ready to Reach Goals
By Eva Richards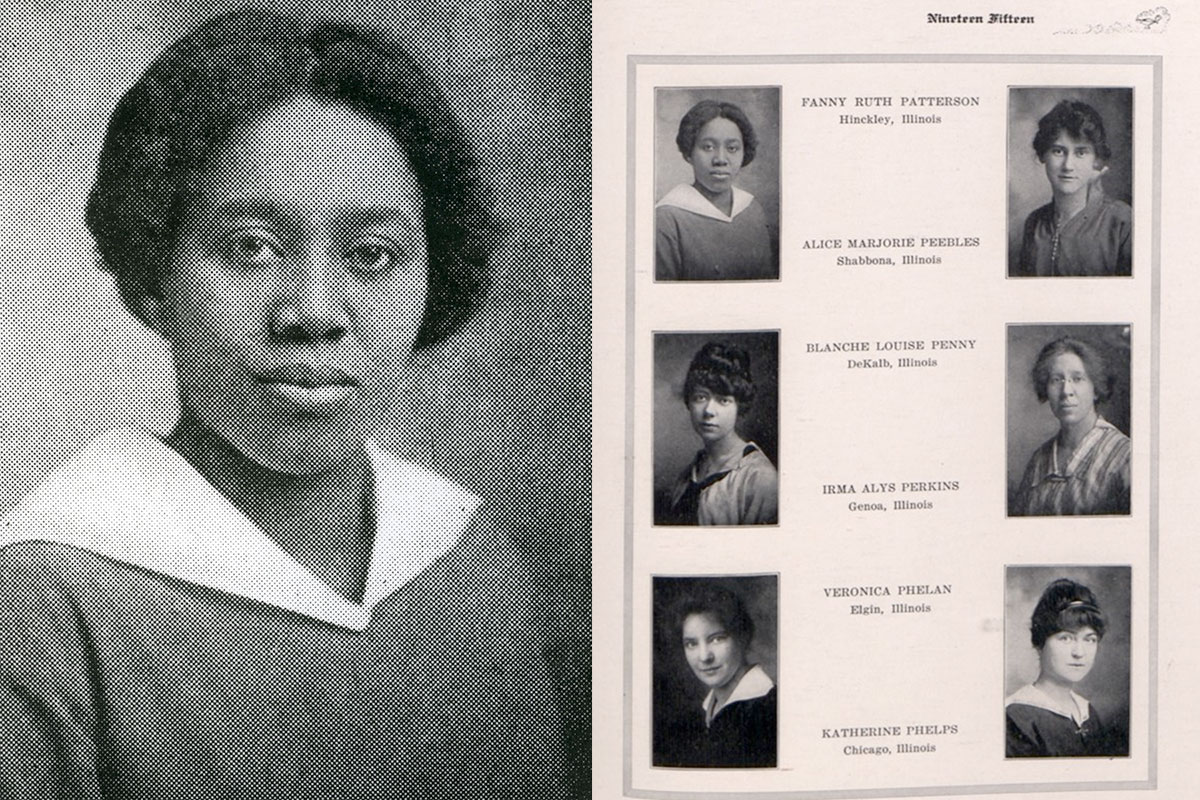 For her place in history, Fanny Ruth Patterson has become an example of dignified determination and purpose for NIU African American students.
The struggles of the African American community have been highlighted more this year than ever before. Despite these struggles, Black students at NIU rise above the storm and push on to success, especially with support from groups like the NIU Alumni Association Black Alumni Council (BAC).

Founded in 1976, the BAC works to support Black students at NIU and to be a resource for NIU's Black alumni. Each year, the BAC awards the Fanny Ruth Patterson Scholarship in order to celebrate Black Huskies' perseverance and promise.

This year's scholarship recipients were: senior Kee Taylor, who is studying instrumental music education; junior Brooke Benford, who is studying biomedical engineering with a French and an applied mathematics minor; and junior Kyle Johnson, who is studying political science with a minor in history.

"We are very proud of this year's scholarship recipients," said BAC President Michael Pattrick,'90, M.S.Ed. '94. "They represent the cream of the crop, and follow in a long line of dedicated African American students striving to close the equity gap and contribute to the success of their communities.


"The Fanny Ruth Patterson scholarship represents the African proverb, 'It takes a village to raise a child,' and we like to believe that we are that village," said BAC Vice President Toni Minter, '97.

Taylor, who will graduate this winter, says the financial support comes at the perfect time.

"When I found out (I would receive the scholarship), I was over the moon. I was very excited and honored to hear that I got this scholarship," they said. "Next semester, I will be student-teaching, and I was concerned about if I would be able to afford to do that. With this scholarship, I am able to do it, and that makes me very happy."

Benford says that, while the funds mean a lot now, she is most focused on how the scholarship will help her to create the future she imagines as a biomedical engineer.

"Receiving this scholarship means a little more than just a monetary gain," she said. "This scholarship allows me to make the Brooke of yesterday and all those who came before me proud—proud to know that I am moving closer to achieving my goals."

Johnson is humbled by the vote of confidence this award symbolizes.

"It means a lot to me because, as an African American male coming from a single-parent home, my mom bears all the responsibilities at home," he said. "It means a lot for me to see her work hard and for me to emulate that and be that type of hard worker that receives honors. 2020 was a hard year for people—I feel I have been blessed to receive this special award."

"The Black Alumni Council was so kind to choose me for this scholarship," Johnson said. "When I get helped, I like to see how I can pay it forward."

The council has given tens of thousands of dollars in Fanny Ruth Patterson Scholarship Awards, named for the first black student to graduate from NIU. Fanny Ruth Patterson from Hinckley, Illinois, was the first African American student to graduate from Northern. After completing high school, Patterson worked for a few years before enrolling at the teaching college at the age of 21. When she completed her two-year degree in 1915, NIU President John W. Cook wrote a letter of recommendation for Patterson to the head of personnel for the St. Louis school system where she had applied for a teaching job.

"She is a most excellent and interesting young woman, and she has had the entire confidence of everybody with whom she has worked." Cook recommended her for a position teaching English and history.

For her place in history, Fanny Ruth Patterson has become an example of dignified determination and purpose for NIU African American students. Pattrick, Minter, and so many Black alumni hope Patterson's exemplary traits will live on in today's scholarship recipients.

"The BAC hopes that the scholarship the recipients received this year will help them continue on their degree-seeking path," Minter said. "The ability to award scholarships is especially important during the pandemic because we are all aware of the financial challenges and hardships that were unforeseen because of COVID-19."

"The BAC is happy to do our part in assisting Black NIU students to reach their ultimate goal of obtaining a college degree," Pattrick said. "The pandemic has created a very unique learning environment for today's student, and the fact that these individuals were still able to excel speaks volumes for them."