Huskies United for Diversity, Equity, and Inclusion
Tuesday, June 22, 2021
5-6 p.m. CT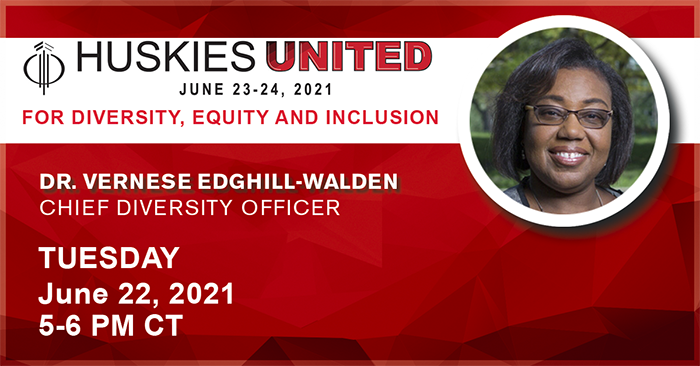 Hear from NIU's Chief Diversity Officer, Vice President for Diversity, Equity and Inclusion, and Interim Chief Human Resources Officer Dr. Vernese Edghill-Walden as she shares about NIU's work in diversity, equity and inclusion and paints a vision for these efforts in the future.

Dr. Edghill-Walden will be joined by staff from NIU's Office of Diversity, Equity and Inclusion in a virtual roundtable-style discussion about the division and the work taking place, followed by attendee questions.

This event is part of series leading up to the NIU Foundation's Huskies United, June 23-24. For more information on Huskies United, please visit the website at https://dog.niu.edu.

If you have questions, please contact Dana King, '05, at dking1@niu.edu or 815-753-5421.
Event Details
Cost: Free
When:
5:00PM - 6:00PM Tue 22 Jun 2021, Central timezone

Virtual Event Instructions:
A link to the Zoom meeting will be sent with your registration confirmation.