Huskies United for Scholarships and the Student Experience
Thursday, June 17, 2021
5-6 p.m. CT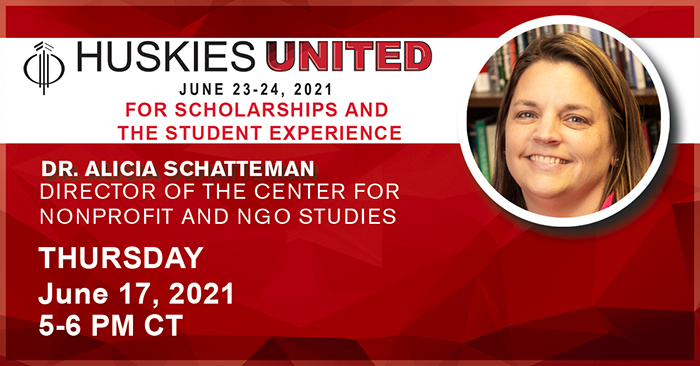 This free Zoom event will consist of a panel discussion with the following NIU leaders:

• Dr. Christina Abreu, Director for the Center of Latino and Latin American Studies
• Anne Hardy, Director of Scholarships
• Dr. Andrea Radasanu, Director of University Honors Program
• Dr. Alicia Schatteman, Director of the Center for Nonprofit and NGO Studies

Moderated by Dr. Schatteman, participants will share about their programs at NIU and the impact of scholarships on the student experience. It will be a time for attendees to learn about the past impact of scholarships and why this support is critical for the future.
This event is part of series leading up to the NIU Foundation's Huskies United, June 23-24. For more information on Huskies United, please visit the website at https://dog.niu.edu.

If you have questions, please contact Dana King, '05, at dking1@niu.edu or 815-753-5421.
Event Details
Cost: Free
When:
5:00PM - 6:00PM Thu 17 Jun 2021, Central timezone

Virtual Event Instructions:
A link to the Zoom meeting will be sent with your registration confirmation.