Zoom's Velchamy Sankarlingam, M.S. '90, Receives Distinguished Alumnus Award
By Eva Richards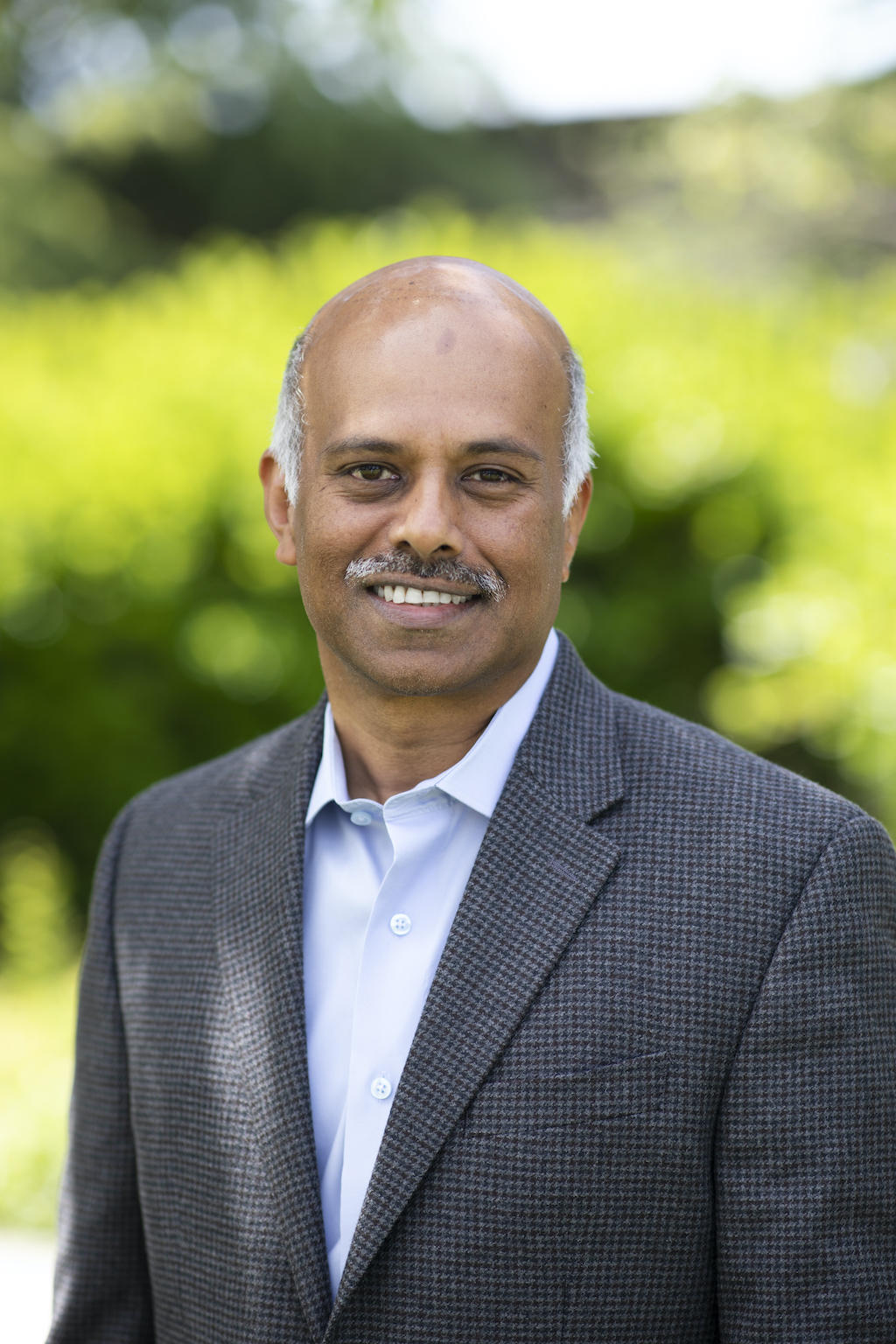 Velchamy Sankarlingam, M.S. '90, is being recognized with the NIUAA's Distinguished Alumnus Award. Before becoming president of product and engineering, he worked for some cutting-edge companies on both coasts, including WebEx and VMware.
In this last year as Zoom's president of product and engineering, Sankarlingam has been a critical part of the company's service to the world during pandemic times—providing reliable and clear video conferencing that is available to everyone.

For this reason, and for offering his time to mentor NIU students and share his real-world work experiences, Sankarlingam has been recognized with the NIU Alumni Association's Distinguished Alumnus Award.

"I want to make sure that I make an impact in a company, and I want to be in a company that impacts the world," he said. "(Zoom) is the job that has the most impact. Initially, I didn't want to leave my old position. I usually have a one-year plan and like to finish everything that I start before I think of leaving. This (role at Zoom) is the only job I would have left for because it has such a big impact on the world. I knew I would have regretted not helping my friend Eric help the world."

In the last year, Sankarlingam has had plenty of learning opportunities that he hopes to pass onto his fellow Huskies. Coming into the company a year ago, just after COVID-19 had stalled or shut down daily lives, he worked hard to help his teams improve the company's capacity and stay ahead of demand.

And there was a lot of demand. In a matter of weeks in 2020, Zoom went from hosting 10 million meeting participants per day before the pandemic to 100's of millions of participants!

"A lot of the things that I thought could not be done virtually I realized can be done virtually even better," he said. "Normally, I prefer working from the office because I feel I am more productive working face-to-face with the people. I was worried when I joined Zoom because I knew a few people but not the much larger team. It was very surprising for me because I am even more productive without having been to a Zoom office yet."

Instead, Sankarlingam says the superior quality of Zoom video has made physical proximity somewhat obsolete. Personally, instead of knowing just a few people in one Zoom office, remote work has allowed him to get to know so many more Zoom employees, through the magic of virtual connection.

"If I had been going to the office, I would have known all the people at the San Jose office. In the other offices, it would have been like another level of relationship, and not as close as the San Jose office," he said. "Right now, I know hundreds of people very well, and I have no idea where they are. Sometimes constraints create innovation and make us think beyond what we normally do."

Sankarlingam has also seen Zoom help businesses that were constrained physically by COVID-19 and were on the verge of going out of business.
"Some of these businesses removed all their constraints through video," he said. "One stand-up comedy show reached out to me, and they had local audiences. Now, they are multinational. If they go back, it's never going to be the same. We have found some better ways to do things."

Sankarlingam's work is focused on building the Product and running the Service.

"Service reliability is very critical and if anything happens to the service, it impacts the whole world. Product Innovation is equally critical," he said.

In the last year, that has meant everything from scaling capacity to overseeing the implementation of security features, making it easy for even the most inexperienced user to be able to use the product securely. Sankarlingam is proud that Zoom is "an enterprise-strength product with a consumer-level ease of use."

"Our teams work day and night, building all this capacity," he said. "And what drives our people is that we want to do our part to see how we can help the world during this time. It starts from our CEO, Eric Yuan. I've felt fulfilled by the work that we have been able to do, and I've been encouraged by so many people who have personally reached out to say they appreciate what we are doing."

Sankarlingam has a long and impressive resume. After receiving his undergraduate degree in electronics and communications engineering at the College of Engineering, Guindy, in Chennai, India, Sankarlingam came to Marquette University in Milwaukee to complete his master's degree in Electrical Engineering before coming to NIU to study Computer Science. In just three decades, he managed to work for some cutting-edge companies on both coasts, including Sears Technologies, which became Advantis, an IBM company; Standard Microsystems; Network Computing Devices; Andersen Consulting; and Presenter.com, which was acquired by Webex, and subsequently acquired by Cisco. Along the way, Sankarlingam also completed a M.S. in management and policy from SUNY, Stonybrook and Stanford Executive Program at Stanford Business School.

"I met Eric Yuan, the founder of Zoom, when I was with Webex," Sankarlingam said. "We grew with the company and ended up running engineering and operations of the Webex service. Three years after Webex was acquired by Cisco, I moved on to work for VMware, and Eric left to start Zoom."

He credits NIU with laying the foundation to be comfortable building and operating software and managing companies' infrastructures.

"At NIU, my assistantship was with the College of Liberal Arts' IT department, under Firooz Dashab, and it involved developing software and supporting all the hardware. NIU's computer science program had the rigor to make the student a great programmer and developer," he said. "I learned a lot from my studies at NIU and from running the computer systems there. It's still something that I do today in my role at Zoom—I do the building, and I do the running."

To this day, Sankarlingam fondly remembers the tuition assistance he received during his time on campus. Because of the impact the waiver had on him, he has continued to donate to the NIU's computer science program.

"I always felt like NIU helped me in my career," he said. "When I came to NIU to study, the University offered me assistantship with a tuition waiver, and it meant a lot to me. I believe in paying it forward. I am hoping someone with a need gets the benefit of my contribution, and I am very thrilled to see that I am being recognized with this award."