Rodney Boyd, '86, is First Black Assistant Adjutant General - Army for Illinois National Guard
By Eva Richards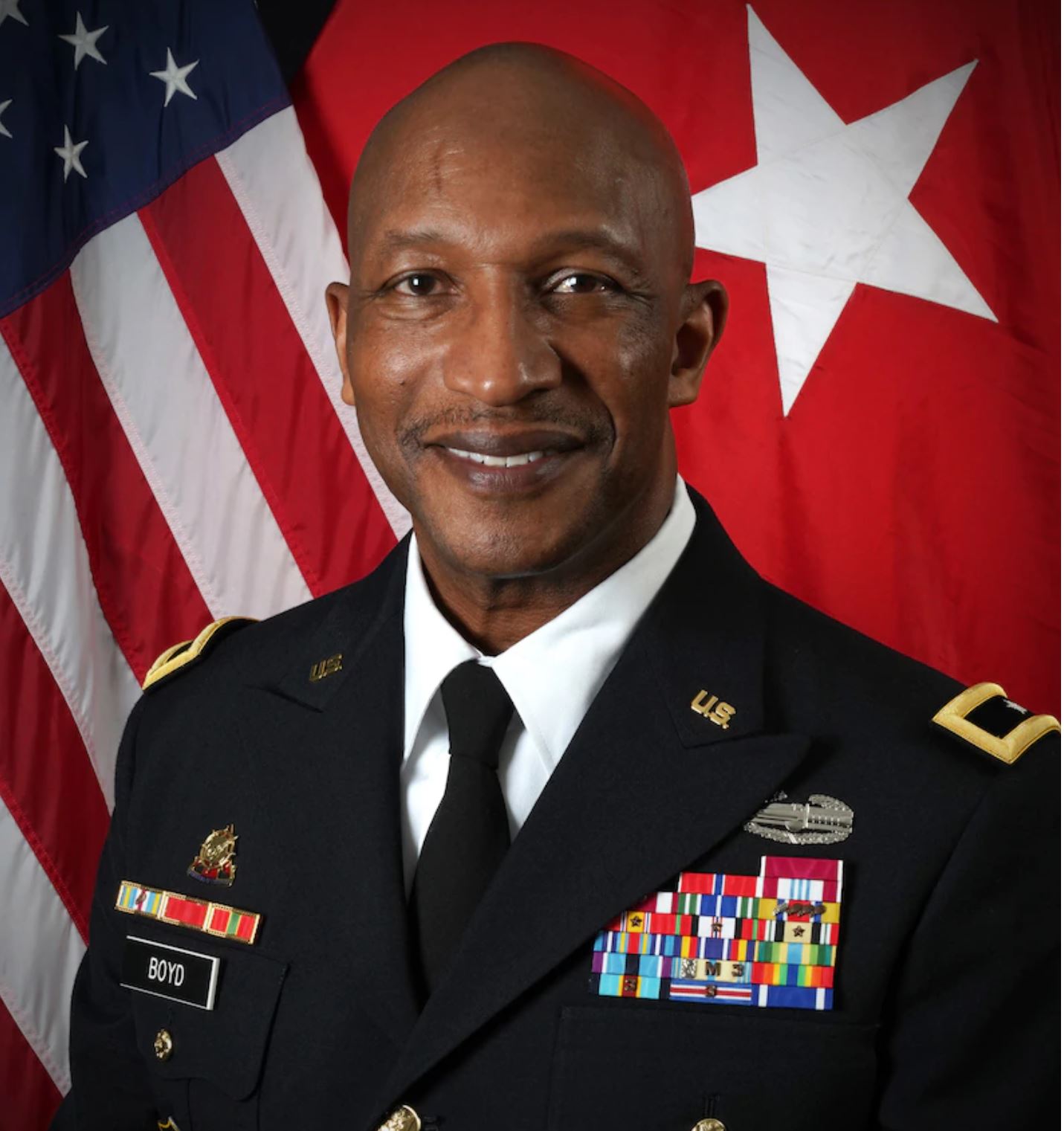 Photo provided by the Illinois Army National Guard.
When Rodney Boyd, '86, was growing up on the South Side of Chicago near Comiskey Park in the late 1960s and 1970s, he often had interactions with the police. One of eight kids raised by a single mother, Boyd was a typical kid who looked up to the police who patrolled the streets in his neighborhood.

"I had some interactions with law enforcement," Boyd said. "It was just the reality where I lived, and I saw some good things and some not-so-good things. I remember thinking, if I have an opportunity to do that—to serve as a policeman—I would be the good part of that."

From an early age, Boyd had an interest in the military, as well.

"One of my fondest memories was going to the Bud Billiken Day Parade on the South Side. That's the annual back-to-school parade," he said. "I can remember the National Guard would supply troops, and I was sitting on the side, seeing the military guys in the parade. It was so awesome. I knew, if I ever had the chance, I would be proud to wear the uniform."

At Wendell Phillips High School, Boyd focused on athletics in his first two years, but started to concentrate more on academics and student government as a junior and senior.

"I wanted to be the first one in my family to obtain a college degree, and coming from a single-parent home with seven other siblings, I knew academics was the way to get ahead," he said. "So I focused on the things I was really good at, like academics and collaborating with others. I was the student body president both my junior and senior years. My peers liked my leadership and really supported me those last two years."

Boyd stayed the course and received several academic scholarships. He chose to enroll at Augustana College in Fall 1981, when they offered him an academic scholarship. Still, after a year and a half, he began looking at state-supported schools to lessen the debt he was taking out in student loans.

"There was something about NIU. I said, 'This is it. This is where I am going,'" Boyd said. "I also decided at that time that I wanted to study criminology and that I would either be a law enforcement officer or go to law school and practice law."

Boyd's criminology courses proved a good fit for him, and he excelled.

"The fascinating thing about criminology and sociology is that you are always collaborating. You're always talking with your peers, talking about current events and having vibrant discussions in that field. It really prepared me for life after NIU," he said. "One of my sociology professors, the first thing he would say each Monday morning is, 'Who watched 60 Minutes last night?' At that time, I couldn't have cared less about 60 Minutes, but I decided I was going to watch it so I could be part of the discussion, and I still watch it today!"

Boyd learned leadership skills through other avenues, as well. He joined the Marine Corps Reserves prior to attending NIU, giving one weekend a month to service, and two weeks in the summer. His involvement with his fraternity, Alpha Phi Alpha Fraternity, Inc., also helped him to grow.

"In the early 1980s, there wasn't a very large African American population at NIU, but we learned how to become a community with one another. Mostly through Greek frats and sororities, we bonded as a community. From study groups to summer jobs, we helped each other network. That's what I remember most about my time at NIU, besides academics—our community coming together and challenging each other in and out of the classrooms. It was a very important time in our lifetime, and we used it to hold each other up because we had a common goal of graduating with a degree."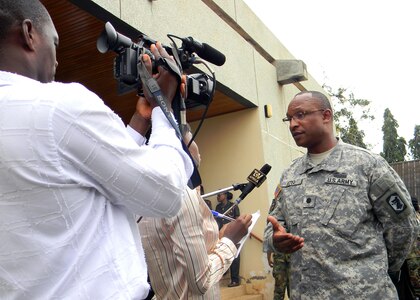 Boyd says that he is still connected with many of those friends from the Greek system, one of which is his wife of 31 years, Darlene, who was a proud member of Zeta Phi Beta Sorority, Inc., on campus.

After earning his degree in criminology and sociology in 1986, Boyd applied for law enforcement jobs. After several attempts, he was hired by the Village of Bellwood Police Department, in Bellwood, Illinois, where he would go on to work for 23 years, starting as a patrolman and working his way up to the top rank of Chief of Police.

"Being in a position to affect change was rewarding for me," Boyd said. "I was interacting with people every day, and it was not always positive, but I could still affect change. I would try to talk them into the handcuffs. At people's worst moments, I tried to be the sounding board and the voice of reason to them. I would tell them, 'We don't have to do this in a way where either of us gets hurt,' and I used the booking process to talk to and counsel people about how they could avoid that situation in the future."

As he began working in Bellwood, Boyd was finishing up his commitment with the Marine Corps Reserves and felt he was 'ready to hang up the uniform,' but his roommate from NIU, who served in the Illinois National Guard, asked him to consider becoming an officer in the Illinois National Guard.

"I realized it was a good opportunity, to go through officer training program, and to affect change. I thought, 'Wow, I can lead others and make a positive difference. I have to do this," Boyd said.

From that point in 1989, Boyd's career took off in both his police and military careers. While working his way up the ladder at the Bellwood Police Department, he served two tours overseas with the Illinois National Guard—in Afghanistan in 2004, Iraq in 2008—and also was promoted in the National Guard, from second lieutenant in 1990 all the way to colonel in 2015. During this time, he earned dozens of U.S. awards and badges, including the Legion of Merit and the Bronze Star Medal. He also completed a Master of Education in instructional leadership from University of Illinois at Chicago and a Master of Strategic Studies from the United States Army War College.

"There is no greater affect than those who serve the country and pay the ultimate price. We owe our hearts to them and their families," Boyd said. "For me, serving was a chance to mold minds and create great citizens. As a commissioned officer, you are the first-line individual, where someone says 'help me help myself.'"

Boyd noted that it was not always easy to juggle his civilian career, his military career, and his family, adding that it is important to keep the lines of communication open in all three worlds—"with your bosses in the military, your bosses in the civilian career, and your real boss, your spouse at home."

"For me, I was blessed. I had family support and a network of support as I did my service," he said. "I had young kids at the time of my first deployment. Our youngest, Randy, was 9, and Rodney, Jr., was 12. It wasn't always easy, leaving for 18 months at a time. But my experience with my employer at the Village of Bellwood was awesome. I didn't miss a beat when I got back and picked up where I left off."

Boyd retired from his role as chief of police in 2013, and after serving in Kuwait in 2014, he was hired at Chase Bank as a VP for their operations division. After working there for two years, he had a yearning to return to law enforcement, and in 2017, he became head of the investigations division for Northwestern University's Department of Safety and Security until the military called once again.

"One of the young men who served under me told me about an opportunity to become a training consultant for the National Guard. He said, 'Rod, you can work from home and travel to training events as a consultant, providing feedback to improve and enhance training for soldiers," Boyd said. "I had to try for that role—as an Army National Guard training division consultant—and I hold that title to this day."

In March of 2020, Boyd took another huge step in his military career when he was promoted to Brigadier General of the Illinois National Guard. He was only the second African American to hold this title, after Brigadier General Walter Whitfield was appointed to the role in 1992.

In addition, as of July 2021, Boyd will assume the role of Assistant Adjutant General - Army in the Illinois National Guard. He is the first African American to ever command the state's 10,000 Army National Guard soldiers.

"It's bittersweet, right? As a young lieutenant, I remember when Walter Whitfield was promoted to brigadier general in the 1990s, and I thought, 'Wow, here is the first Black brigadier general! It was really inspiring to me. Unbeknownst to me, it would take almost 30 more years to have another. And unbeknownst to me, I would be that guy. It's amazing! What an opportunity! But, it still shows we have some work to do."

Boyd looks forward to working with Illinois Governor J.B. Pritzker and Major General Richard Neely to bring more equality and diversity into the Illinois National Guard's higher ranks. The team is looking at strategic ways to form a pipeline of qualified soldiers of color and women who are ready for leadership roles.

"Being out there and being an inspiration to young officers and enlisted members in the guard is a huge task, but my goal is to be there for them. They have to know we are here for them," Boyd said. "There are military-wide issues that I want to confront head-on, from suicide rates to sexual assault and sexual harassment. I want our soldiers to know that their leadership is supporting them, and without them, we don't have an organization."

"I hope I am an inspiration to the young soldiers," Boyd said. "I saw Walter Whitfield promoted in the 1990s, and I thought, 'I can do that.' Seeing is believing."