One of the #ThousandsStrong: Amy Buhrow, M.S.Ed. '05
By Eva Richards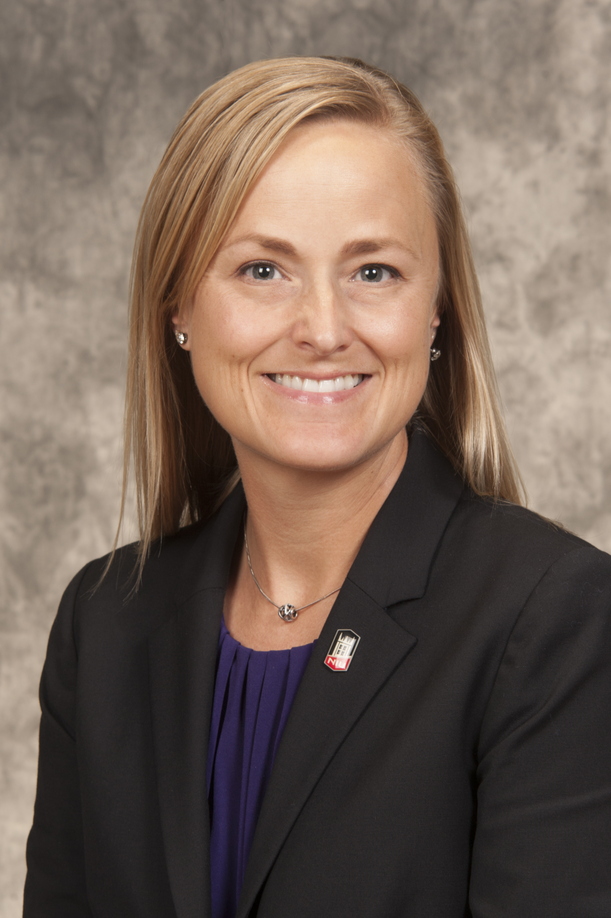 Amy Buhrow, M.S.Ed. '05, is a connection point for students and external companies.
To say Amy Buhrow, M.S.Ed. '05, likes her job as senior director of strategy, student success and accreditation for the College of Business would be an understatement.

"When I meet someone new, I always introduce myself as having the best job in the NIU College of Business," she said. "My duties require me to have deep knowledge of all our business programming, and this ensures our programming is aligned with our mission, vision and core values.

"This broad view of the college also makes me a great connection point to external folks who want to connect with our students – to hire them or contribute to their co-curricular learning through our Experiential Learning Center, BELIEF Program, Passport Program, and/or IGNITE! Program."

For Buhrow, every workday is unique, with discussions about the college's curricula with faculty or important meetings with program directors and graduate students, recruiters or alumni.

"Some days I get lost in data analysis in support of accreditation, rankings or continuous improvement. Other days, I am immersed in moving projects forward. The variety of work I am given keeps my skills fresh and my mind challenged," she said.

Buhrow grew up in Sycamore, Illinois, one one town away from DeKalb. While in high school, she enrolled in agriculture and horticulture classes and was an active Future Farmers of America (FFA) member and leader.

"The FFA moto is 'Learning to Do, Doing to Learn, Earning to Live, Living to Serve,'" she said. "My agriculture education and FFA experiences laid the foundation for my orientation toward active learning, which is central to my role in the College of Business now."

Buhrow's initial plan was to teach high school agriculture and horticulture, but while earning her bachelor's degree at Illinois State University in Bloomington, Illinois, she completed an internship with CASE IH—an agricultural machinery company—and was offered a full-time training position in Maple Park, Illinois upon graduation.

"I found I liked working with adults more than working with high school students," she said.

When Buhrow began working as a training coordinator at CASE IH, she used much of what she learned in her agriculture and education courses, but some things did not transfer from a K-12 environment to an adult training environment. This triggered her search for a graduate program that would provide the skills she needed.

"With NIU being so close, it seemed natural to look to NIU, the College of Education and the Adult, Counseling and Higher Education master's program. I took classes part time, with one or two each semester. I really appreciated the classes I took where I learned about double-loop learning and experiential learning. The social justice course I took has added context and an important lens that helps me understand the diversity, equity and inclusion conversations I've been involved in the past few years," she said.

Buhrow noted that her graduate studies also helped her build a professional network, which led her to a graduate assistantship with NIU Outreach, followed by a part-time role with the NIU College of Business Experiential Learning Center, before stepping into her current job.

While Buhrow's daily work supports the mission of the University, she has decided to support her alma mater financially, as well.

"NIU and the College of Business transform lives," she said. "Seeing students grow before your eyes as they participate in our college's student success programs drives my financial contributions. Directly supporting our student success programs ensures that these opportunities will be available for future students."

As for why Buhrow loves her job so much? She equates personal and professional success with being fulfilled.

"Over the years, NIU has allowed me to find fulfillment at home and at the office, watching my kids and our students work towards achieving their goals," she said.

Thousands Strong is an opportunity for alumni and friends to engage with NIU in an exciting, virtual initiative that will increase and expand alumni pride and engagement, cultivate donor prospects and celebrate the impact of philanthropy at Northern Illinois University. This year, this day of giving's virtual initiative will start the evening of Nov. 10 and run through Nov. 11, with a variety of opportunities to help students and the University.

Sign up to be an Thousands Strong Ambassador for the event.
Register for the Thousands Strong Kickoff Show on Nov. 10.