Chuck Farinella, '86, Credits NIU, Dogged Determination for Success
By Eva Richards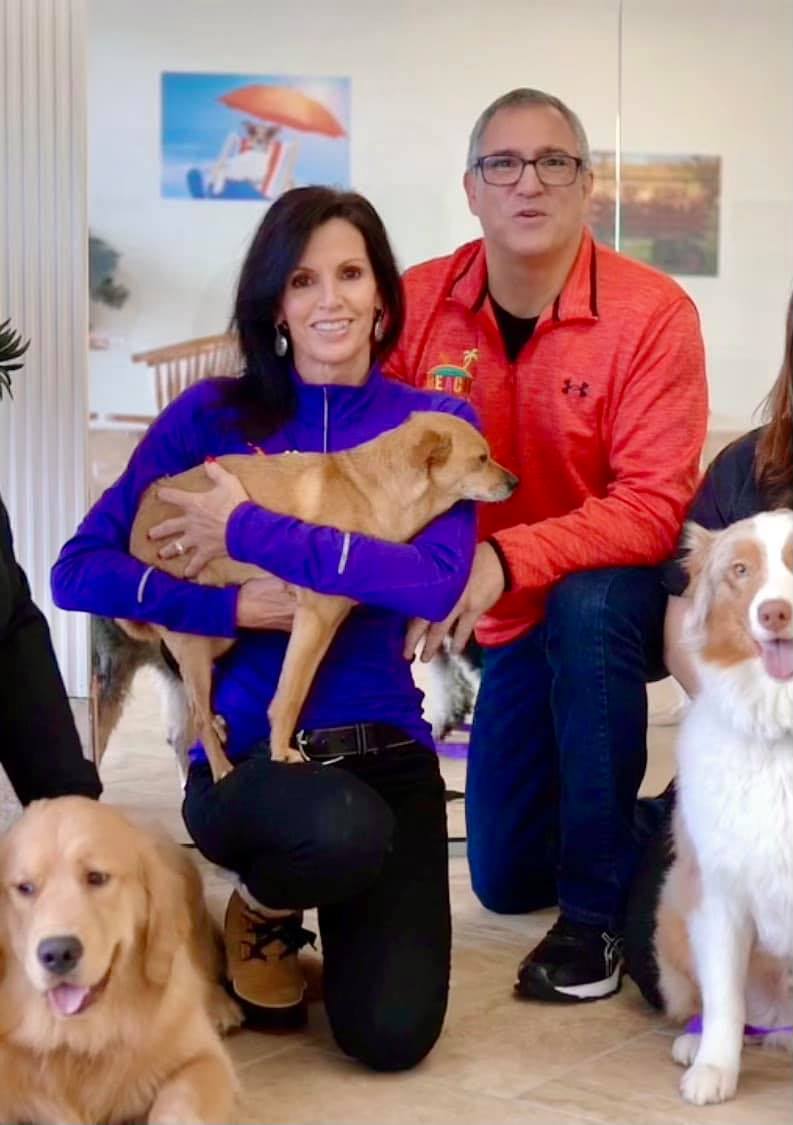 Sara and Chuck Farinella with their three dogs.
When Chuck Farinella, '86, was earning his bachelor's degree in teaching in the 1980s, he knew there was no such thing as a free ride.

The son of a teacher and coach at Proviso East High School in Maywood, Illinois, and a homemaker, Farinella knew what it meant to work hard for something, as he competed in wrestling and football during high school.

"Coach Don Flavin, NIU's wrestling coach at that time, came to my home to recruit me," he said. "NIU was close to home, and I knew the education was going to be inexpensive because I got a partial scholarship that would help pay my tuition and fees."

Farinella understood that his family could not afford to pay for his left-over education and living expenses. A four-year letter winner as a Huskie wrestler who was 17th in the country at his weight class, Farinella worked as a waiter at Matthew Boones, Crystal Pistol, mowed lawns at Fresh Meadows Golf Course, and was an active member of the Pi Kappa Alpha fraternity on campus.

While at NIU, he met his future wife, Sara, who was on the gymnastics team. Still, he kept working hard to complete his education.

"I liked spending money, so I knew I needed to make my own money," he said with a laugh. "I had learned to work hard. When I graduated with my teaching degree in physical education, with an endorsement in science, I passed my basic skills test the first time, but I never went on to teach in the classroom. Instead, I was a volunteer coach for wrestling and soccer while I pursued business."

After graduation, Farinella learned a few new tricks. Realizing he was very well-suited for success in sales, his first job was at a company that sold general merchandise products to discount stores, such as Walmart and Dollar General. After five years, he was hired by another company to be their VP of sales, then recruited to lead another company. In the early 1990s, Farinella was confident enough to start his own company in that industry, and he never looked back.

"We manufactured products and resold them to my discount partners all over the country," he said.

Following success in that endeavor, Farinella began an innovative products company, then purchased a trash bag manufacturing company, which he expanded. Next, he began a pet product company, importing snacks, leashes, chew bones, and pet toys from China, Brazil, Mexico and Paraguay.

In the early 2000s, Farinella sold these businesses after much financial success, but he felt too young to retire in his 40s. As America reeled in the wake of the 2008 recession, he made the wise decision to invest in real estate.

"I remember, I was listening to an interview of Warren Buffett, and he said, 'If I had money to buy single family homes, I would buy as many as I possibly could.' I always respected him as an investor, so I immediately pivoted to buying homes and sold quite a few homes, while keeping some as rentals.

In 2017, when the housing market cooled off a bit, Farinella was 56 years old and looking for his next venture.

"I didn't want to stop working because I have seen so many people who worked really hard like I have and are unhappy in retirement," he said, "I have that 'wrestling energy' that needs to be channeled. So, I looked at every industry, and I decided that I didn't want to manage inventory. I looked for a business that is something I love, that I could pass on to the family, if they wanted it."

When Farinella heard on the radio that pet care businesses were an area of major growth, he began to do his research. Having trained his own three dogs, he knew that training could be fulfilling, but he needed to learn now.

"I looked around for a pet care business, but no one wanted to sell. That told me that I was in the right space. So, I decided to start my own pet care business. I knew I didn't necessarily have the knowledge base that needed, so I decided to join the dog training franchise that suited me the best.

In 2020, Farinella and his wife opened Beach for Dogs in Downers Grove, Illinois—a dog training, dog daycare, dog boarding, and dog grooming facility. Always a teacher and coach at heart, Farinella has flourished with his new business.

"Now, I teach doggies and doggie parents," he said. "I have found out that training dogs is really rewarding and not nearly as difficult as people made it out to be. The biggest thing is patience. People who want their dogs trained, want them trained now. But dogs have been barking for 20,000 years, and it's not going to stop in a snap! They are like children. Sure, they share some similar traits, but they are also individuals and have differences."

In the company's first 12 months, they have supported a tremendous number of satisfied customers, meeting pet owners' demands and always putting the customer first. Farinella is proud to be the highest customer-rated dog training business in DuPage county.

Even the unruliest dogs can calm down and learn to follow commands when they attend Beach for Dogs' full-day kindergarten.

"We are considered the Ivy League of doggie kindergarten," Farinella said. "They are with us for a significant portion of the day for the training course, which takes six to eight weeks. And we have a 100% guarantee for improvement. When they are here, we teach the doggies and their parents three key principles—consistency, persistence and patience.

Complete with a naptime—where 60 dogs learn to relax together on their own separate napping cots—and skills training, such as leash walking and self-calming behaviors, Beach for Dogs Downers Grove has been able to change people's lives for the better.

"I always say that there will be such a noticeable change in your dog's behavior that you'll think I gave you the wrong dog. You and your friends and family will think you're caring for a different dog, behavior-wise."

Farinella feels fulfilled that his business has been able to give so many dog parents newfound peace and comfort in their homes.

"These parents have utter disruption and chaos in their home. They are being pulled down the street, they are being jumped on. I remember one woman coming on with a sling on her arm because she had been pulled so hard. I feel good that we are giving parents back this satisfaction. A disruptive dog isn't necessary. Usually, it can be trained, as long as you start early enough. And most dogs can be trained at any time. I encourage people to bring dogs in early because it is cheaper and more rewarding. They will become the envy of the neighborhood."

For more information about Beach for Dogs in Downers Grove, call 630-724-7039.