Students Gain Valuable On The Job Experience as NIU Foundation Fellows
By Tony Scott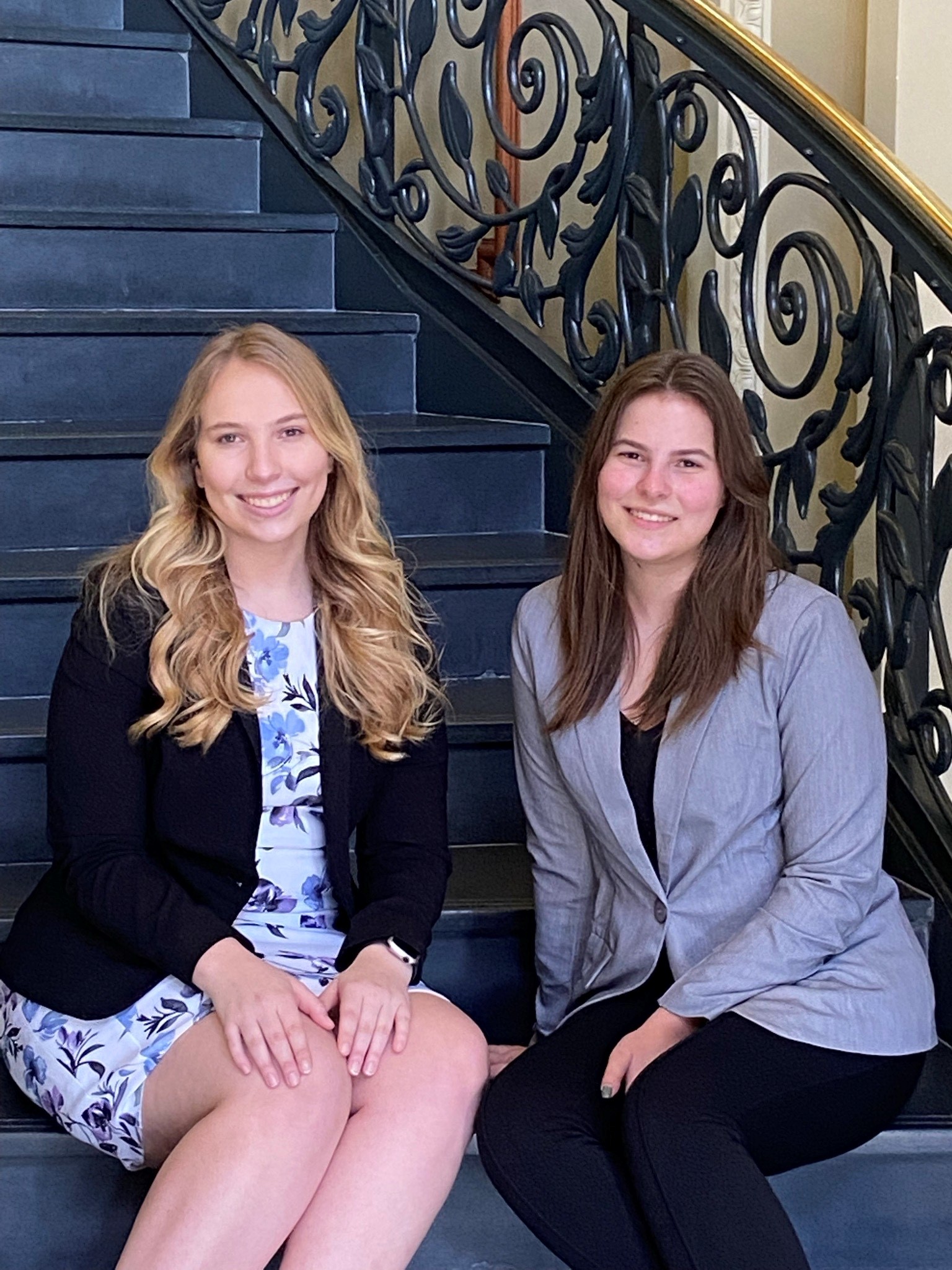 NIU Foundation Fellows Juliana Casner, '23, and Emma Hazen, '23, at Atlgeld Hall..
For the first time, two students this year were fortunate enough to land positions as NIU Foundation Fellows, gaining valuable job experience working with Foundation staff as they prepare for careers in the nonprofit sector.

Emma Hazen, '23, and Juliana Casner, '23, both Political Science and Nonprofit & NGO Studies majors, are working as paid interns during the inaugural year of the Foundation's Fellowship Program. The fellows are paid for 10 hours a week and are also taking the NNGO internship course for credit.

Through the fellowship, Hazen and Casner were able to gain experience working on all facets of the development process, from identifying donors to fundraising to stewardship, working with the Foundation staff on donor events, proposal preparation and other crucial elements.

"Being a fellow has given me an amazing start on my career path," Hazen said. "Not only has it allowed me to get my foot in the door of nonprofit work, but it has been an example of what a future career would look like. In my time as a fellow, I have already learned an exponential amount in the functions of nonprofits."

"Being a fellow has helped me narrow down the specific work I would like to do in the nonprofit sector," Casner added.

For example, the fellows assisted with creating social media posts for the Thousands Strong day of giving, a successful event that raised nearly $2 million for students and programs.

"I have been able to experience all of the different sectors within the NIU Foundation," Hazen said. "Recently, my primary focus has been creating social media content for the Thousands Strong Day of Giving. I've also worked on curating information for donor relationships."

Hazen and Casner both credit Alicia Schatteman with bringing the program to their attention. Schatteman is the current director of the Center for Nonprofit and NGO Studies with a joint faculty appointment in the Department of Public Administration.

"The Foundation Fellows program is a strong partnership between the Center for Nonprofit and NGO Studies and the NIU Foundation to provide work experience to nonprofit students and present a pathway into a nonprofit career after graduation," Schatteman said. "Through these types of opportunities, our nonprofit students will have the most competitive resumes when they graduate and be able to make a real impact in the organizations and communities they will serve."

NIU Foundation CEO Catherine Squires said, "The NIU Foundation is proud to partner with NNGO Studies to offer our students a meaningful experiential learning opportunity in their chosen field of study right here on campus."

"I appreciated being part of a community that offered great opportunities to me," Hazen said.

Both students are encouraging others to apply for the position in the future.

"The fellows program has provided me new insight on nonprofit work," Hazen said. "It has given me experience to begin my career and an understanding for the workings of nonprofits."

Casner said, "All of the people that I work with are absolutely amazing. Over the course of this fellowship, I know I will gain experiences that last a lifetime."