Michelle Gorham, '89, M.S. '92, Brings Alumna, Mom and Volunteer Perspectives to NIUAA Board


By Eva Richards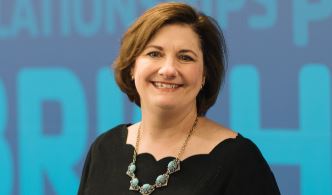 Michelle Gorham'89, M.S. '92, joined the NIU Alumni Association Board of Directors in July 2022.
If you ask Michelle Gorham, who earned her B.S. in organizational communications in 1989 and her M.S. in public health in 1992, what makes Northern Illinois alumni stand out among the crowd, her answer comes quick.

"Huskies are special because they represent such a broad range of people," she said. "They are often first-generation students who may have thought college wasn't an option. I love that NIU can prove them wrong and provide an excellent education to anyone who is willing to work hard and be dedicated."

Growing up in Rockford, Illinois, Gorham loved reading as a child. When it came time to choose a college, she had planned to attend a small, private college but her finances came up short.

"I was lucky enough to get a scholarship to NIU from our state representative," she said. "Attending NIU was the best disappointment that ever happened to me. I found myself, diversified my interests, and met many friends there."

Studying corporate communications as an undergraduate, her best experience was working as an R.A., where she learned how to work with a wide range of people, how to plan events, and how to be a responsible member of a team.

"I had a great time at Lincoln and Douglas Halls as a part of great residence hall staffs," she said. "My best grad school experience would have to be my grad assistantship in which I got to participate in a research study and ultimately led me to my first job."

Gorham noted that being at NIU helped her to hone her writing skills and learn to think critically and creatively.

"The wonderful and challenging professors I had at NIU still live in a little corner of my brain, reminding me to answer the question, 'So what?' and to proofread my work," she said.

Gorham earned her degrees and spent 10 years as the director of Rockford Memorial Hospital's Development Foundation before moving to her current role as the chief advancement officer for the YMCA of the Rock River Valley in Rockford, Illinois.

In these public service roles, Gorham has had many opportunities to positively serve her community. One of her proudest moments was when she got to work on a unique PR project at Rockford Memorial.

"A woman seeking care at the hospital I worked at had twins three months apart—in different cities, hospitals, and years—and we did international media," she noted.

Gorham also later entered the project for an award, and it won "Best of Show," made even more meaningful because she later learned one of her favorite communications professors was a judge.

Gorham has also had the chance to raise money for some important projects in Rockford, and it means a lot to her to help the community she has been a part of her whole life.

As a new member of the NIU Alumni Association's Board of Directors, Gorham has many hopes for what she can accomplish.

"I thought a lot about what I might be able to add to this great group of people," she said. "I hope that I'll be able to bring the perspective of an alumna, but also of a mom with NIU students who have now graduated (Abbey, '17, and Alayna, '22), and a volunteer of a local alumni club. NIU has been an important part of my life and my family, and I hope I can pay it forward a little bit."