Waterman Winery & Vineyards Tour and Tasting (Waterman, Illinois)
Saturday, Aug. 6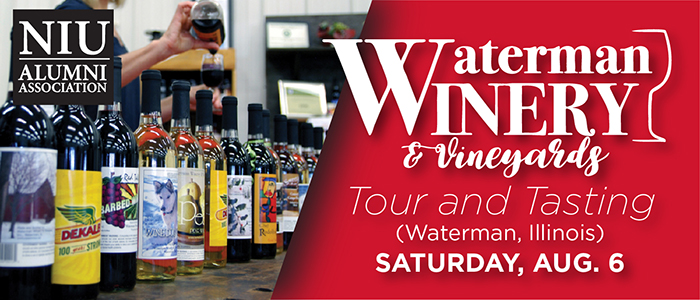 Join the NIU Alumni Association from 11 a.m.-1 p.m. on Saturday, Aug. 6 at the Waterman Winery & Vineyard during their 20th Anniversary Customer Appreciation Weekend for an afternoon of wine and networking.

With each paid registration, attendees will enjoy a wagon ride tour of the winery, wine tasting, snacks and their own bottle of Waterman Wine to take home. Registration for this event is $35 in advance and $40 at the door.

All attendees must be 21 or older. No refunds.

Questions? Please contact Dana King, '05, at dking1@niu.edu or 815-753-5421.

Founded by NIU alumni Terrie, '69, and Lex Tuntland, '68, in 2002, Waterman Winery & Vineyards is family-owned and operated in rural Waterman, Illinois, located approximately 70 miles west of Chicago, and 40 miles west of Naperville. Their 12-acre, grass-covered vineyards are populated with 40 different varieties of red and white grapes. They produce nearly 20 varieties of wine unique to Northern Illinois and handcrafted with care.

Waterman Winery & Vineyards produces natural, award-winning wines via environmentally friendly methods. The vineyards provide a rich habitat for a wide range of wildlife including hawks, cardinals, herons, foxes, coyotes, deer, minks, dragonflies, praying mantis, bees, butterflies, and a variety of other insects.

Event Details
COST:
$35 online registration
$40 at the door

When:
11:00AM - 1:00PM Sat 6 Aug 2022, Central timezone

Where:
Waterman Winery & Vineyards
11582 Waterman Road
Waterman, IL 60556
[ Get Directions ]
RSVP Today!

The NIU Foundation follows the protocols and guidelines established by NIU regarding how to navigate the COVID-19 pandemic, which is based on the recommendations from the Centers for Disease Control and Prevention (CDC) and local public health organizations. NIU's protocols and guidelines are located at: www.niu.edu/protecting-the-pack.

The NIU Foundation and NIU Alumni Association recognize that the pandemic is, and will continue to be, a fluid situation and will abide by whatever mandates and guidelines that have been established at the local and state level.

We deeply respect and greatly appreciate our donors, alumni, community and friends. As we move forward – together – the NIU Foundation and NIU Alumni Association are committed to following the above guidance and making every effort to reduce any threat to everyone's safety, health and well-being.

We hope that you will decide to join us at an upcoming event and we look forward to seeing you.

Hand sanitizer and disposable masks will be available at our events. We encourage you to consider your health and personal well-being when deciding whether to attend.

Be well, and stay safe.