NIU Black Alumni Council Reunion Picnic
Sunday, Sept. 4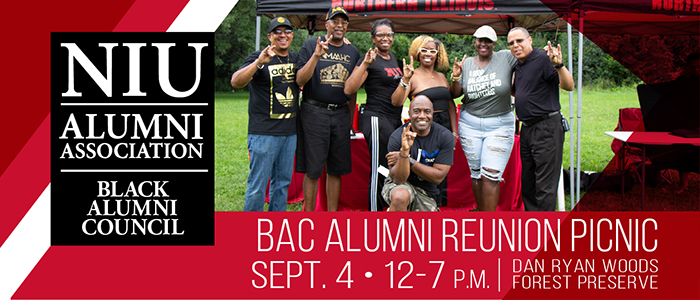 You are invited to the 2022 Black Alumni Council (BAC) picnic which will take place at noon on Sunday, Sept. 4 at the Dan Ryan Woods forest preserve.

The Black Alumni Council hosts this free picnic annually to encourage community between Black NIU alumni and to bring awareness to the Fanny Ruth Patterson scholarship. The Fanny Ruth Patterson scholarship helps students finish their degrees at NIU. You can make a contribution to the fund here.

There is no cost to attend the picnic, but we ask that you RSVP so we know who is attending.

Bring your favorite dishes and drinks to pass and don't forget to say hi to your NIU Alumni Association representative, because they might even have something sweet for your dessert!

We apologize for the inconvenience, but we are no longer able to have the Vendor Fair due to Forest Preserve regulations. We look forward to seeing everyone on September 4!

Sunday Picnic Details
There is no cost to attend the picnic, but we do ask that you RSVP.
When:
12:00PM - 7:00PM Sun 4 Sep 2022, Central timezone

Where:
Dan Ryan Woods
W. 87th Street S. Western Ave.
Chicago, IL 60620 USA
[ Get Directions ]
But, wait! There's more!

The Black Alumni Council is in the process of planning additional events to make this a full Black Alumni Reunion Weekend this year!

Selected Few Entertainment is presenting its inaugural Labor Day Comedy Show on Saturday, Sept. 3, at Knotty Luxe Bistro in Markham. There are two showtimes - 8 p.m. and 10 p.m. - and tickets start at $25. A portion of the proceeds from the evening will go to support the Fanny Ruth Patterson Scholarship Fund.

Stay tuned for more information on additional activities!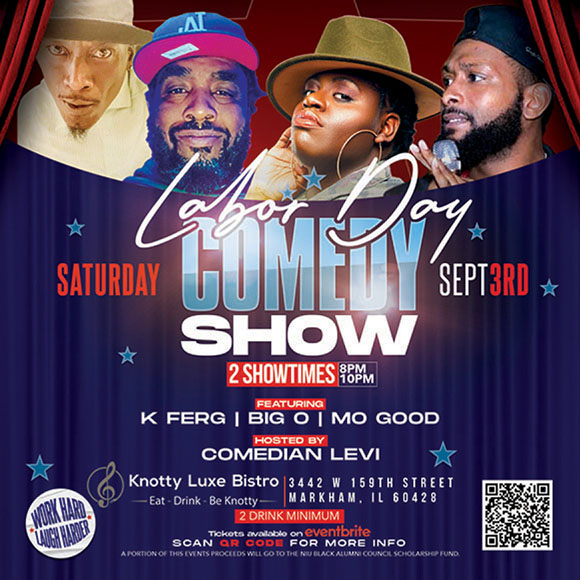 Click here to RSVP!

The NIU Foundation follows the protocols and guidelines established by NIU regarding how to navigate the COVID-19 pandemic, which is based on the recommendations from the Centers for Disease Control and Prevention (CDC) and local public health organizations. NIU's protocols and guidelines are located at: www.niu.edu/protecting-the-pack.

The NIU Foundation and NIU Alumni Association recognize that the pandemic is, and will continue to be, a fluid situation and will abide by whatever mandates and guidelines that have been established at the local and state level.

We deeply respect and greatly appreciate our donors, alumni, community and friends. As we move forward – together – the NIU Foundation and NIU Alumni Association are committed to following the above guidance and making every effort to reduce any threat to everyone's safety, health and well-being.

We hope that you will decide to join us at an upcoming event and we look forward to seeing you.

Hand sanitizer and disposable masks will be available at our events. We encourage you to consider your health and personal well-being when deciding whether to attend.

Be well, and stay safe.