Erin Garza, '08, M.S. '11, Ph.D. '16, Takes on Ocean Pollution at the J. Craig Venter Institute


By Eva Richards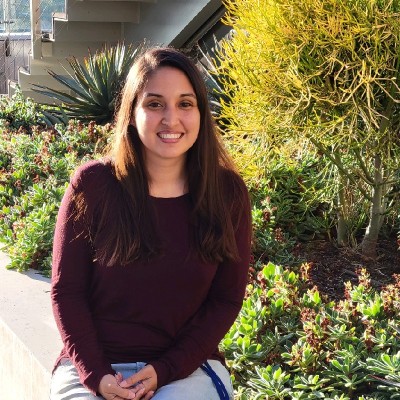 Erin Garza, '08, M.S. '11, Ph.D. '16, will embark on a submarine research expedition this month.
It is late July, and Erin Garza, '08, M.S. '11, Ph.D. '16, is about to dive into the kind of adventure most of us only see in movies.

As a staff scientist specializing in microbial and environmental genomics at the J. Craig Venter Institute in San Diego, her research on microplastics in the oceans has earned her a coveted seat in the Alvin—a deep-sea submersible submarine.

Recently redesigned to withstand depths of 6,500 meters and holding only three occupants, this venture is meant to test the revamped capabilities at this new depth while also allowing for some "opportunistic science."

"I will be able to do some experiments on microplastics at that depth," Garza said. "We'll be down there for three weeks, starting at the Puerto Rico Trench and moving on to the Mid-Cayman Spreading Center, where there are methane seeps and hydrothermal vents."

For Garza, the expedition of a lifetime started with decades of education. Growing up, her family traveled for her parents' jobs in the Marine Corps, and Garza lived everywhere from Long Beach, California, and Okinawa, Japan, to cities in North Carolina, Florida, Oregon and Washington, before settling in Illinois for a time.

"It was tough as a kid because we were constantly moving around," she said. "There was a culture shock, and I would have to make new friends, but it was also interesting to see how everyone else lives. It was sometimes so different, even just across this country. That really helped me want to travel and learn about other cultures. It was about exposure and going and trying new things."

After graduating high school in Elk Grove Village, Illinois, Garza earned two associates degrees from Harper College in Palatine, Illinois, before transferring to NIU to pursue her bachelor's degree.

"I knew I wanted to do something with science, but I just was not sure what yet," she said. "I knew I was good at biology, so a lot of my courses were in different branches of biology—botany, zoology, cellular biology. But I wondered where exactly I belonged."

NIU's social scene helped her to find a niche on campus. Garza enjoyed an apartment with her best friend, Kristan Laubach, on Lincoln Highway, with a balcony that overlooked the stadium.

"We had the best time," she said. "We were finally on our own at college, and we had the best apartment, where we could watch the football games. We had lots of parties, and friends would come over for homecoming. That was my first experience with actual college life."

Garza's instructors played an important role in helping her find a career path that would fit her interests and goals.
"With the biology classes, they weren't so huge that I felt like the instructor was unreachable," she said. "I developed more of a rapport with certain professors. For instance, the late Dr. Thomas Sims helped me a lot. I had a few classes with him and some summer courses. We got to talking and, at the time, I was trying to figure out if I wanted to continue with the graduate program. I appreciated having someone to talk to and encourage me that I could do it if I applied. That was what I needed to hear. I was unsure about myself, but my professors weren't."

After earning her B.S. in biological studies, Garza taught environmental biology classes at Kishwaukee College, in Malta, Illinois, and began working for Monsanto in DeKalb, Illinois, doing research in its corn pathology department and entomology group. She also decided to continue at NIU, pursuing her master's degree in biological studies, followed by her doctoral degree.

"Based on the kind of things I wanted to do, I needed to have free rein with my research, so I decided to stay for a Ph.D. in biology, with a specialty in microbiology."

After earning her Ph.D., Garza knew she wanted to leave the Midwest. Her parents now live in Washington, and she has family in Oregon, so she moved to the west coast.

"I stayed with family and applied for jobs. When I saw the position at the J. Craig Venter Institute, I applied on a whim. I didn't have experience with some of the things they were looking for, but I was thrilled that they hired me, and I moved to San Diego," Garza said.

As a staff scientist at the J. Craig Venter Institute, she has a variety of roles. In addition to her own research, Garza oversees post-doctoral students and research for graduate and undergraduate students through partnerships with the University of California San Diego and The Scripps Institute of Oceanography, as well as International Genetically Engineered Machines (IGEM) teams that do work on the J. Craig Venter campus.

When she isn't overseeing others' research, she specializes in genetic engineering of different types of organisms, based on ongoing projects at the institute.

"I do a lot with common bacteria—E. coli, Pseudomonas, Staphylococcus and diatoms, which are a type of microalgae," she said. "Right now, we are doing a lot of research on ocean health, and we are trying to develop new model organisms—organisms that can be easily modified, are genetically tractable—to help break down microplastics."

Garza is working with various marine microbes in an attempt to create a model organism or community of organisms that will degrade plastic.

"We have found that certain organisms love to eat specific types of plastic," Garza said. "We wouldn't necessarily need to insert anything foreign into these organisms. We just give them optimal conditions to grow in, and then, with the help of our collaborators, we could incorporate this into a recycling center. If they had this specific plastic, we could put it in tanks with these bacteria, and it would essentially disappear."

Taking on something as significant as the world's plastic problem and ocean pollution does not faze Garza. She always knew she wanted to make an impact as a scientist.

"Ever since I was little, I always wanted to make a difference in some way. I never knew what that was. Then, getting older and seeing how climate change is affecting everyone and the pollution in the oceans, it has focused me," she said. "I work remarkably close to the ocean. I can see it down the hill from our office, and the researchers here center a lot of their studies on it, so it is a big part of what we do. As I am learning more about how polluted it is, it is shocking. Not a lot of people are aware of how bad it truly is, so I felt like I could do something about that. I can find a way to help solve this problem. It's attainable for me."

"I am in the right location with the right people, and I can start to do something to make a change."

Follow the progress of Garza's expedition on the Alvin here.