NIU FLRP 50th Anniversary Celebration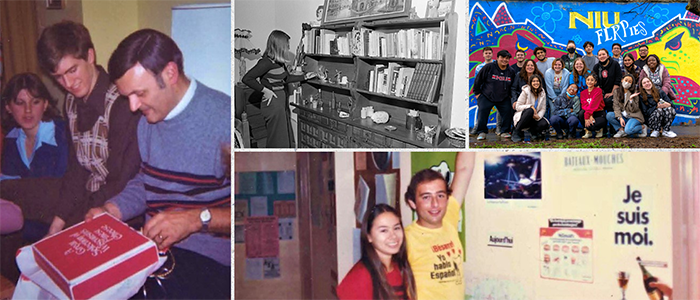 Saturday, Sept. 24
For 50 years, the Foreign Language Residence Program has provided NIU students an opportunity to learn and explore languages and cultures as part of a caring, diverse community. Regardless of the decade, the hallmarks of FLRP were a constant -- evening dinners, retreats at Loredo Taft and cultural excursions, international dinners, living on the FLRP floors and study abroad activities.

Join us as we celebrate 50 years of FLRP, and pay tribute to our founder, Dr. Raymond Tourville. Re-connect with your fellow FLRPies, visit campus and enjoy entertainment by current FLRPies and NIU students!
Schedule
Friday, Sept. 23 (optional)
5 p.m. — Informal gathering at Fatty's Pub and Grille in DeKalb

Saturday, Sept. 24
11 a.m.—Campus tour
5-6 p.m.—Reception (Altgeld Hall, Board Room and Solarium)
5:30-6 p.m.—Welcome and group photo on Altgeld stairs
6-9 p.m.—Dinner and program, Altgeld Auditorium

Our main event is a reception and dinner in Altgeld Auditorium. Business casual attire is appropriate for this celebration. Use the link at the bottom of the page to reserve your place at dinner and tell us which events you are planning to attend. RSVPs are due Sept. 15!

If you'd like to purchase a dinner AND sponsor a student or register for one of the other events - please be sure to click "Get More Tickets for this Event" when you have entered the shopping cart page. If you need more than one ticket for any of the events, you will also need to "recalculate cart" before adding additional tickets to your cart.

Parking
For the reception and dinner on Saturday evening, parking is free in Lots 3 and 14, located near Altgeld Hall.

Lodging
We are holding a block of rooms set up at the Holmes Student Center with a special rate of $74 per night. Make your reservations by Sept. 2, to secure this special pricing! A list of other hotels can be found here.
---
Questions? Contact Concepcion Gliesman at cgliesma@niu.edu.
Saturday Night Dinner Information
Cost:
$35 per person for alumni and faculty ($30 fair market value)
$20 per student
$20 to sponsor a student
.
When:
5:00PM - 9:00PM Sat 24 Sep 2022, Central timezone

Where:
Altgeld Hall, Altgeld Auditorium
College Ave. Castle Drive
DeKalb, Illinois 60115
[ Get Directions ]

Sponsorships, ranging from $250-$1,000, are available! Contact Concepcion Gliesman at cgliesma@niu.edu.