Alumni Band Wind Ensemble Performance
Friday, Oct. 7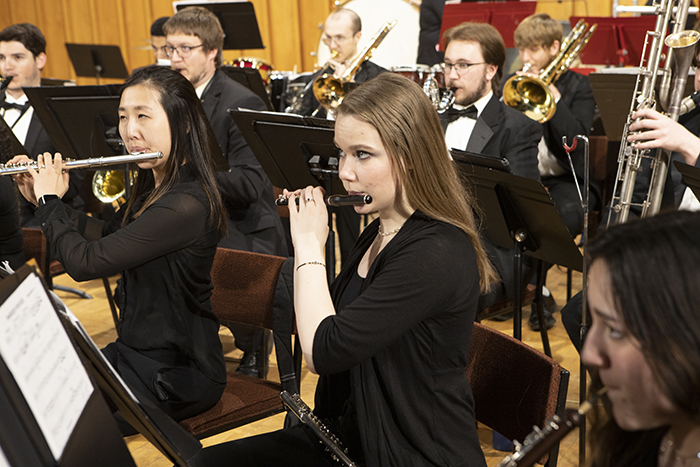 As part of our 115th Homecoming festivities, the Huskie Marching Band invites all alumni back to campus to participate in two special performance celebrations.

In addition to Saturday's annual Fill the Field event at Huskie Stadium, all School of Music and Huskie Marching Band alumni are invited to perform with the NIU Wind Ensemble, under the direction of Dr. Thomas Bough. This concert is being given in the beautiful Boutell Memorial Concert Hall at 7:00 PM on Friday, October 7.

Alumni musicians will have the opportunity to join forces with current NIU Wind Ensemble students to perform Frank Ticheli's exciting classic Vesuvius. Former NIU Huskie Marching Band Drum Major and NIU School of Music alumnus Lt Col Bryan Miller will serve as guest conductor for this special performance.

Alumni performers should arrive at 5:40 p.m., rehearsal will begin at 6 p.m. with the concert beginning at 7 p.m. Performers should wear concert black or all black clothing. Instrument cases and personal items will be stored in MB161.

Concert tickets are available here. Performers do not need to purchase a ticket.

The concert will also be streamed on the NIU School of Music's YouTube channel.

Questions? Please contact Director of NIU Foundation and Alumni Events Dana King, '05, at dking1@niu.edu or 815-753-5421.
Event Information
Cost: Free
When:
6:00PM Fri 7 Oct 2022, Central timezone

Where:
NIU School of Music
Music Building 550 Lucinda Ave
DeKalb, IL 60115
[ Get Directions ]
RSVP today!

The NIU Foundation follows the protocols and guidelines established by NIU regarding how to navigate the COVID-19 pandemic, which is based on the recommendations from the Centers for Disease Control and Prevention (CDC) and local public health organizations. NIU's protocols and guidelines are located at: www.niu.edu/protecting-the-pack.

The NIU Foundation and NIU Alumni Association recognize that the pandemic is, and will continue to be, a fluid situation and will abide by whatever mandates and guidelines that have been established at the local and state level.

We deeply respect and greatly appreciate our donors, alumni, community and friends. As we move forward – together – the NIU Foundation and NIU Alumni Association are committed to following the above guidance and making every effort to reduce any threat to everyone's safety, health and well-being.

We hope that you will decide to join us at an upcoming event and we look forward to seeing you.

Hand sanitizer and disposable masks will be available at our events. We encourage you to consider your health and personal well-being when deciding whether to attend.

Be well, and stay safe.