Student Frederick McClure Credits Patterson Scholarship for Musical Therapy Vision


By Eva Richards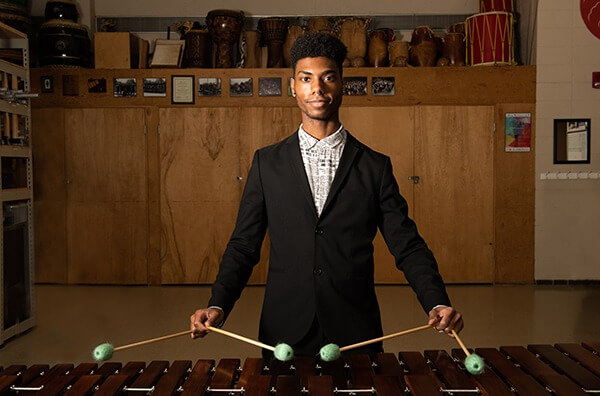 Frederick McClure hopes to earn degrees in music education and music performance.
Growing up in Orland Park, Illinois, NIU student Frederick McClure was interested in so many things that he had a difficult time deciding which passion to follow.

"I went from wanting to be a chef, to wanting to be an artist, even to wanting to be a DJ," McClure said. "It wasn't until my freshman year of high school that I decided to focus on being a musician."

The path to music led him to NIU's DeKalb campus, where he is currently pursuing dual degrees in music education and music performance. The experience has been lifechanging for the percussionist.

"So many of the musicians who had come into my life as I was growing up had come through the NIU school of music. Malika Green, Scott McConnell, Ben Wahlund, Liam Teague and Yuko Asada had all inspired me in one way or another, and knowing that each of them studied at NIU made my college choice easy," he said. "My own experience has had many up and downs, but it's the relationships and opportunities I've been graced with that have kept me going!"

While the choice to come to NIU was easy, financing a college education was not. Still, being a recipient of the Fanny Ruth Patterson Scholarship has allowed McClure to keep his mind on his music instead of his bank account. Each year, NIU's Black Alumni Council awards the Fanny Ruth Patterson Scholarship in order to celebrate the perseverance and promise of Huskies who embody the spirit of Fanny Ruth Patterson, who was the first African-American student to graduate from Northern. She earned a two-year degree in 1915 and went on to work as a teacher.

"As someone who came from a single-parent household—with parents who weren't able to pursue college at my age—having the gift of the Fanny Ruth Patterson Scholarship gave me support I needed to progress towards my goal of graduating," he said.

McClure's classroom and practical experiences at NIU have allowed him to further hone his vision for the future. For many years, McClure saw himself teaching in an elementary or high school classroom or band room, but since he began working at a group home for high-risk teens, he has decided to pursue using his musical knowledge for therapeutic use.

"Pursuing a master's in music therapy seems like the next step for me after I complete undergraduate degree," he said. "Working with my NIU School of Music peers to bring music to the low-income housing area of DeKalb was a great way to learn teamwork and organizing community outreach. Additionally, my job within a group home has taught me about 'Trauma Informed Care,' a skillset that I want to bring everywhere I go."

McClure is happy to share his story because he hopes it shows others the value of the Fanny Ruth Patterson Scholarship.

"I suggest donors support the Fanny Ruth Patteson Scholarship because it grants students comfort and security that is hard to find in our current times," he said. "Securing students' funds for schooling helps NIU prepare educators and musicians before letting them out into the world to heal it."

The NIU Foundation is raising funds to ultimately help the Black Alumni Council fund the Fanny Ruth Patterson Scholarship in perpetuity. Click here to learn more and to give.