Theodore 'Ted' Agbemaple, '19, Found Motivation, Support Through Patterson Scholarship


By Tony Scott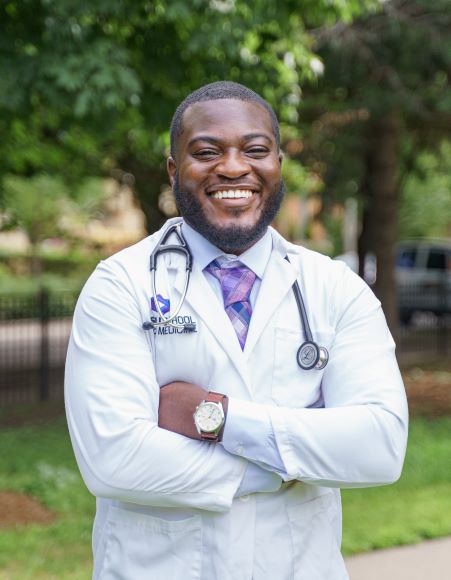 Theodore "Ted" Agbemaple, '19, who is currently pursuing his M.D., was a recipient of the Fanny Ruth Patterson Scholarship as an undergrad at NIU.
Theodore "Ted" Agbemaple, '19, always wanted to help people, going back to his childhood.

"My uncle is a physician and would always call me 'Dr. Ted,' which made me always consider being a physician a possibility," Agbemaple recalled.

Agbemaple spent his early childhood in Springfield, Illinois, then moved with his family to the Chicago suburbs when he was 12 years old.

Agbemaple was a non-traditional student at NIU, enrolling at the age of 23. But he said NIU made his decision to return to school easy. Additionally, he received the Fanny Ruth Patterson Scholarship, named for NIU's first Black graduate. The scholarship is given to students who embody the spirit of Patterson.

"It felt great to have the support of my community and served as an extra motivation to know that my people supported me and wanted me to do great things," he said of receiving the scholarship.

While at NIU, Agbemaple was highly active in a variety of activities. He served as a resident assistant for two years and was president of the Pre-Professional Association. In addition, he participated in the Huskie Service Scholars program, where he and other students helped struggling high school students with their homework and encouraged them to get a college education.

"Being a little bit older when I came to NIU, I already knew that I wanted to become a physician and that I was passionate about mental health," he said. "NIU helped me every step of the way to find extracurricular activities that would make me a strong applicant to medical school."

Agbemaple said he hopes to spark conversations as a Black man working in the mental health field.

"I have always been passionate about mental health," he said. "I knew there was a need and understood how stigmatized it was in the African-American community. I thought that by being an African-American male working in mental health, I could help facilitate conversations that might not take place if I wasn't there."

After receiving his bachelor's degree from NIU, Agbemaple earned a Master of Science degree from Rush University and is currently attending Southern Illinois University School of Medicine in pursuit of his M.D. as a psychiatrist.

Agbemaple said it is important that students see how the Fanny Ruth Patterson Scholarship helps them succeed.

"NIU has a large population of African-American students that need to know that we are rooting for their success and take pride in the work they are doing," he said. "Seeing that students of color have benefitted from the scholarship and that it has made an impact on other students who were in their shoes can serve as motivation to persevere through the adversity of their studies."

Giving to the Fanny Ruth Patterson Scholarship is an investment in the future, Agbemaple said.

"By donating to the Fanny Ruth Patterson Scholarship, you are investing in the future of a bright young individual who will make an amazing impact on our community," he said. "I am so grateful that people donated so I could receive the scholarship and I hope that others are able to benefit like I did in the future."

The NIU Foundation is raising funds to ultimately help the Black Alumni Council fund the Fanny Ruth Patterson Scholarship in perpetuity. Click here to learn more and to give.