Dr. Willie J. Greer Kimmons, M. S. Ed. '70, Ed. D. '74, Earns Distinguished Alumnus Award at Northern Illinois University (NIU) in DeKalb, Illinois, on Oct. 7, 2022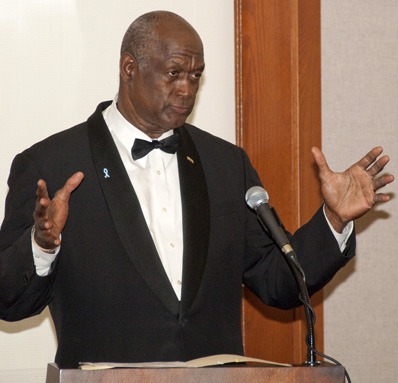 Among many other career successes, Willie J. Kimmons, who earned his master's degree in education in 1970 and his doctorate in educational administration in 1974 from NIU, was the first African American head coach in NIU's history.
Dr. Willie J. Greer Kimmons was born in Hernando, Mississippi, 15 miles south of Memphis, Tennessee. He was raised in Memphis, Tennessee where he attended public school and received his high school diploma in 1962 from Frederick Douglass High School. During his first nine years of schooling, young Willie Greer Kimmons attended school all year round. He would attend school in Memphis from September to May then go to Hernando where his extended family lived and attend school from May to September. In those days, Mississippi had seasonal schools for Blacks held in a one room schoolhouse. His teacher had a 12th grade education, but was truly committed to educating all the students and teaching the importance of family values and having a good relationship with God.

Some Blacks could go to school from May to September when they were not working in the cotton fields. But young Willie Kimmons took advantage of the opportunity to continue. As a result of this, he has a profound appreciation for education.
He is the oldest living of 27 sisters and brothers, between his mother, father and stepfather. Dr. Willie J. Greer Kimmons is a religious man, family man, parent of four adult children, including two daughters and two sons. All of whom are graduates of Historically and Predominately Black Colleges and Universities (HPBCU's). He has seven grandchildren, five girls and two boys. Willie Greer Kimmons has 75 nieces and nephews.

Young Greer Kimmons had a good extended family, lots of mentors and positive role models. Most of his aunts, uncles and grandparents were not formally educated, but they always instilled in him the importance of education. His mother had limited education while attending school in a one room school in Hernando, Mississippi.

The emphasis on learning was always with Greer Kimmons, as he earned his college degrees and took on ever increasing responsibilities within the educational system. As a "strong voice for our children, parents and teachers," Greer Kimmons has worked for 50 years in education, serving as a classroom teacher, college professor, Dean, Vice President, President and Chancellor. When he retired in 2001, as a college president, God gave Dr. Greer Kimmons his ministry to help save our children and save our schools. He has worked as an educational consultant through his corporation, Save Children Save Schools, Inc. Educational Services in Daytona Beach, Florida. He is also the author of seven books. Greer Kimmons serves as a motivational speaker and as one of America's leading authorities on education, leadership, parental involvement and health-related issues. His seventh book is entitled, The Personal, Private, Professional, Political Life and Legacy of the Honorable Shirley Anita St. Hill Chisholm-Hardwick, Dr. Willie J. Greer Kimmons' godmother. The Honorable Shirley Chisholm was the first African American female elected to the U.S. Congress in 1968 and the first African American female to seek the office of the President of the United States in 1972.

For Greer Kimmons' legacy as a public servant, motivational speaker, community leader, activist, educator and author, he will be awarded the NIU Alumni Association's Distinguished Alumnus Award at a luncheon on Oct. 7, 2022, in DeKalb, Illinois. Greer Kimmons credits a village of family, teachers, athletic coaches, church ministers, friends and mentors that instilled in him to always reach back and help those who were not as fortunate and blessed as he was.

Dr. Greer Kimmons' grandfather often referred to the words "pecking order." Later, Greer Kimmons came to understand the meaning of that. Because he was the first son of the first son, he was to become the family spokesperson. Greer Kimmons took his grandfather riding throughout Hernando, Mississippi for 20 years. After five years of this quality time together, Greer Kimmons realized his grandfather was teaching him seven generations of family history and instilling a sense of pride and purpose. One of the greatest joys of Greer Kimmons' life was being asked by his grandfather to preach his eulogy. His grandfather passed on Dec. 26, 1987, at the age of 97.

In addition to his family, Greer Kimmons came to rely on his adopted godmother, former Congresswoman Shirley Chisholm, whom he met at the age of 9. Dr. Greer Kimmons' relationship began with Mrs. Chisholm when she was the keynote speaker at the local NAACP meeting in Memphis, Tennessee. His third-grade teacher, Mrs. Frances Hooks, wife of Judge Benjamin Hooks, the first African American judge in Shelby County Tennessee, was the president of the local Memphis NAACP chapter. In the 1970s, Judge was the president of the National NAACP organization. Mrs. Hooks invited Mrs. Chisholm to speak to her class and asked Willie Kimmons to introduce their speaker because she knew he liked to talk.

After Mrs. Chisholm's speech, she asked young Kimmons how many sisters and brothers he had. His response was, "I don't know. My mother and father are not married." She said," I've always wanted a little boy and one day maybe I can adopt you." His reply was, "Ma'am, you have to ask my mother." This was the beginning of a lifelong relationship between Mrs. Chisholm and Greer Kimmons until her death on Jan. 1, 2005, in Ormond Beach, Florida.

In 1966, Willie J. Greer Kimmons received his B. S. degree from Lincoln University in Jefferson City, Missouri. He taught at a middle school in Sikeston, Missouri, from 1966 to 1967, to assist with the integration of the Sikeston School System. In the summer of 1967, Greer Kimmons was selected to help in the integration of the Memphis, Tennessee swimming pools. From 1967 to 1969, he served as an officer in the U.S. Army during Viet Nam. Greer Kimmons earned his M.S. degree in 1970 and his doctorate in 1974, both from the College of Education at Northern Illinois University in DeKalb, Illinois.

Dr. Willie J. Greer Kimmons came to Northern Illinois University in 1969. Dr. Francis Stroup was recruiting graduate students for teaching assistant positions. Dr. Jack Mitchum, was the special assistant to the president for minority affairs. His job was to recruit African Americans to NIU as faculty and staff members. Greer Kimmons was one of the original groups of African Americans recruited in 1969. He became the first African American head coach of any sport at NIU. He taught education, health and physical education courses while serving as head cross country coach and assistant freshman basketball coach, from 1969-1973 at the University.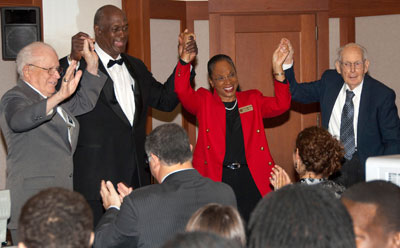 From 1970-1972, Greer Kimmons was asked by a group of white students in one of his classes to be their house father at the Sigma Alpha Epsilon fraternity house. They wanted a young, full-time faculty member who had leadership skills working with young men of all races.

In 1968, the creation of the "CHANCE" program (Counseling, Help and Assistance Necessary for a College Education) was the vision of former NIU president Dr. Rhoten Smith. Mr. McKinley "Deacon" Davis from Rockford, Illinois, was the first director. The program was to recruit and serve as an academic support group for Black and minority students. As a result of this program, Greer Kimmons was able to bring two sisters, a brother and a cousin from Memphis, Tennessee, to enroll as students at NIU. He served as their legal guardian. Also, in 1968-69, former NIU President Dr. Rhoten Smith established the first Black Studies Center and appointed Mr. Robert Starks, from Chicago as the first director.

In 1973-74, Dr. John Johansen was the chairman of Greer Kimmons' doctoral committee and dissertation. He taught graduate courses in educational administration and supervision, and served as Greer Kimmons faithful advisor. Northern Illinois University properly and professionally prepared Greer Kimmons for the world of work. He became a classroom teacher, college professor, college dean, college vice president, college president and college chancellor. Greer Kimmons says that he owes a great deal of gratitude to Northern Illinois University for the teaching experience and to the outstanding faculty members for their guidance, assistance, encouragement and advice.

Forty-eight years later, in 2017, the captain and anchor of Greer Kimmons' cross-country team, Don Gereau, invited the cross-country team back to NIU for a reunion with their coach. "My former young cross-country team members were now all fathers and grandfathers. I was delighted to share memories with them. I had the opportunity to teach and coach many outstanding student-athletes in cross-country and basketball at NIU," said Greer Kimmons.

The twins, Tim and Tom Gullikson, from Wisconsin, came to NIU on half basketball/half tennis scholarships. They became professional tennis players. Billy Harris, was an exceptional basketball player from Chicago and was later drafted to play professional basketball. Many of Greer Kimmons' students were extremely successful in areas of religion, teaching, law, politics and business.

Dr. Willie J. Greer Kimmons has given more than 500 presentations and lectures to a variety of organizations. His lists of awards and volunteer positions are too lengthy to be shared. He is an ever-present public figure in his Daytona Beach, Florida community where he also serves as a health care advocate and community activist. Dr. Greer Kimmons has served on more than 10 community, city, county boards and advisory councils in Florida for the past 20 years.

Another highlight of his career came in 2018, when Dr. Greer Kimmons received the National Civil Rights and Social Justice Award for his lifelong commitment and his body of work in support of human dignity, civil rights and social justice. The award was presented during the 54th Anniversary Commemorative Service for James Chaney, from Meridian, Mississippi, Andrew Goodman and Michael Schwerner, both from New York. These three young freedom fighters were lynched in 1964 in Philadelphia, Mississippi while assisting and encouraging Blacks to register and vote. Dr. Greer Kimmons also served as the keynote speaker at the awards ceremony.

With all the success he has achieved, Dr. Greer Kimmons says the "village" around him is still active. He continues to encourage young people to find their village and network to make connections all around them, which will eventually come back to help again and again in their lives.

When asked what the NIU Alumni Association Distinguished Alumnus Award means after a lifetime of so many successes and accolades, Greer Kimmons refers to the students he had the opportunity to serve through the years. "This award is not for me, it's for all the outstanding students and student-athletes I had the great pleasure to interact with and for my children and grandchildren. I have over 100 awards, plaques, certificates and 12 keys to different cities for my civic and community involvement. Therefore, my years spent at Northern Illinois University beginning in 1969 were challenging, educationally stimulating, enlightening and gratifying. Thanks for the opportunity to serve. God bless."