Jennifer Wachter, '09, M.S. '12, Ph.D. '16 Researching Lyme Disease Bacteria


By Tony Scott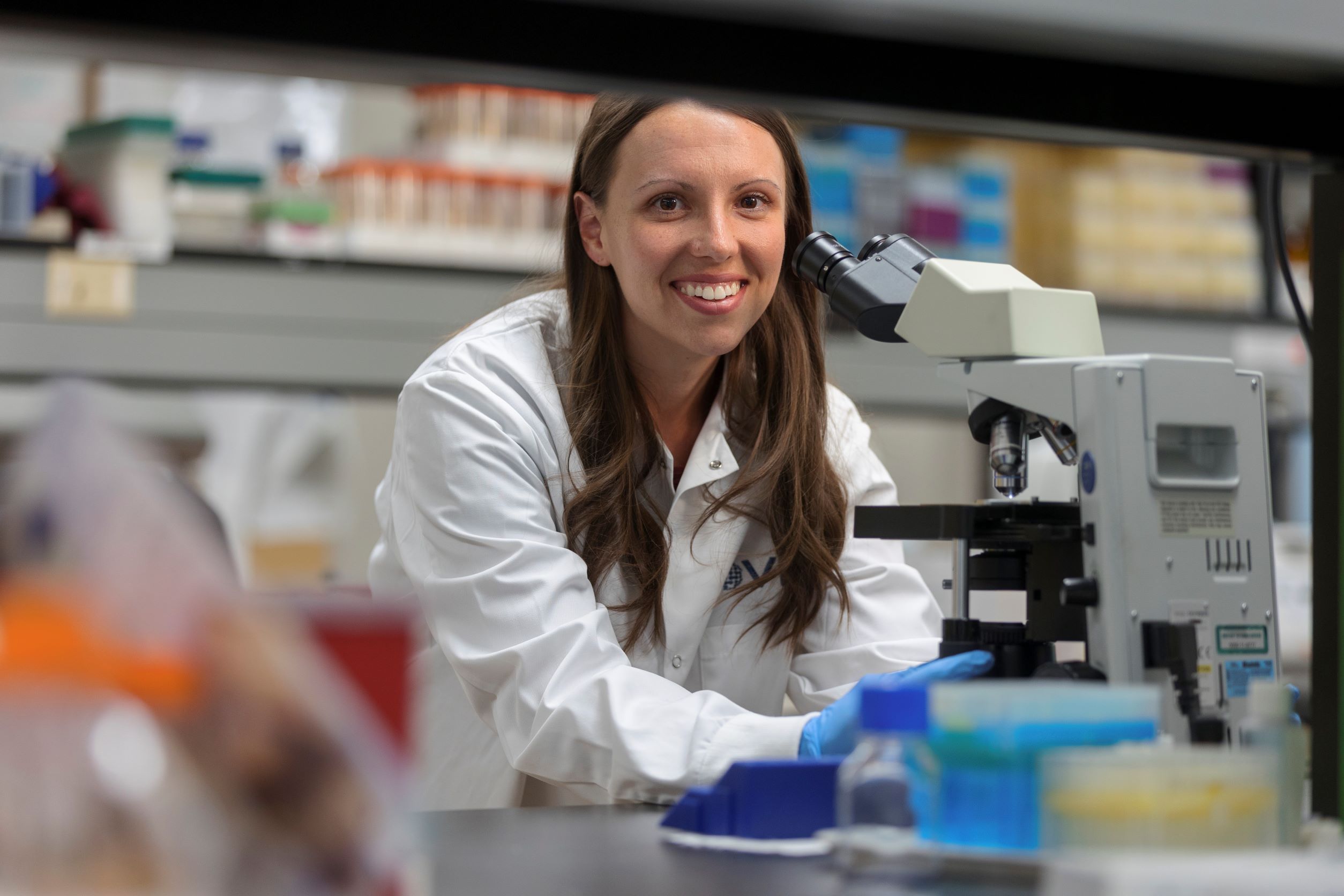 Jennifer Wachter is currently researching Lyme disease and its related bacteria.
There are hundreds of thousands of new cases of Lyme disease diagnosed every year, and Jennifer Wachter, '09, M.S. '12, Ph.D. '16, is conducting groundbreaking research to help find new treatments and ultimately a cure.

"I love research and biology is truly my passion," she said. "It is exciting to discover aspects of infectious organisms that are important for pathogenicity. I am interested in research that can lead to better diagnostics, therapeutics, and vaccines for bacterial pathogens."

With the help of NIU professor Stuart Hill, Wachter received a post-doctoral position with the National Institutes of Health in Montana studying the causative agent of Lyme disease, Borrelia burgdorferi. Wachter currently works as a research scientist at the Vaccine and Infectious Disease Organization (VIDO).

"My time at NIU, along with the support and encouragement from the faculty, really prepared me for my scientific career," she said. "I was encouraged to take bioinformatics classes which not only advanced my research at NIU but has continued to contribute to my research. My time at NIU, helped define my future research and instilled a love for microbiology."

Wachter joined Hill's lab during her senior year of undergrad.

"He was an amazing mentor and I stayed in his lab for my master's and Ph.D.," she said of Hill. "I learned a lot from him, and he taught me the skills I needed for a successful post-doc, and eventually, a principal investigator position."

Wachter grew up in Rockford, the daughter of Peter, '80, and Colette McConoughey. She attended Rock Valley Community College in Rockford for two years before transferring to NIU, where she spent the next nine years of her academic career. While at NIU, she was joined by her sister, Laura, who later transferred to another university. She also met her husband, Shaun Wachter, M.S. '13, while they were both graduate students at NIU.

"I have a supportive family who always encouraged me to follow my dreams," she said.

Wachter recalled her time at NIU with fondness for the local restaurants and social environment, but said she especially loved spending time in Hill's lab.

"I spent a lot of my time in lab and made amazing, lifelong friends there," she said. "I also met my incredible husband while we were grad students in Dr. Hill's lab at NIU."

Wachter was a member of the Phi Sigma Biological Sciences Honor Society for two years while at NIU and was a graduate assistant for seven years during graduate school.

Wachter said she has always been interested in bacterial pathogens, and her work at NIU paved the way for a post-doctoral position working for Dr. Patricia Rosa at Rocky Mountain Labs, NIAID, NIH in Hamilton, Montana.

After six years at Rocky Mountain Labs, Wachter acquired her current position at the Vaccine and Infectious Disease Organization, a part of the University of Saskatchewan and Canada's center for pandemic research and is a world leader in infectious disease research and vaccine development. Her husband, who received a Ph.D. at the University of Montana, also works at VIDO.

Her research is focused on Borrelia burgdorferi, the bacteria that causes Lyme disease.

"Lyme disease, caused by Borrelia burgdorferi, is the leading cause of tick-borne illness in the United States, with an estimated 470,000 clinically diagnosed cases every year," Wachter said. "B. burgdorferi is a fairly new pathogen, being discovered in the early 80's, and as such there is still much to be discovered."

She continued, "B. burgdorferi is an enzootic pathogen that is maintained in nature through transmission from hard-bodied Ixodes ticks and a susceptible vertebrate host. These two environments, the tick and vertebrate host, are vastly different, and B. burgdorferi must be able to sense and appropriately respond for survival and transmission. I am interested in studying the genes that regulate the responses that drive transmission and survival within the susceptible vertebrate host."

Additionally, all Lyme disease bacteria encode what is called bacteriophage, or bacterial viruses that parasitize bacteria. The presence of phage parasitizing B. burgdorferi has been known since its discovery in the 1980s, Wachter said, but their role throughout the infectious cycle is unknown.

"I am interested in determining the importance of phage throughout the infectious cycle and if they are responsible for maintaining this pathogen in populations," she said.

Wachter said NIU students pursuing a scientific research career should surround themselves with a strong support system. She credits both her mentors at NIU and her family for supporting her.

"Science, particularly research, has its ups and downs," she said. "I appreciated all the encouragement and support I received from the faculty and students at NIU, along with the unwavering encouragement from my husband. I have been extremely fortunate to have had amazing mentors at NIU and during my post-doc and have realized how important it is to find an advisor that you can work well with, learn from, and who is supportive of you and your future."

She said that research may not be for everyone, and that she found it helpful to balance her time between research and teaching as a graduate assistant to determine her career path. She also encouraged those pursuing a research career to take advantage of any interesting classes offered.

"If there is a class that interests you or that you think may help with your career down the road you should take it, regardless of the time that it takes away from your thesis project," she said. "There are classes that, at the time, seemed like a burden, but I have since looked back on and continued to learn from during my research."

Wachter also said students in research should never limit themselves.

"I know that imposter syndrome is prevalent in individuals attaining higher degrees," she said. "It is something that I struggled with for years. The encouragement I received from my advisors (Dr. Hill and Dr. Rosa), husband, and family is what helped me overcome this and gain confidence."