Michael Embrey, '75, M.S.Ed. '92, Receives Americanism Awards for Service to Fellow Veterans


By Eva Richards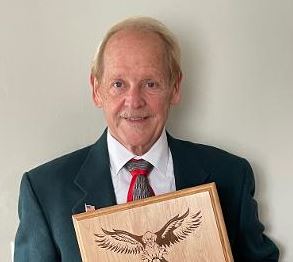 Michael Embrey, '75, M.S.Ed. '92, was recognized with the 2022 State of Illinois award for 'Americanism' for his outstanding volunteer work on behalf of veterans.
When Michael Embrey, '75, M.S.Ed. '92, of DeKalb came to NIU in the early 1970s, he wasn't a traditional student. Having served in the U.S. Air Force as a musician and arranger for the USAF Band/Drum & Bugle Corps, he had already garnered plenty of experiences before stepping into a college classroom.

"I served from1967-71 and was stationed at the U.S. Air Force Academy in Colorado Springs, Colorado," he said. "I came to NIU after my military career and as an older student who realized the importance of an education."

Embrey enrolled in the College of Visual and Performing Arts as a music education and performance major, hoping to continue a career in music. What he got was much more. After earning his degree, Embrey went on to be the NIU Marching Band Director for 10 years.

"NIU gave me an opportunity to expand my music career to become nationally known as an entertainer, show producer, music arranger and marching band show writer," he said. "My most fond memory was seeing the NIU Marching Band grow and giving non-Music majors a chance to perform and be part of a major University Marching Band. NIU was the first major college band to have a drum corps influence, plus my creation of the NIU Silverettes and flag line. This continues to be special to me, as students still remember the good times in college by their being involved in the NIU Marching Band. I have many great stories from those days."
Switching gears in 1984, Embrey founded FunME Events™, based in DeKalb, which is the parent company for several entertainment and excursion divisions.

"The company has provided services for several major festivals and special events, and includes clients from America's top Fortune 500 companies, convention and visitors' bureaus, state and national event organizations, and festival groups. FunME has a variety of entertainment shows and acts available for corporate and private events," he said.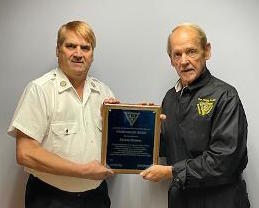 In 1992, Embrey returned to NIU and earned his M.S.Ed. in Adult Continuing Education. While his passion has always been in music and performance, his heart remained with veterans like him, who have given precious years to their lives to serving their fellow Americans. He became very active with area veteran's organizations, such as the American Legion, The Forty and Eight, Amvets and Taps for Veterans, and he has continued his dedication to these causes for nearly 40 years.

In August, Embrey was recognized with the 2022 State of Illinois award for 'Americanism' for his outstanding volunteer work on behalf of veterans. In September, Embrey was notified that he had become the "National Americanism Award" winner and would give the keynote speech at the The Forty and Eight National Convention in Green Bay, Wisconsin. The The Forty and Eight Americanism Award is both the highest honor and the most prestigious award given to an individual who meets a unique set of guidelines. These guidelines require an individual to be involved in an "Americanism- type" program on a national or very broad regional scale.

"Being a servant leader is a desire to serve, which is natural and innate, while also stepping into a leadership role as a conscious choice," Embrey said. "I like to say, 'Lead by example and mentor by passion.'"

Each year, State of Illinois Chapters of The Forty and Eight veteran military organizations select someone who demonstrates a high standard of promoting various projects that benefits fellow veterans and veterans' families, not only local but regional and nationally. The Americanism Award is the most prestigious award given by the Forty and Eight, at both the state and national levels. Each state winner is expected to attend the National Convention as a state winner.
The Forty and Eight is an independent honor society of American veterans and service members. Founded in 1920 by American veterans returning from France, the organization was originally an arm of The American Legion and became an independent and separately incorporated veteran's organization in 1960.

Membership is by invitation of honorably discharged veterans and honorably serving members of the United States Armed Forces. The organization is committed to charitable and patriotic aims, such as upholding and defending the U.S. Constitution of the United States and promoting the well-being of veterans, their widows, widowers and orphans. It also seeks to actively participate in selected charitable endeavors, which include programs that promote Americanism and nurses' training.

"The DeKalb Chapter 207 of Forty and Eight was proud to select Michael Embrey as our chapter's candidate for the State of Illinois Americanism Award," said Dr. John Chatellier, an officer with the DeKalb County Forty and Eight Chapter. "We were extremely pleased he was selected as our state winner."
This is not the first service award Embrey has received, as he was awarded the State of Illinois ELKS "Veteran Volunteer of the Year" award in May. However, for someone who has spent the last four decades planning events and performances for others, Embrey was humbled to be honored at the award presentation in August.

"When we reach a certain age or status in life, winning awards or acknowledgement is not for glory, but because it is the right thing to do," Embrey said.