2022 Alumni Holiday Reception
Wednesday, Dec. 7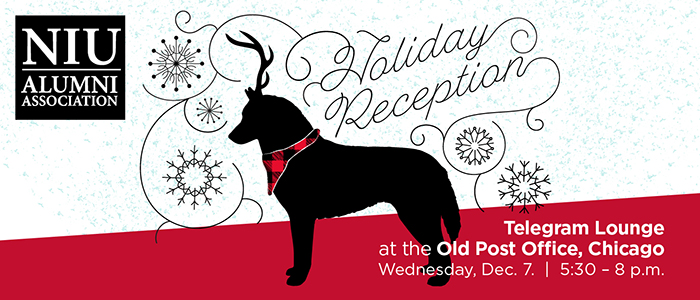 Join us for our annual Holiday Reception from 5:30-8 p.m. on Wednesday, Dec. 7 at Chicago's historic Old Post Office, in the beautiful Telegram Lounge.

The holiday reception will feature heavy hors d'oeuvres and a full, hosted bar. The lounge also features bocce ball lanes and pool tables for guests to enjoy while networking with fellow alumni.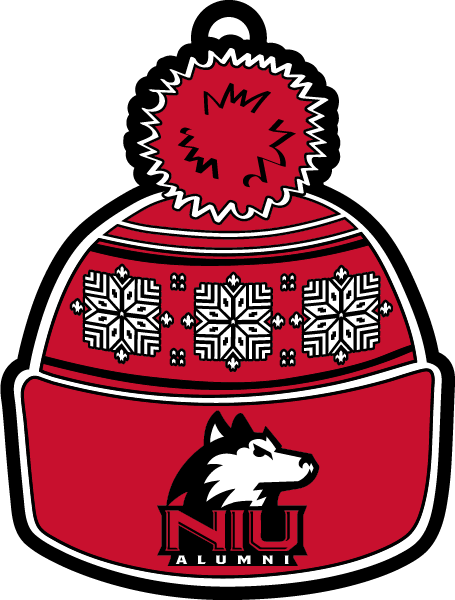 NIU alumni gear and swag will be available for purchase during the event for all your holiday shopping needs! The 2023 NIUAA ornament (pictured to the right) will be available for purchase as well.

Don't forget to stop by our sponsor's table and catch up with representatives from the NIU College of Business MBA Program.

Roundtrip bus transportation will be available, but there are a limited number of seats. The bus will depart from the Oak Crest DeKalb Retirement Center at 3 p.m. followed by the Barsema Alumni and Visitors Center (3:15 p.m.) and NIU Naperville (4 p.m.).

Questions? Please contact Dana King, '05, director of NIU Foundation & Alumni Events, at dking1@niu.edu or 815-753-5421.
Event Information
Event Registration ONLY:
Online Registration - $45; $35 for Young Alumni (alumni 32 and younger)
Registrations at the Door - $50; $40 for Young Alumni

Event Registration AND Roundtrip Bus Ride:
Online Registration - $65; $55 for Young Alumni (alumni 32 and younger)
The bus will pick up and drop off at the Barsema Alumni and Visitors Center and Oak Crest in DeKalb, as well as NIU Naperville. If you will be riding the bus, please select the ticket for the stop you will be leaving from.


When:
5:30PM - 8:00PM Wed 7 Dec 2022, Central timezone

Where:
The Old Post Office – Telegram Lounge
433 W Van Buren St
Chicago, IL 60607
[ Get Directions ]
Click here to buy tickets!

The NIU Foundation follows the protocols and guidelines established by NIU regarding how to navigate the COVID-19 pandemic, which is based on the recommendations from the Centers for Disease Control and Prevention (CDC) and local public health organizations. NIU's protocols and guidelines are located at: www.niu.edu/protecting-the-pack.

The NIU Foundation and NIU Alumni Association recognize that the pandemic is, and will continue to be, a fluid situation and will abide by whatever mandates and guidelines that have been established at the local and state level.

We deeply respect and greatly appreciate our donors, alumni, community and friends. As we move forward – together – the NIU Foundation and NIU Alumni Association are committed to following the above guidance and making every effort to reduce any threat to everyone's safety, health and well-being.

We hope that you will decide to join us at an upcoming event and we look forward to seeing you.

Hand sanitizer and disposable masks will be available at our events. We encourage you to consider your health and personal well-being when deciding whether to attend.

Be well, and stay safe.