Married Team Leah Ryan, M.A. '12, and Jerry Burnes, '09, M.A. '12, Launch Independent Media Outlet


By Eva Richards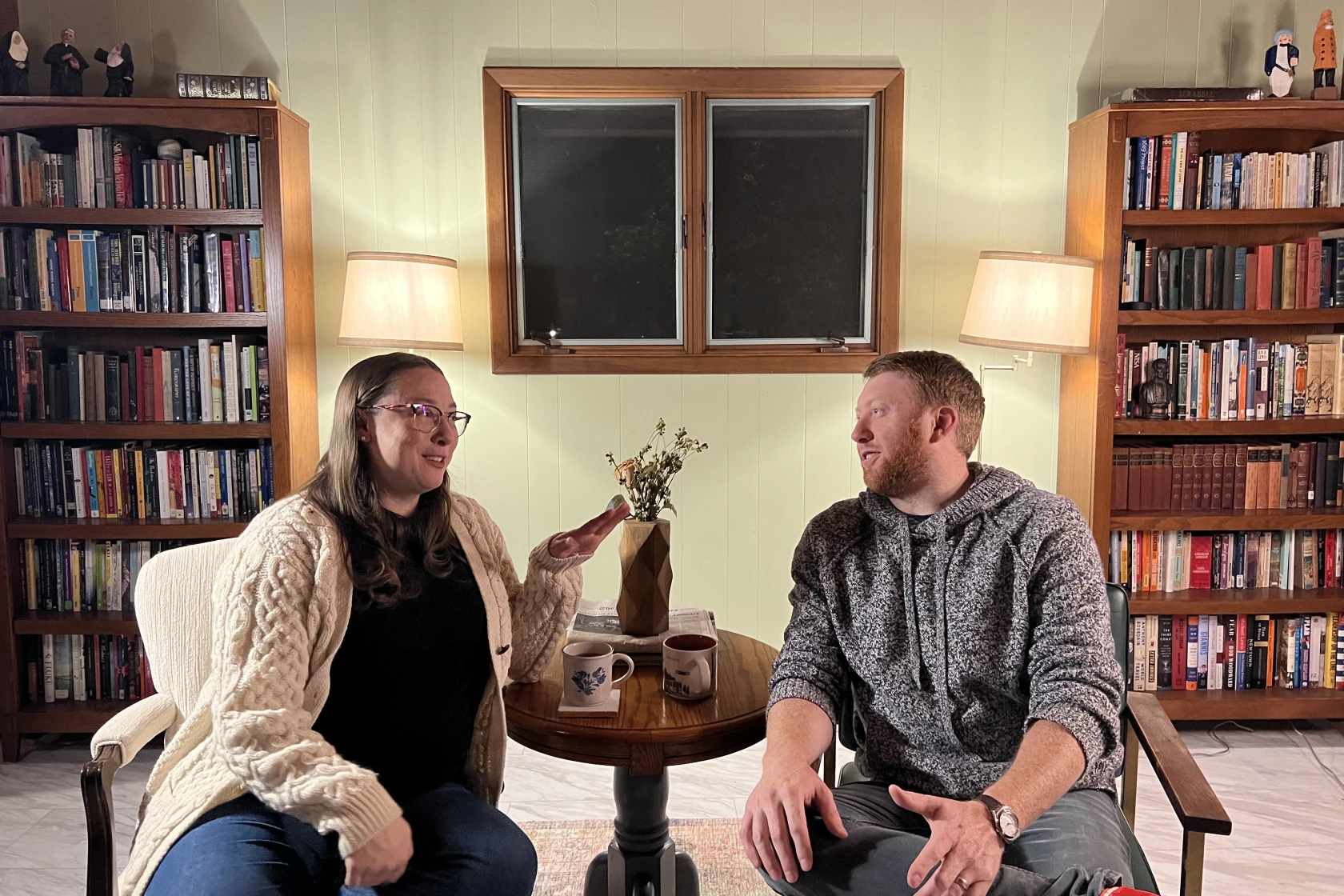 Leah Ryan, M.A. '12, and Jerry Burnes, '09, M.A. '12, met at NIU when they were earning their master's degrees.
When Leah Ryan was growing up in Williston, North Dakota, she had no idea what she wanted to be when she grew up. Still, her ties to journalism were inherent.

"My mother was a journalist. She worked as an editor for Wick Communications in Williston at the Williston Herald, and in Telluride, Colorado. Later she also was the editor in Menomonie, Wisconsin," she said. "I used to love bringing my class to the newspaper on field trips and showing off where my mom worked, all the people that I knew, and the excitement of the printing press."

As a kid, Ryan was curious and liked to ask people questions.

"I remember doing extensive interviews with my grandparents and furiously taking notes," she said. "For Christmas, I wanted a reporter's notepad. When I was a little older, I saved up my money and bought a handheld recorder. I was so excited to take that with me to the Ryan family Christmas. I interviewed aunts and uncles and would sneakily leave it running on the kitchen table."

Ryan didn't realize at the time what this interest would mean for her future.

"I never knew that I wanted to become a reporter. In fact, when I went to college, I was bound and determined not to end up like my mother," she said. "But I guess journalism was in my blood."

Meanwhile, more than 1,000 miles east of Williston, in Wilmington, Illinois, Ryan's future husband Jerry Burnes was growing up and feeling pulled to a certain profession.

"I was always interested in the Chicago Cubs and wanted to find a way to work for them," Burnes recalled of his childhood. "I started taking a journalism class in high school and realized that was a pathway to my dream, but through journalism, I found a lot more things that interested me as I grew up, like politics and social issues."

These interests started the pair on their way to careers in journalism, but first, they had to meet!

"Well into my twenties, my favorite question to ask people was 'what do you want to be when you grow up?'" Ryan said. "Jerry always wanted to become a journalist. I had no idea what I wanted to do. It wasn't until becoming a reporter that I stopped asking. I guess what I was looking for was my answer."

While Burnes decided to attend NIU to study journalism, Ryan earned her dual degree in communications and Spanish from Concordia College in Moorhead, Minnesota.

"I went to NIU because it was close to home and when I visited campus the first time, I really liked the atmosphere, the layout and what it had to offer for journalism classes and opportunities through the Northern Star," Burnes said. "I really enjoyed my experience, enough to come back for my graduate degree and stay connected to some of the people there. I made lifelong friends through NIU and developed a lot of good connections, too."

Burnes credited NIU with providing access to a lot of "smart people in media and journalism."

"It was not just the staff either, but fellow students who helped push the experience and classes forward. At the time, the staff had a lot of people with different field experience—journalists, freelancers, authors and bloggers—and that translated into the classroom," Burnes said.

After her four years came to an end, Ryan did not feel ready to leave the classroom.

"One of my professors told me to go to graduate school. I chose to attend NIU because they gave me a good teaching assistance package. Once I got there, I realized the invaluable opportunities I had by leading my own classrooms for COMS 100. I made friends. And I found the love of my life," Ryan said, referring to meeting her now-husband Burnes.

While Burnes and Ryan were earning their master's degrees in communication, they learned they had a lot in common and those commonalities grew into a lasting love story.

"After leaving with my graduate degree in 2012, Leah and I moved to her hometown of Williston, where I eventually joined the staff of the Williston Herald. I covered state politics and the region's historic oil production boom before being promoted to the paper's managing editor in 2013," he said.

"As the managing editor, he sat in the very desk my mother used to occupy," Ryan said. "The first time I saw him sit there, I was overwhelmed with emotion and memories. Sometimes on the weekends, Mom would bring my siblings and me into the office to finish up a few projects. She would put my baby brother in the Pack 'n Play, and my sister and I would play with our dolls. Now, I was an adult sitting in the same space with a new life. My parents moved to Williston during the oil boom of the 1980s. There I was, with my soon-to-be-husband, moving to the same place for the same reason—jobs."

Burnes left the Williston Herald in 2015 to join the Mesabi Daily News, on Minnesota's Iron Range, as the managing editor and, later, the editor, reporting on the area's mining industry and politics. In 2020, he was recognized by the Washington Post's The Fix as an outstanding political reporter to follow in Minnesota.

Earlier that year, during the pandemic, Burnes also led the merger of the Mesabi Daily News and Hibbing Daily Tribune into the Mesabi Tribune, a move that kept the publication the only daily print publication north of Minneapolis in the state. In 2021, Burnes took a hiatus from journalism, working in communications for Lake Country Power, a rural electric cooperative.

During this time, Ryan was also forging her own journalistic career as an award-winning reporter at the Mesabi Tribune, where she was recognized for her feature reporting and statewide in Minnesota for a series exploring the opioid epidemic on the Iron Range. In 2016-17, she was named the Dave Pyle New Journalist of the Year among daily newspapers by the Minnesota Newspaper Association.

Then, in 2022, the pair decided to embark on a new journalistic challenge, based on their community's feedback.

"Earlier this year, I wanted to get back into journalism again, but more on my own terms," Burnes said. "Working for small newspapers my whole career, I wanted flexibility for myself, for our family and to do more deep dives into the issues and other aspects our community faced. Simultaneously, we heard from the community about a need for more reporting in the region after we left the Mesabi Tribune, so it was really a perfect storm of community need and our own desires to do something we really enjoy again."

Burnes and Ryan founded Iron Range Today, an independent digital news organization covering Minnesota's Iron Range region. From the mining industry and politics to a vibrant arts and entertainment community and more, the pair covers the people, places and issues that are necessary to tell the story of the area.

"The best part has been doing this with Leah and seeing the Iron Range community rally around it," said Burnes. "I enjoy being back in journalism, even if it's been on a part-time basis. I've also enjoyed the interest that the Minnesota journalism community has shown in us launching this."

For the couple, the most challenging aspect is time. Burnes still works full-time in communications and, together, Burnes and Ryan are foster parents.

"Only a well-informed community can thrive. Only a thriving community can support thriving families. We want our family to thrive therefore we want our community to thrive," Ryan said, who notes that she and Burnes are foster and adoptive parents with five children. "The best part of Iron Range Today is the flexibility that it gives us as a family and also the opportunities it opens up for our children to learn."

The couple's oldest son, Michael Burnes, is only in eighth grade but has already had photo credits within Iron Range Today, and on Minnesota Public Radio. Their oldest daughter, Savanna Burnes, is working on a book review of a cookbook, where she plans to test out several recipes for the family and write up the results on the Iron Range Today website. Their youngest children are creating art that is used on the website.

"These are extracurricular activities our children would not be part of without Iron Range Today," Ryan said. "One of the most challenging parts of Iron Range Today is building time in our lives to do this together, while still getting everyone to bed on time. But this challenge is worth it."

Burnes points out that he is also fueled by the need for quality journalism in their region.

"It's important to me because a community needs good local journalism to be engaged with itself and understand why things are happening, to hold people accountable when needed and have a voice," he said. "This is a way we can give back to our community and show our kids how to help create a healthy place to live."

Looking back at his career journey, Burnes notes that his time at NIU was instrumental in his success.

"I don't know where my life or career would have gone without my time at the Northern Star," he said. "It opened my eyes to so many options in the world of journalism and gave me real-life experience. I covered breaking news, campus news, sports, gained editor experience, worked as a photographer and more in my time there. I gained experience in a newsroom that took itself seriously and learned accountability in the field. It humbled me at times."

Ryan agrees. "NIU brought us together as a couple. I would not have a successful life without Jerry. He encourages and supports me every single day. We work well together in our family but also in the newsroom."