Battalion Chief Shawn Collins, M.P.A. '16, Brings Safety Expertise to Fire Emergencies


By Eva Richards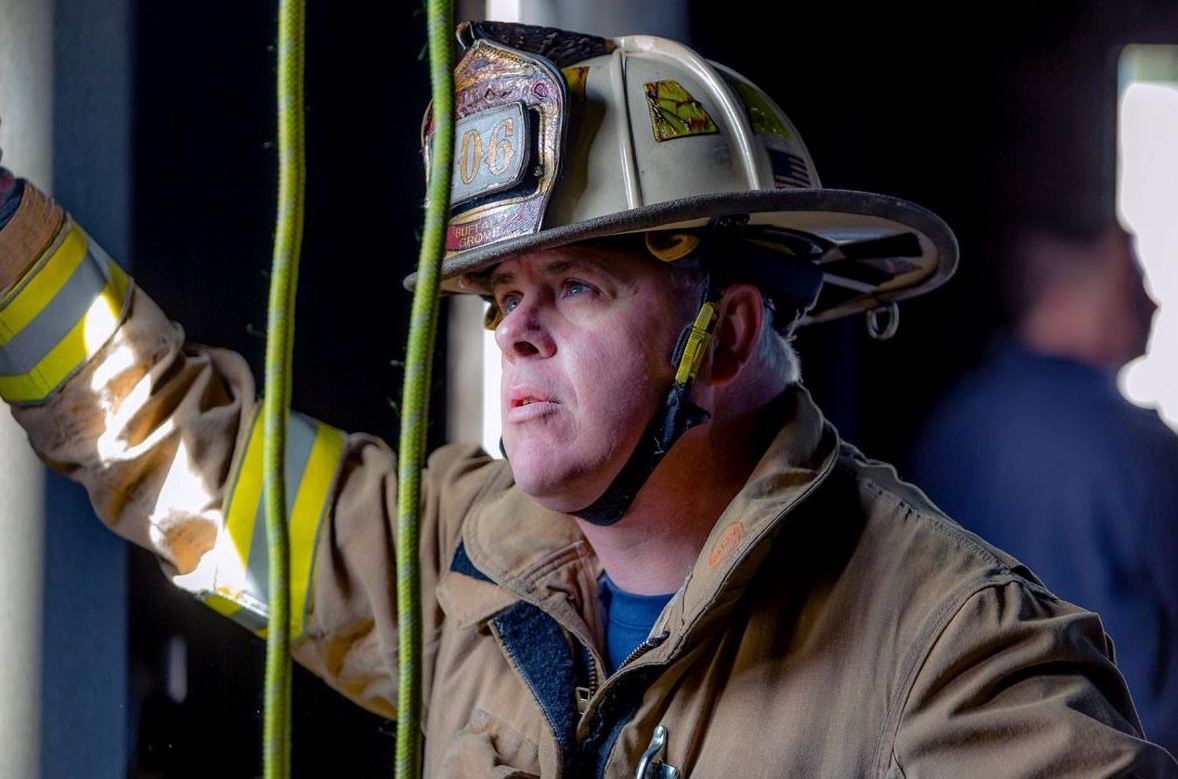 Battalion Chief Shawn Collins earned his CFO designation this fall.
Photo Credit: John Kleeman
While growing up in the south Chicago suburbs of Worth and Hickory Hills, Illinois, Shawn Collins and his sister Mary only had each other.

"Our home life was difficult, and we really didn't have much growing up except for each other," Collins said. "This made school difficult because I spent my time trying to get through and really didn't fit in during middle and high school. My junior year of high school, I worked two jobs to keep busy."

In September of his senior year, he made what he calls the best decision of his life. The Roberts Park Fire Protection District, the fire department in Collins' town, was hiring fire cadets, and he decided to try for the role.

"I applied for the job and was hired—my third job at the time," he said. "A cadet is a fire trainee who is under 18; they train alongside the firefighters doing all the classes and hands-on training but cannot go into an actual fire until they turn 18 and are certified by the state."

Collins trained on Wednesday evenings and Saturday mornings for the entire school year. At first, he only went to the firehouse on those days or during calls, but as his home life became more difficult and disruptive, he preferred to be at the station instead of at home.

"One day in January, one of the full-time firefighters pulled me aside and told me that I didn't have to go home, that I could stay at the firehouse, do my homework there and hang out with them," he said. "It turned out that those firefighters were the family and role models that I needed in life. There were 12 full-time firefighters then. I cannot remember who told me that I could stay, but I wish I could so that I could thank them for changing my life."

Closing in on high school graduation, Collins' grades were suffering, due to his troublesome home life. The assistant chief, Ed Murphy, was the cadet coordinator for the fire department. This meant he spoke with the school counselors periodically about cadets' progress.

"One of the rules was that we had to have good grades to remain in the program," he said. "When Chief Murphy found out that I was not doing well, he took me for a walk and explained that I needed to graduate to stay on the department and to become a firefighter. This talk was another pivotal moment in my life and helped me to be where I am at today."

Collins worked diligently to pull up his grades, earning his diploma in 1988. He took the test to become a certified firefighter and passed, and he enrolled in school to become an emergency medical technician while working as a paid-on-call firefighter.

"In May of 1989 at 18 years old, I went into my first big fire alongside the full-time firefighters and immediately knew that this was what I wanted to do with my life," he said.

He then attended paramedic school and was a certified firefighter and paramedic by age 19. On Oct.1, 1990, just over a month after his 20th birthday, he was hired as a full-time firefighter/paramedic for the Tri-State Fire Protection District in Darien, Illinois. He continued to work part-time at Roberts Park until 1996."


Collins then went to work for the Lemont, Illinois, Fire Protection District where he worked for nearly nine years and was promoted to lieutenant. In 2002, he was hired by the Buffalo Grove Fire Department and decided to continue his education.

"I recognized that the fire service was shifting and would be placing more emphasis on higher education for promotions and professional development. In 2002, I met with a counselor at Moraine Valley Community College in Palos Hills, Illinois, to work toward my associate degree. All my classes were reviewed and applied toward my degree as able. I then attended the classes I still needed and graduated in December 2003 with my associate's degree in applied science in fire service technology," he said.

In 2004, Collins enrolled at Southern Illinois University's Capstone Program, working toward a B.S. in fire service management, which he received in May 2006. A string of promotions followed. In 2007, he was promoted to lieutenant/paramedic; in 2011, he was promoted to battalion chief and shift commander; and in 2018, he was reassigned to the training and safety officer (TSO) position.

"As the TSO, I am responsible for training all personnel within the department, including directing them toward classes, college and practical training that will help them to perform successfully and prepare them for promotion," he said. "In addition, I am responsible for all safety aspects of the job, including accident prevention and investigation. I respond 24 hours a day to all incidents that may require a safety officer or additional chief officer support."

For Collins, his chosen career has fit him perfectly, allowing him to respond to emergencies and change lives for the better.

"While it is cliché to say, I really wanted to help people and to make a difference in the world. I could not imagine sitting behind a desk or doing something mundane," he said. "In my career, I have been a part of some great things and truly helped people on their worst days. I've been fortunate enough to deliver a baby, helped to rescue two people from fires and saved numerous people from various medical issues, including choking and heart attacks. There have been tough days where it all didn't end well, but it is still a rewarding job. All of this, though, has been accomplished through the work of teams and not just on my own. Even when I've been the one to do the important stuff, it's all been because of the members of the team performing as we needed to and working toward a common goal."
This concept of teamwork has become a central theme in Collins's life and work philosophies.

"This was instilled in me from my earliest days at Roberts Park and is part of what makes the fire service so awesome. We work together, live together and succeed or fail together," he said.

Recently, Collins made the decision to go back to the classroom once again, earning his master's in public administration from NIU in 2016. This coincided with the National Fire Academy (NFA) and other fire service partners' decision to begin an initiative to standardize training and education in the fire service, which included identifying a national professional development model, specifying education and training levels for each rank.

"I have been a lifelong learner and believe that professional development and continuing education help to keep me sharp, focused and aware of best practices in your field," Collins said. "As a part of this, I recognized that I needed to continue with my education and training to set myself up for future opportunities."

Collins chose NIU for his M.P.A. because he believed the University offered the best program for what he was trying to accomplish and where he was in his career.

"NIU offered a program that I could work on at my speed with subjects that had relevance to my career path," he said. "It helped that the Village of Buffalo Grove supported the program and had members who have attended it. By the time I attended NIU, I had been a lieutenant for over eight years and a battalion chief for three years. The program helped to apply and refine the lessons learned throughout my career and to prepare me to accept and absorb future lessons. It gave me a higher-level view of budgeting, working within the municipal management structure and leadership."

After completing the program and receiving his degree, he applied for and was accepted to the Illinois Fire Chiefs Association Chief Fire Officer Program, which constitutes the training side of the NFA's professional development model, in 2018. In 2021, he began the process to become credentialed as a chief fire officer (CFO) through the Commission for Public Safety Excellence (CPSE). This is a national designation conferred after a thorough review of a candidate's experience, education, training and commitment to the fire service, professional development, and leadership.

"Having earned my master's degree from NIU greatly impacted my application by showing my commitment to professional development and mastering the technical competencies required to be a chief officer," he said. "In April 2022, I received the designation of CFO from the CPSE."

Looking back more than three decades in fire services, Collins hopes his career has been an example of the value of hard work, service, and sacrifice, especially to his own family. As a father, he has worked intentionally to break the cycle of instability he fell victim to as a child.

"This is important to me because my greatest accomplishment is raising four children who are good people," he said. "I feel that society holds up athletes, musicians, actors or other famous people as role models when we should be the ones showing our children how to live a life that matters. It has been my goal to be a great parent and a role model to my children, and I hope I've succeeded. Helping people to have better lives while showing my children how to be good people is what mattered to me."