Mission III joins the Huskie Nation as NIU's New Mascot


By Eva Richards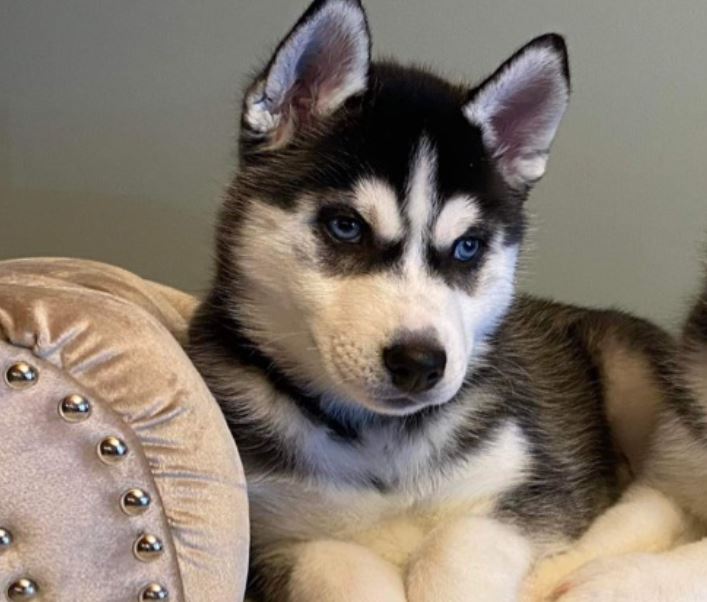 Meet Mission III, NIU's new four-legged live mascot!
Check out photos of Mission III here!

The Huskie family is growing by one small, adorable member.

Meet Mission III, a three-month-old puppy who shares beautiful black-and-white markings and crystalline blue eyes with his mascot siblings, Mission I and II. Mission III comes from premier breeder Debra Debalys, who is based in British Columbia, Canada, and NIU mascot trainer Lisa Boland is very excited to introduce him to the Huskie Nation in the coming months.

"Mission III's parents have produced beautiful, well-tempered dogs in the past," said Boland. "I am really excited about the breeder. Her dogs have great temperaments, are champions and love to be with kids."

Mission III was recommended for this important job because he is brave and already likes trying new things.

"Debra has done extra things with him to make him more social and relaxed in social situations, like introducing him to hats and coats, clanging pans and other loud noises. She really set Mission III up for sound success and interpersonal success in his first few months, and he seems to be such the right dog for the job," Boland said.

Mission III is friendly with his litter mates and fearless with new experiences, which can be important when a mascot is thrust into the spotlight.

"The other day, he was introduced to a teeter-totter, and he just jumped right on," Boland said. "This confidence is great because as a mascot he will be asked to do all kinds of unfamiliar things, such as posing at podiums or crowds of people rushing at him. This openness to novel situations is exactly what we would hope for.

"Plus, he is absolutely adorable and fits all of our mascot criteria, so we are happy to welcome him."

Mission III will live with Boland, just as the mascots before him have done. While he was officially introduced to the NIU family in January, he will not be ready to be a full-time mascot for at least a year.
"Training a puppy to be a mascot is a longer process," Boland said. "In a perfect world, my timeline would be two years. Unfortunately, this situation was not expected, and we will hope to speed up that schedule if we can. For now, Mission III will go to specially approved, shorter events on and off campus."

Much of the next 12 months will include exposure to novel sounds, sights and people.

"I'll teach him what we do when someone screams with excitement, how to manage crowds, to be comfortable around fireworks, and a wide variety of mascot-related experiences," she said. "I will try to turn the idea of unexpected experiences into a positive thing that results in praise and a reward. For past mascots, I brought them to gun ranges to practice for the experience of fireworks at the stadium. I brought them to the Joliet Speedway to expose them to the roar of the crowd and passing cars. We spent time at children's parks so they were comfortable around kids, and we spent whole days in Chicago getting acclimated to transportation and crowds of all types. I'll be doing the same things with Mission III in the next year."

In the meantime, his predecessor Mission II, who is entering early retirement due to his skin and environmental allergies, will be on hand for a small number of media needs. While many fans are sad to see him leave his role, Boland knows this was the right decision for him.

"He does have severe environmental and food allergies, and it manifests in skin issues," she said. "Mission II is a good dog who has worked very hard in his role. No one could expect this. His health and happiness are everyone's top priority, and we want to make sure he is happy. As his trainer, I have to listen to the dog and what he is telling me. He should have a happy successful life, even if it's not as our mascot, and I know he will be happier and more comfortable as a pet."

Boland personally made the trip to Toronto to pick up her new trainee and can already tell he will be a lot of fun to train.

She added, "Mission III has those striking eyes and a broader mask. His look is fierce and more similar to Mission I's, but he is also a really playful, fun puppy, like Mission II, so he has elements of both of them in him. I will have fun getting to know him, along with so many Huskie fans."