Lisa Richardson, Ed.D. '21, Fights for Student Success at Waubonsee Community College


By Eva Richards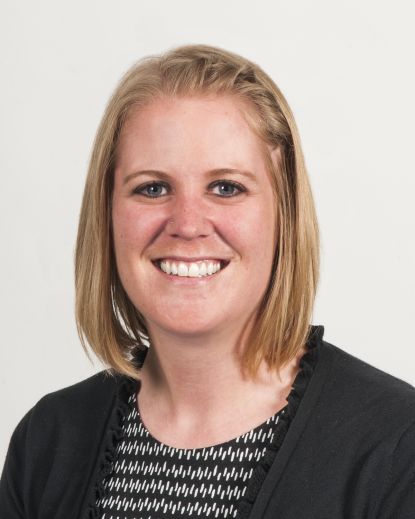 Lisa Richardson, Ed.D. '21, credits her mother, who was an elementary educator and an NIU alumna, with influencing her desire to advocate for education access.
Lisa Richardson, Ed.D. '21, has always known she wanted to be in a field that helped others learn and grow.

Now, as the executive dean of student success and retention at Waubonsee Community College in Sugar Grove, Illinois, she gets to fight for education access every day.

"While doing my undergraduate degree at Marquette University, I studied English and middle and secondary education," Richardson said. "I was involved in the New Student Orientation program as a student leader and was one of the student directors leading the orientation program going into my senior year. My associate dean of new student programs had encouraged me to consider going to graduate school to work in higher education, and I was very interested, but I wanted to give teaching a try first."

So, after earning her degree, she taught high school language arts at Bishop Noll Institute in Hammond, Indiana, before deciding to pursue her master's in higher education and student affairs at Indiana University.

"I decided to switch to the higher education setting because of the work I was doing with my high school students, helping them with the college application, admissions and financial aid processes," Richardson said. "I was already passionate about higher education from my undergrad experience, but helping my students go through those processes solidified that I wanted to work in that setting to help make higher education more accessible for every student."

While at Indiana. she also had the opportunity to work as a graduate assistant with the university's Education Careers office, which only deepened her resolve to serve in the higher education realm. She designed and implemented professional development workshops for the Office of Teacher Education and collaborated with professors for class presentations. She also instructed the "Job Search Strategies for Educators" course and led a leadership education and development course, among other responsibilities.

After earning her master's in 2012, Richardson went on to lead the Purdue Promise program at Purdue University, which provided college success courses and scholarship support to students from traditionally underrepresented backgrounds. From there, she moved to Waubonsee Community College as a student retention manager in 2016 and began researching doctoral programs, landing on NIU.

"What drew me to the executive Ed.D. program at NIU was its flexibility, as well as the cohort component," Richardson said. "I had a wonderful experience! I appreciated the in-person component and being able to connect with my faculty and cohort members. The faculty were so knowledgeable and supportive and helped me focus in on my research interests."

Richardson said the structure of the program made her feel all the work she was doing for her classes was helping her learn and be better in her role at Waubonsee.

"I could apply all of it back to what I do in my day-to-day job. I loved taking classes alongside cohort members from many different institution types and many different roles at colleges and universities. I was able to learn from my colleagues as well as network and I truly value the relationships I formed with my faculty and cohort," she said.

Richardson earned her doctorate in higher education administration in 2021, and the next year, she was promoted to her current role at Waubonsee.

"I am so grateful to have the opportunity to serve in my new role as executive dean for student success and retention at Waubonsee. I see my role as being an advocate for students to support or enhance the great work we are doing to help our students be successful at achieving their personal and professional goals," she said. "I get to lead an amazing team of talented, student-centered individuals, in counseling, academic and career advising, and retention initiatives. Every day, my work relates back to how we can make sure processes and structures are setting students up for success, and that is meaningful work to me."

Richardson noted that the most challenging part of her work is that no two students are the same.

"Trying to set up processes, structures and services that will benefit all students is at times daunting because we want to do right by the students and give them the best possible experience," she said.

Richardson, who grew up in Elgin, Illinois, credits her own mother, Ann Richardson, M.S.Ed. '84, who was an elementary educator and an NIU alumna, with influencing her desire to advocate for education access.

"(My mom) instilled a helping nature in me that made me interested in a helping field like education," she said.

Richardson's father, David, earned his degree from Waubonsee in 1975, and she is happy to be working where he got his start. Today, Richardson's main goal is helping ensure students successfully achieve their goals.

"It is very fulfilling to me," she said. "Being able to see students receive the help they need in navigating their college experience, from counseling and academic and career advising to getting connected with other resources around campus. It is fulfilling in and of itself, but when our retention and completion data can quantify those one-off successes that I see day-to-day, that is so gratifying, as well."