Jack Baker, '12, Is Making His Comedy Dreams Come True With First Taped Special


By Tony Scott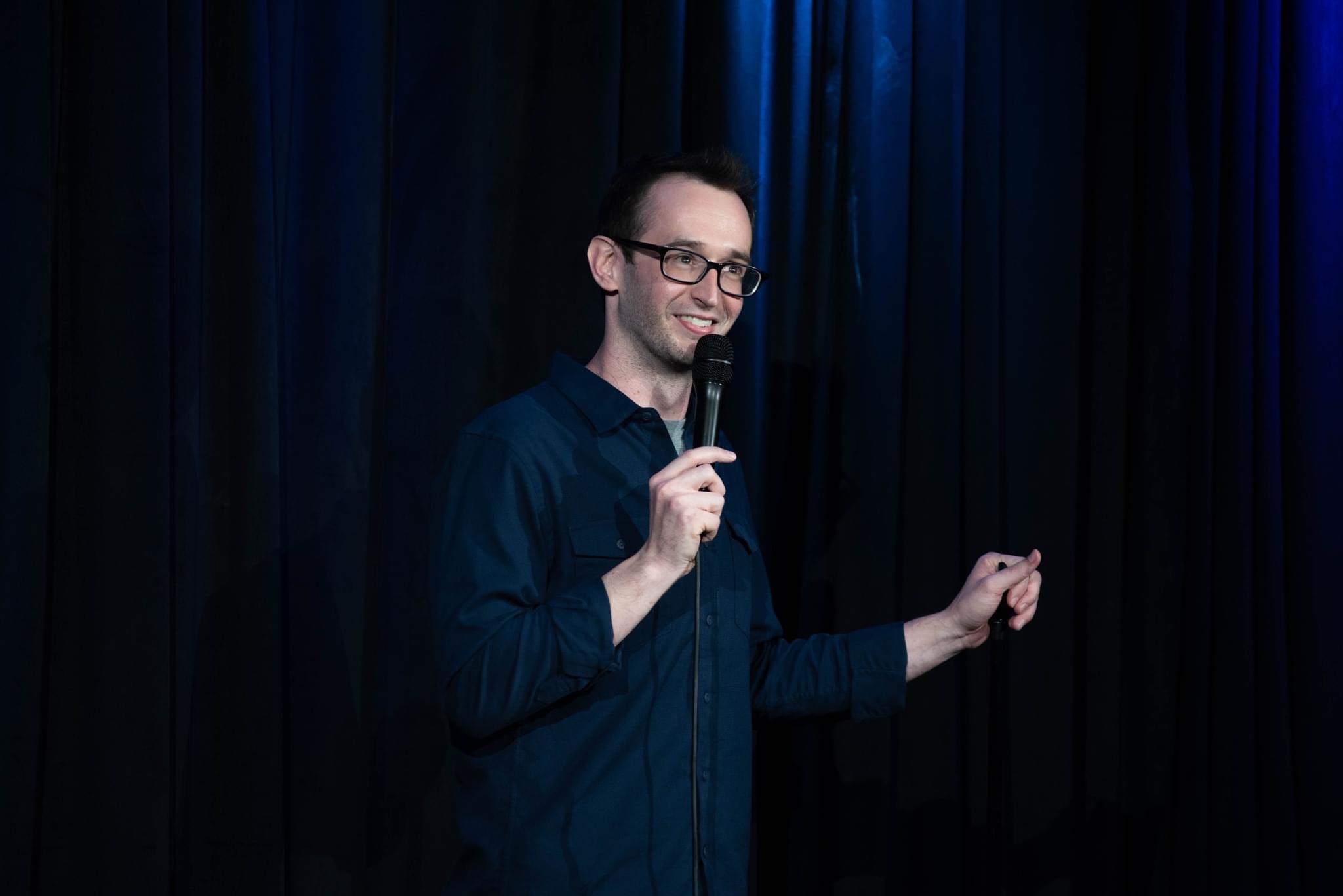 Jack Baker immersed himself in the comedy world while a student at NIU.
Jack Baker, '12, has been working as a stand-up comedian for over a dozen years, and thinks most of his comedic brethren are not loud, brash class clowns.

"I feel like there's this misconception about comedians, that we're always the class clown, and I feel like that's almost never the case," he said. "Comedians are usually the quiet person. I feel like comedy is actually really logical, and that's why I think I like it, because jokes are like little logic puzzles. Comedians are usually smart and clever and quiet and not usually the big, outward class clown that people normally think of."

While Baker was a student at NIU, working toward his two bachelor's degrees, in journalism and psychology, he began immersing himself into the world of comedy.

"My first real experience was as a founding member of the sketch group Premium Bananas that was started when I was a freshman," he said. "I finally started doing stand-up my sophomore year after an Honors House trip to Second City. I'd wanted to do it for a long time but never had the courage to just go out and try. Seeing a live show was the push I needed to actually try for myself."

Baker's many years of working hard on his stand-up, while also holding down a full-time day job as a marketing professional, will culminate in the taping of his first comedy special at 7 p.m. on Sunday, Feb. 19, at the Comedy Vault in Batavia, Illinois. The special will be distributed independently on YouTube. Baker regularly performs in clubs in Chicago and the suburbs, and has opened for comedy veterans like Bobcat Goldthwait ("Shakes the Clown," "World's Greatest Dad") and Andy Kindler ("Everybody Loves Raymond").

"When I first started dreaming of being a comedian when I was a kid, I had a goal in mind of what I wanted my comedy to be," he said. "After many years and many, many, many failures, I'm finally at a place as a performer where I can make the special I always dreamed about making."

Baker said he has always been comfortable speaking in front of crowds.

"I always liked when we had to give speeches in school," he said. "I've always felt comfortable talking in front of people, it's never really bothered me. I don't understand why people are afraid of it; it's completely foreign to me."

Baker grew up in suburban Warrenville with two sisters who also attended NIU—Kate, '10, and Megan, '13.

"We overlapped for one year, and my mom would do things like send a turkey pot pie back to school with my older sister so we would all have to get together at her apartment and eat a family dinner every once in a while," he said.

Baker decided to attend NIU because his older sister was going to school there and because of its proximity to his hometown.

"I liked that NIU was close so I could go home if needed, but it also felt far away," he said. "Being out in the DeKalb cornfields was a different world from what I was used to, so even though it was only like 45 minutes from home, it felt like it was farther."

While he was a student, he was involved as a student leader and journalist, working at the Northern Star and as a house leader in the Honors House. He was also president and vice president of the Honors Student Association and worked one summer as an Honors Peer Advisor for incoming freshman Honors students. He lived in Douglas Hall for all four years.

"House leader is the second best job in the entire world (behind comedian obviously) because I basically got paid to be everybody's friend," he said. "I loved working for the Honors Program, and they gave us the freedom (and sometimes budget!) to put on really fun events like paintball trips, bringing a bouncy castle into Douglas and Floor Wars."

In addition to Baker's NIU comedy experience in Premium Bananas, while at the Northern Star he wrote and co-hosted a parody news show called "We're in DeKalb, How Are You?"

"I have so many great memories of Douglas Hall," he said. "One that comes to mind was my first year as a house leader. It was maybe the second weekend of school and everyone went home. There were like eight people left on the floor and we were all really bored. So we took some of the big black garbage bags and blacked out the fluorescent lights in the hallway, everyone opened their doors and we played a floor-wide game of hide and seek."

Baker said he had many professors and mentors who impacted him as a student at NIU.

He recalled taking a narrative feature writing class led by Craig Seymour.

"It was a really fun storytelling class that helped me grow as a writer," Baker said. "I later worked with him on my Honors Capstone Project, a series of personal essays titled Life Without Cheese. Some of those stories have even made it into my comedy. So in a way, that project was like the first draft to a big section of my comedy special."

Another impactful professor was Anne Britt in the Department of Psychology.

"I took Critical Thinking with Dr. Britt in Psychology and later worked with her cognitive psych lab on an undergraduate research project related to how people learn from news articles," he said. "It was a really cool way to combine both of my majors. I think about this research all the time in my day job and it even comes up regularly in comedy. It's been such a big help to understand more about how people think, learn and retain information and that was such a great learning experience for me."

Baker also recalled taking a seminar class called Movies of the Iraq War led by professor Jeff Chown as part of his requirements for University Honors.

"It was cool to work so closely with Dr. Chown on a subject he was really passionate about," Baker said. "I had never taken a film class before, but it was so interesting to learn about how the choices made by filmmakers will influence your emotions and how you engage with the art. That's something I've been thinking about a lot with my upcoming comedy special, how can it be a shot to bring the audience in, in the way that I want to. And that all goes back to this class."

While Baker would love to do comedy full-time, he appreciates that he has coworkers and a boss at his day job who support his dream.

"Stand-up comedy is the best job in the world," he said. "I have a day job now, doing digital marketing strategy for an advertising agency in Wheaton called Ivor Andrew. They're great and super supportive of my comedy. My boss actually bought a block of tickets for everyone in the company to go to my show!"

Baker said there are plenty of opportunities in Chicago, and the suburbs to get up in front of a crowd and do stand-up, but also that the internet and social media platforms can help anyone reach an audience, even if they don't live in a big metropolitian area.

"With the internet, you don't need to be in a big city to build an audience or fan base anymore," he said. "There's a huge appetite for comedy content online and you can make things happen on your own. If you can make something good, you can get it in front of people and you don't need Netflix or Comedy Central–although it would help."

Baker said the key to being successful in comedy and in the creative arts is to find the balance between the artistic side and the business side.

"If you're too focused on one, you won't find any success in the other," he said. "The challenge is pushing yourself to make the best art you can, while still finding a way to make a career out of it."

Baker said those who are thinking about doing stand-up, or any other creative endeavor, shouldn't be afraid to fail.

"Failing makes you tough and when you do it enough, you become fearless," he said. "If you're not afraid of failing, then you become free to pursue the art you really want to pursue, and that's when great things happen."