Brenna Bretzinger Gets Fully Involved at NIU After Earning Presidential Scholarship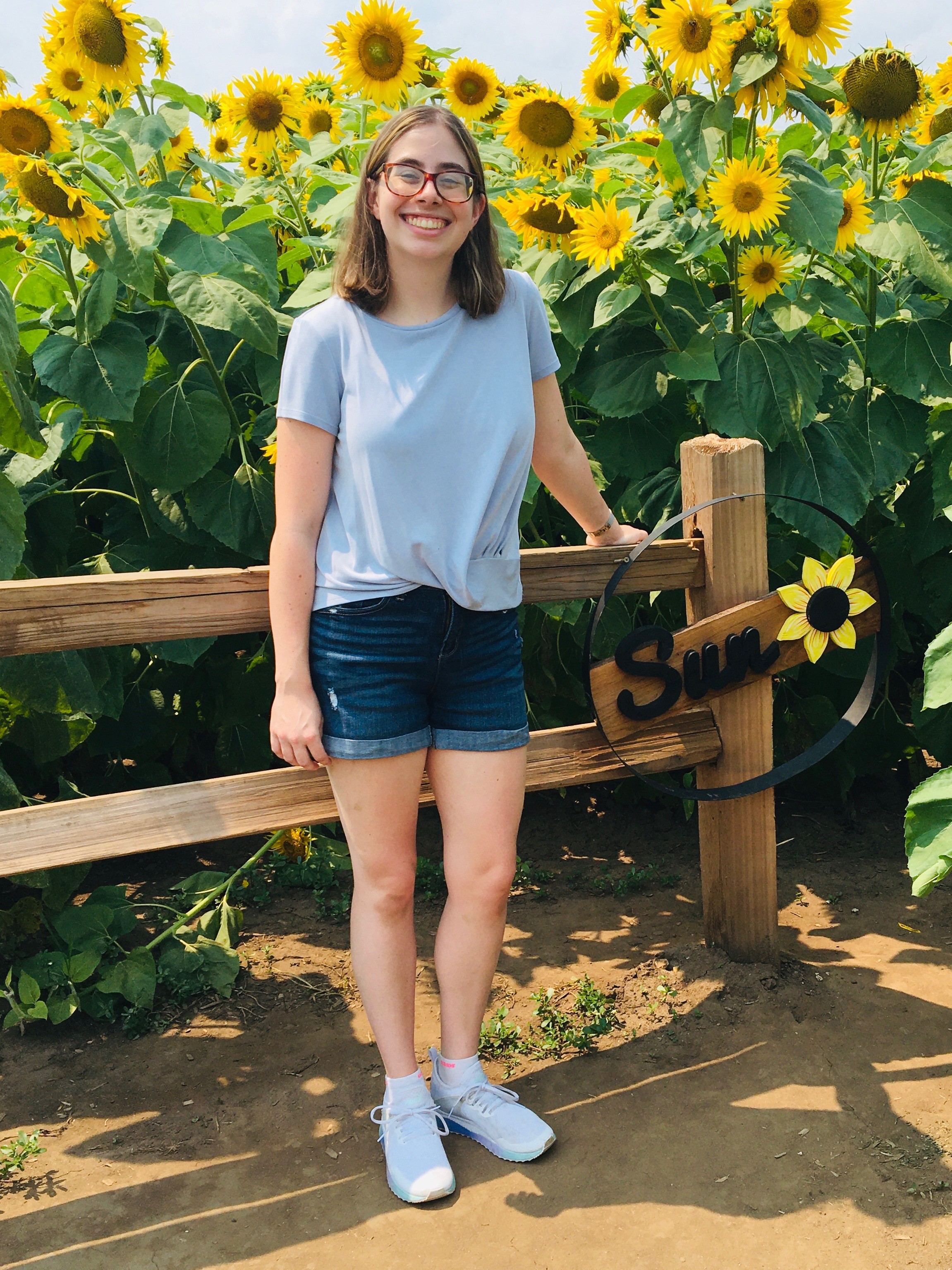 By Tony Scott

For Brenna Bretzinger, a senior at NIU, the college experience has been new for both her and her family as a first-generation college student.

Thanks to the generosity of donors, Bretzinger received a Presidential Scholarship that lifted her financial burdens and helped her concentrate on her studies.

Bretzinger, a double major in actuarial science and applied mathematics with minors in English and history, plans to graduate in spring 2023.

Bretzinger was born and raised in the town of South Beloit, Illinois. Her father has been a machinist since he was 17 years old, and her mother works in healthcare. She has a younger brother, Brady, with whom she is close despite being polar opposites, she said.

When she toured NIU during her junior year of high school, among a number of other universities with her parents, she found NIU to be the perfect fit.

"It was a large enough school that I had access to great opportunities, extracurricular activities and campus services, but it wasn't so large that I felt like I was just a number in a system," she said. "Additionally, NIU was the only school that I toured that had an actuarial science program; most of the colleges I toured only offered a mathematics degree with a concentration in statistics, but NIU had so many unique majors and minors that weren't available at other schools. It was close to home, and it was a lot more affordable than the private schools I visited."

Bretzinger said she remembers when she learned she won a Presidential Scholarship, which provides full tuition, fees and on-campus room and board, along with a book stipend, for up to eight semesters. She recalled being nervous after completing all of the steps required to apply for the scholarship, and waiting to find out if she'd been awarded the scholarship.

"I remember walking home from the bus that day, and my stomach had been in knots all week," she said. "My dad was already home, and he told me that there was some mail for me on my desk. We opened it up together, and I couldn't really get past the word at the top of the page: Congratulations!"

She added, "This generous scholarship made my dream of going to college a reality. It took the weight and pressure of student loans and financial aid off my shoulders, so I could fully enjoy the college experience without rushing to finish early to save money. Without the scholarship, I wouldn't be where I am today."

Bretzinger said her parents encouraged her to get involved, and she has taken full advantage of the NIU experience.

She joined the Math Club and is currently its president. She also got involved in Forensics Speech and Debate after Director of Forensics Judy Santacaterina spoke to her COMS 100 class about the organization.

"I had a huge fear of public speaking at the time, and I thought this was the perfect opportunity to conquer that fear," Bretzinger said. "Even though I didn't participate in this activity in high school, I really enjoy the community and coaches that I've gotten to work with. Last year, I was the national champion in informative speaking, and I'm also the co-president and treasurer for this year, hoping to inspire new students to fall in love with the activity like I did."

Bretzinger also joined Stonehouse Academic Journal, a student-run academic journal focusing on undergraduate essays in humanities and liberal arts. She has been editor-in-chief of the journal for the past two years.

In her junior year, she joined Sigma Tau Delta – Xi Delta, the English Honors Society on campus and is currently the president.

"I wanted to meet some fellow English majors and get a little more connected to the campus community," she said. "We've had a lot of fun throwing events like unrehearsed play readings, submission workshops with Professor (Daniel) Libman, and open mic nights for poetry."

Bretzinger said she loves the faculty and staff at NIU.

"Despite the difficulties of navigating virtual teaching during the pandemic, my teachers have all been incredibly wonderful," she said. "I never felt like my education suffered, and I could always reach out to teachers for help. In every department that I have taken classes in, you can tell that the teachers are genuinely excited to share their knowledge and want us to do really well."

When she first started at NIU, she worked at McDonald's as a night shift manager working 40-plus hours a week while balancing her school load.

"Thankfully, my time-management skills in balancing extracurriculars and schoolwork came in handy, but I still had to stay really disciplined and motivated to make everything work," she said.

She currently has a job as a research assistant in the Department of Educational Technology, Research and Assessment.

"Mostly, I'm using my skills as an editor to look over academic papers and compile some background information," she said. "It's a lot less hours than McDonalds, and I get to work on my own time, so it's been a lot easier this year balancing my school, work and extracurriculars."

Bretzinger encourages her fellow students to get involved while they are at NIU.

"Whether that's doing research with your favorite professors, joining clubs or doing an internship, getting involved at college makes your time much more enjoyable and fulfilling," she said. "Not only can you make a lot of friends this way, but you also usually get to try cool experiences and opportunities that can help you in your post-college career."