Donor Spotlight: Jerry Smith, '66


By Eva Richards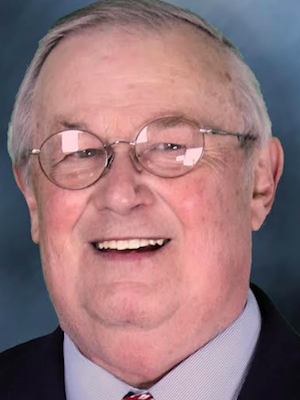 For more than 50 years, former DeKalb Mayor Jerry Smith, '66, has continuously supported NIU through time, leadership and gifts.
When former DeKalb mayor Jerry Smith, '66, was growing up in Dixon, Illinois, he never envisioned becoming a community leader. However, as he grew, the community around him would have an indelible impact on his life and career.

Raised by his grandmother and his single mother, he was poor by all accounts but had a good and loving childhood. Still, when it was time to decide his plan after graduating from Dixon High School in 1961, Smith was quick to settle on a job with a regular paycheck, based on his family's financial restrictions.

"I took a $60-a-week job at a shoe store in Dixon," Smith said. "No one expected me to go to college. No one expected anyone who was the first in their family to go to college."

During his junior and senior years, Smith had worked at the JC Penney store in Dixon to help his family make ends meet. After he began his shoe store job, Smith's manager happened to ask him about his post-graduation plans.

"When I told him about my shoe store plans, he got livid, grabbed me around the neck, and said, 'You're college material. You're going to go to DeKalb College (which later became NIU),'" Smith recalled. "That gentleman took me to visit DeKalb in 1961."

After being accepted, Smith received a Rotary Club scholarship that helped him get started.

"In August, I came to the college with two pair of pants and two shirts," Smith said with a laugh. "I moved into Neptune West, and pretty soon, I knew I needed to earn some money, so I went to work washing pots and pans in the Neptune Central cafeteria."

During his second year, Smith moved off campus and suddenly found that he was interested in media, and decided to study journalism education. He also got more involved on campus.

"I was one of those students who had to work a lot. I was always working. Getting the degree was very, very important to me. I walked over and joined the Northern Star, and that was the start of my journalistic career," he said. "During my time on campus, I worked there, as well as the Norther yearbook, the WNIC campus radio station, and the WLBK radio station in town. I also worked for the Athletic Department's sports information department. I was very active in journalism during my years at Northern."

After graduation, Smith's first job was teaching at Kaneland High School in nearby Maple Park, Illinois. When he was drafted into the Vietnam War, the superintendent of the school contacted the local draft board and asked that they allow Smith to finish the year as a journalism teacher before having to report for duty. Then, in 1967, he entered the army and spent two years serving his country, with 18 months working for the Armed Forces Radio Network in Germany.

But when he returned two years later, he was still drawn to a career in media. In 1969, Smith became editor of the DeKalb County Journal, a daily newspaper operation, which was sold to the Daily Chronicle in 1971. Next, he held the role of editorial director for Castle PrinTech's TV Time/TV Day business, dealing with television-related material for newspapers across the country.

During this time, Smith had a chance encounter with someone who would change his life forever. His future wife, Ging Palma Smith, M.A. '73, had traveled to DeKalb from the Philippines as an international student in pursuit of her graduate degree in journalism as a Fulbright Scholar. While she had intended to go back to her home country once she completed her degree, then-Philippine President Ferdinand Marcos announced on television that he had placed the entirety of the Philippines under martial law in September 1972. Palma Smith made the decision to stay in the U.S. and pursue work.

"She wanted to find some work to see if she could stay, and she ended up working at Castle with me. So, I met her there. Our common friends who worked at NIU, Avi and Elizabeth Bass, suggested to her that she would find work there, and the rest is history," Smith said.

The couple was married in 1974, having a son, Eric, in 1979. While Smith continued his career at Castle PrinTech, his wife went on to teach at Kishwaukee College in nearby Malta, Illinois.

In 1983, Smith became president of Castle PrinTech, helping to engineer the DeKalb-based firm from a small, local operation to strong regional player. During that time, he spearheaded extensive growth in personnel and facility development, earning the firm national recognition. After 30 years there, Smith retired in 1999.
At the time, Smith was 55, and considered serving the community he had been a part of for decades.

"I became the first full-time executive director of the DeKalb County Community Foundation," he said. "The foundation is recognized as a leader in the area's philanthropic arena, growing its asset base to over $25 million under my tenure."

During the next 10 years, Smith served alongside community members and leaders he knew well and respected. He was also instrumental in the establishing the Alliance of Illinois Community Foundations. He also led as president of DeKalb County Economic Development Corporation and the vice-chair of the Kishwaukee Community Hospital Board of Directors. He held board presidencies of the DeKalb Chamber of Commerce, the DeKalb United Way and the Kishwaukee Kiwanis.

NIU remained a big part of his life, having been involved with Business for NIU, NIU Huskie Club, NIU Alumni Association Board and the NIU Foundation Board. He was also a recipient of the NIU Foundation's President's Award for Service to NIU. Along with wife, Smith was a recipient of the 2004 James Forster Community Service Award.

After having finally made the choice to retire, an unexpected opportunity came to Smith in 2016 when he was urged to run for public office.

"There was very little happening in terms of economic development in DeKalb, and some friends of mine asked me if I would consider running for mayor," he said. "Ging and I thought about it, and we prayed for it. I knew the city, the students, the citizens of the city. I figured if the folks who knew me thought I would be a good governmental leader, I would throw my hat in the ring. It ended up being a great four years."

Smith was successful, winning in 2017 and he completed his term in 2021, deciding not to seek reelection, based on his age and his faith in friend Cohen Barnes, '95, who went on to be elected in 2021.

As mayor, Smith's main goal was to give back to the community that has meant so much to his family for decades.

"I always tried to treat people as I would want to be treated," he said. "I attempted to get back to anybody who reached out to me, whether that meant seeing people or contacting them by phone or text. I tried to be transparent and approachable."

Smith quickly found out that a governmental office has no set hours, but he was determined to serve however and whenever he was needed.

"There were many times when I had to address issues on weekend and nights, during my four years as mayor," he said. "This was especially true during two particular issues that impacted our community, our entire country and me individually—the social justice issues surrounding the Black Lives Matter movement and the COVID-19 pandemic in 2020. Those issues had such an impact on our community governmentally, and they had such an impact on the University, and those two issues were where a lot of my time was spent. I wanted to do the best job I could for the community I had grown to be such a part of and love so much. I simply wanted to do what is right."

Smith also noted that his many years of working with media people came in handy when serving as mayor. His time at NIU provided the foundation for understanding a healthy relationship between media and civic leadership.

"I had dealt with media folks, and I understood why they would ask certain questions and why journalists were very serious in their work, so I had to be very serious in my work. Journalism prepared me to be better a mayor for the city," he said.

Because of his decades-long relationship with NIU—with he, his wife and, eventually, the couple's son Eric, '01, all earning their communication degrees as Huskies—the Smiths are dedicated to supporting the University financially, as well as giving their time.

"It started early in our married life, maybe even before we were married," Smith said. "We have done what we can to help NIU. Along the way, we have met so many other folks like us who have a strong empathy for students and love for the University. As a result, we continue to build friendships. For example, right now, Ging is working with Liz McKee in the NIU Alumni Association now to organize the 50th anniversary committee for the Class of 1973."

Over the years, the Smiths have supported the building of the Barsema Alumni and Visitors Center, the NIU Athletics Department, and the Northern Star, among other causes.

"I have seen, on a growing scale, year after year, what the University is to DeKalb and what DeKalb is to the University," Smith said. "I am a graduate of Northern and would never have gone on to higher education without Northern. We have been blessed with the ability to contribute our financial wherewithal to NIU. We are not wealthy people, but we try to be supportive with those University causes and causes throughout this community. I feel people should to give back to their community, and it's made absolute sense to do what we could to be donors to the University."

Smith understands that his family's giving is a small cog in the wheel of makes NIU the respected institution it is today.

"We would hope that we are just one small piece of a larger cooperative effort with folks who care so much about Northern Illinois University," he said. "There are donors who contribute small amounts, and there here are some who can give much more. It's not the size of the gift. It's the quality of the hearts of the folks who feel like NIU is worthy of that consideration."