Northern's Top Dog Barks for Books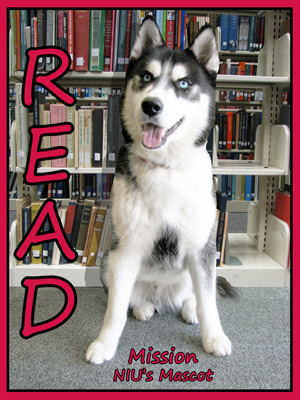 NIU's mascot Mission visited Founders Memorial Library in July to pose for a READ poster, which is now hanging in the leisure reading area on the third floor of the library.

Mission found several interesting titles on the shelves and posed for photos in the Regional History Center and University Archives.

Come in to see Mission's poster and find your own good reading material!

The University Libraries contain more than 2 million volumes, as well as periodicals, government publications, microforms, maps, recordings, audiovisual materials and electronic databases.

Founders Memorial Library – the main library – has six levels with 314,000 square feet of space and seating capacity for 1,600 students.

Hours vary according to the time of the year; summer session ends Sunday, Aug. 24, while fall hours begin Monday, Aug. 25.

For more information, call 815-753-1995 or email Lib-Admin@niu.edu.