Huskies United Raises Nearly $2.6M, Breaks Day of Giving Fundraising Record
By Eva Richards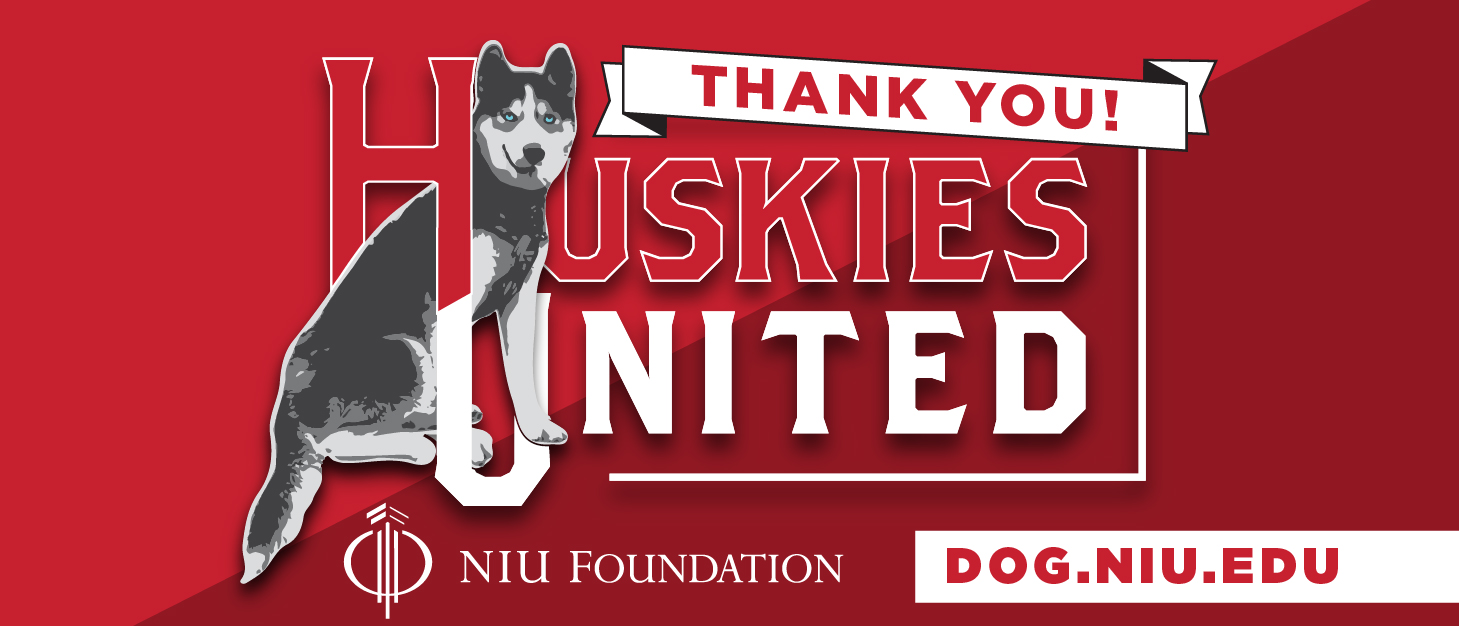 Go, Huskies! The Huskie Pack's commitment to the worthy cause was never in doubt, but no one could never have predicted such dedication and generosity!

During our annual Huskies United on March 22 and 23, this year's single day of giving at NIU, our alumni, faculty, staff and friends of the university brought in $2,584,676. This total bested last year's incredible mark of $1.1 million, giving Huskies everywhere something special to celebrate!

In just 1,895 minutes—a timeframe chosen to honor the founding year of the university—2,412 gifts came in, powering specific programs and areas of study, as well as general university priorities. This investment will create improvement and transformation on campus that will live on for months and years ahead.

Huskies United allows alumni, faculty, staff and friends in the NIU community to reflect on what the university provides and means to them. Through their gratitude and generosity, students receive life-changing scholarships that have an enormous impact on their education, as well as on their future careers.

Scholarships mean so much to so many students at NIU, and our numbers speak for themselves. With 85% of NIU students receiving financial aid and 90% of NIU Foundation scholarship recipients graduating, it is clear that generous giving makes an huge positive difference in Huskies' lives. However, as all Huskies know, an NIU education encompasses more than just time in the classroom. It also relies on new experiences, getting involved and working for a better future. Huskies United provides critical support for the campus departments, units and centers that bring the college experience to life and help students of all majors emerge as thoughtful, engaged global citizens.

Giving challenges have become the lifeblood of our annual days of giving, with selfless donors giving to specific areas of study and program in order to amplify their impact.

One exciting example was our Huskies United Participation Challenge, which unlocked a $300,000 gift to support the Northern Fund when 1,500 in total gifts were made to any area during Huskies United. In addition, the Huskies United Leadership Donor Challenge unlocked a $100,000 gift to support the Northern Fund when 50 Leadership Society-level gifts of $1,000 or more were made. Through the NIU Alumni Association Board Recent Graduate Challenge, the NIU Alumni Association Board of Directors asked recent NIU graduates (2013-2022) to donate during Huskies United. When 30 graduates from the classes of 2013-2022 donated during Huskies United, it unlocked their combined gift of $7,145 to the Northern Fund.

Some giving challenges supported specific areas of studies. For instance, NIU alumnus and career research and development scientist Thomas M. Zydowsky '75, M.S. '78, inspired donations to the College of Liberal Arts and Sciences during Huskies United. When 125 gifts were made to STEM-focused departments, centers and funds in the College of Liberal Arts and Sciences, his gift of $125,000 in support of chemistry undergraduate research was unlocked into our totals.

To learn more about the challenges that were unlocked during the day of giving event, click here.

"This day of giving is a testament to what the Huskie Nation can do when they collaborate for a cause," said Michael Adzovic, senior director of operations and annual giving. "Through so much generosity, we are able to offer a transformative college experience to so many students, and that would be not be as possible without our dedicated NIU community."

As always, our committed group of ambassadors were key players in our fundraising. This year, 167 ambassadors used their own networks and social circles to get people talking about Huskies United, sharing information about the event and giving challenges over social media, text, phone and in person. Together, this group can take credit for bringing in 476 gifts and raised a total of $47,218 —a new record from previous Huskies United giving days.

The "pay-it-forward" mentality of the Huskie Nation can move mountains and should inspire us all! Thank you to all who were able to give to Huskies United, making dreams come true for our next generations of leaders.

For more information on Huskies United, please visit the website: https://dog.niu.edu