Dr. Gwendolyn Kartje, '76, Credits NIU With Jumpstarting Neuroscience Career


By Tony Scott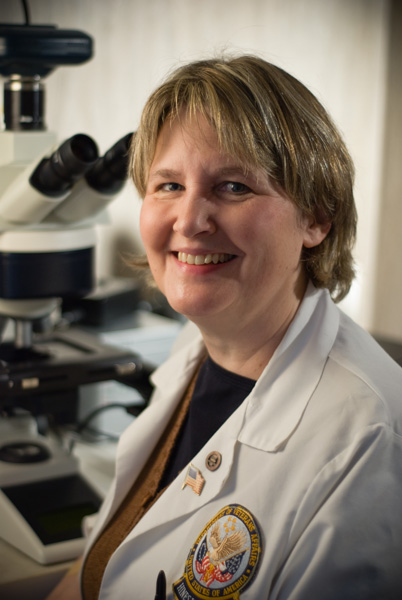 Dr. Gwendolyn Kartje, '76, credits her time at NIU with jumpstarting her career in neuroscience.
When Dr. Gwendolyn Kartje, '76, was growing up in suburban Brookfield, Illinois, her father would take her and her siblings into downtown Chicago to visit the Field Museum and the Museum of Science and Industry on Sundays.

Kartje would also spend a lot of time at the local public library, as her mother always encouraged her to read, diving into books about the sciences. These experiences, along with taking care of a myriad of family pets—including dogs, cats, rabbits, hamsters, turtles, salamanders, frogs (raised from tadpoles), fish, birds, and even an alligator—helped shape Kartje's love for science and, specifically, biology.

Kartje's career has been spent researching neurologic diseases and injuries and helping treat patients afflicted by them.

Kartje is currently a professor of molecular pharmacology and neuroscience at Loyola University Medical Center and a health research scientist at Hines VA Hospital, both in Maywood, Illinois. She was previously the chief of neurology and neuroscience at Hines, where she oversaw neurologic patients and neuroscience-related research activities.

"I recently retired from most of my patient-related duties at Hines, but still run an active research program between Hines and Loyola to develop therapeutics to improve recovery after stroke, traumatic brain injury and spinal cord injury," she said.

Kartje's job is multifaceted and has its share of rewards and challenges.

"My job really has several parts: taking care of patients, which is limited now, but was a big part of my career; conducting biomedical research; and teaching medical and graduate students," she said. "Although I greatly enjoy all parts of my job, I think the most rewarding part is making discoveries that may one day benefit people who are suffering from neurologic diseases and injuries. And this is also the most challenging, as it takes years of work and lots of resilience to keep going. I am lucky to work with an amazing team of researchers in my lab, as well as many talented collaborators over the years."

Kartje comes from a large, tight-knight family of six children. Her father ran a bakery in Brookfield with his father and brother, eventually running it himself.

"He worked long hours and we all knew the value of working hard to get where you want to be—he was a great baker, by the way!" she said.

Her siblings have all found careers either in healthcare or education: one sister is a retired neonatal intensive care nurse, another a retired kindergarten teacher, and another a health outcomes data researcher; her one brother is a middle school teacher and the other is the academic advisor for the nursing program at Southern Illinois University. She has two sons, one of which is a university professor in Toyko who teaches English as a second language, and her youngest son is a baker in Montana, and also runs the family ranch where she hopes to retire to eventually.

Kartje had good grades in high school, and received an Illinois State Scholarship that paid her tuition. She chose NIU based on its strong biology and nursing programs.

"At that time, it was unusual for a girl to think about medical school to be a doctor, so I thought I would go to nursing school," she said. "As I took my biology/science courses however, I realized that I wanted to continue to learn as much as possible about basic science. Exposure to the graduate students (who were my teaching assistants), made me realize I wanted to go to graduate school to learn even more, so I continued as a biology major. I was always grateful for the tuition scholarship that Illinois offered me."

While at NIU, Kartje lived in the dorms during her first year and in her second year she rented a house off campus with 10 friends. She had a variety of jobs to support herself and pay for her room and board while at NIU.

"I worked in the cafeteria in one of the dorms, and also as a waitress in a restaurant in town," she said. "On holidays, I went back to Brookfield and worked the graveyard shift at the Dunkin' Donuts in town."

Kartje was able to finish her bachelor's degree in three years because she also took classes in the summer.

"I applied right away to graduate schools, and was accepted into Loyola's Anatomy Department as a Ph.D. student; due to my strong grades I could skip the master's program," she said.

She started medical school at Loyola after finishing the Ph.D. program to learn more about the human brain, as it was her strongest research interest.

Kartje recalled a pair of professors, as well as graduate teaching assistants, who made an impact on her as a student and kept her interest. One of them was a professor of physiological psychology.

"He was a great professor, interesting and engaging," she said. "From that class I learned how to set up experiments to answer questions-and it started me on the path that I am still on! I was so excited to learn the scientific method and how to be a real scientist."

She also remembers her botany professor, Dr. Paul Sorensen.

"He was engaging and loved what he did-he took us outside for class and used the surrounding area to teach botany in a real-life setting (around the lagoon)," she said. "He was a very innovative teacher."

Kartje described the graduate assistants as helpful, friendly and smart.

"They gave me a window into the world of graduate school," she said. "They were also conducting lots of their own experiments for their Ph.D. degrees, and I was a guinea pig on more than one occasion, which was also interesting and fun."

Kartje is an active alumna of NIU, continuing to work with NIU faculty on research.

"I am involved in NIU now because I collaborate with an NIU professor in psychology, Dr. Doug Wallace," she said. "We work together on studies related to enhancing memory that we hope will help people with diseases such as Alzheimer's disease. It brings me back to NIU from time to time. It's a feeling of coming full circle from my early years as a young novice to a seasoned scientist, and it all started at NIU!"