Recent Grad and Lincoln Laureate Vilaya Sirivong, '23, Lands Job With Alumnus' Firm


By Tony Scott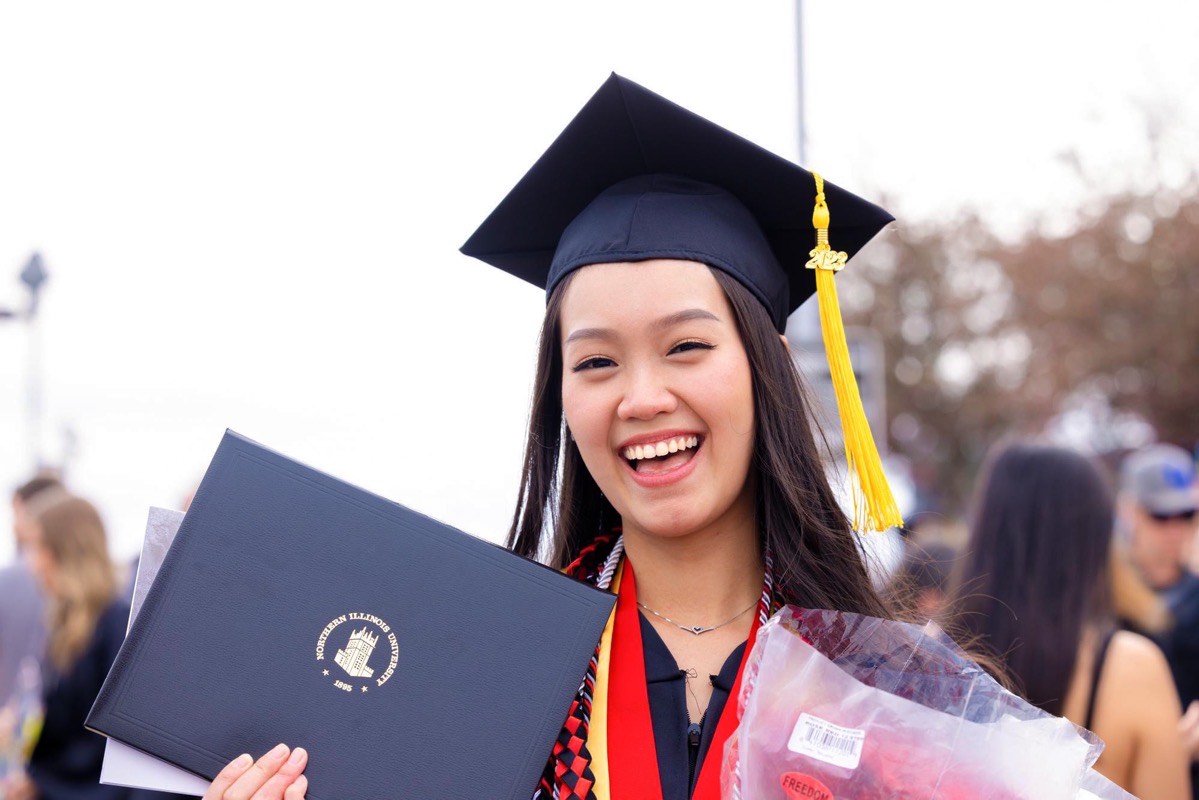 Vilaya Sirivong, '23, a management major originally from Vientiane, Laos, recently landed a job with a firm owned by an NIU alumnus.
Vilaya "Ling" Sirivong, '23, a management major originally from Vientiane, Laos, and last year's Student Lincoln Laureate for NIU, was one of the approximately 2,200 grads who crossed the commencement stage last month, and she has already landed a job with a company headed by an alumnus.

Sirivong recently accepted a full-time position as an associate consultant with Transforming Solutions Inc., an Arlington Heights-based firm founded and run by Dan Feely, '85. The company funds a scholarship for NIU students called the Transforming Solutions Inc. OM&IS Scholarship.

Sirivong described being named the Lincoln Laureate, an honor reserved for the university's top senior, as the biggest achievement of her life. The Lincoln Academy Student Laureate Award is given to an outstanding senior from each of Illinois' four-year universities for excellence in both curricular and extracurricular activities.

"It has helped me to realize my potential and acknowledge my achievements," she said. "I have gained more confidence in myself, believing that I can be successful in anything that I do as long as I put my mind to it."

As an NIU student, Sirivong received the SEAFellow four-year tuition scholarship from the Center for Southeast Asian Studies (2019), an NIU Alumni Association Merit Scholarship (2022), the Richard D. Brown and Omar G. Voss Leadership Scholarship (2022), the Robert and Catherine Rothkopf Endowed Scholarship (2022), and a Forward, Together Forward Scholarship (2021). She credits these scholarships with helping her attend college in the U.S.

When she got to NIU, she took full advantage of the variety of activities available to help her succeed.

"At NIU, I was very active on campus," she said. "I joined student advisory boards and service organizations to make an impact in my community so I can develop my leadership and strategic planning skills. I also participated in the Experiential Learning Center opportunity to become a consultant to help a real organization solve their issues at hand. These involvements allowed me to develop my skills and gain insights into the professional world."

Sirivong would like to eventually play a leadership role in the education, consulting, or technology sectors, and she wants to give back in some way.

"My ultimate goal in the professional world is to always give back and love what I do every day, no matter what that would be," she said. "I believe that I can be more than one person professionally. I want to work a full-time job but also pursue my side career as an entrepreneur."

As an enterprising NIU student, Sirivong formed the YakBork Project in Laos in 2020 to offer free scholarship application workshops and other resources to underprivileged Laotian students. She has said her main goal is to create an educational center for underprivileged children in Laos so they can do what they love, but still make a living from it.

Sirivong has a bright future ahead of her, and she's looking forward to using the skills she's learned in her years at NIU in her professional life, but also paying it forward.

"The most exciting thing for me is being able to use the knowledge I've gained to better my community and the organization that I will be joining," she said. "I have learned so much at NIU and wanted to make sure I pay it forward to others. Some of the challenges I have faced were learning to make decisions about my career path since there were so many opportunities that interested me. However, with the help of my mentors and faculty, I was able to make the right choice that will allow me to learn and grow professionally."

To those just beginning their NIU journey, Sirivong recommends getting involved and planning ahead.

"Explore all opportunities that interest you as early as you can, whether that would be available scholarships, awards, student organizations, jobs, internships, leadership opportunities, events, classes, et cetera," she said. "Then, allocate time and resources to make them happen. I started roughly planning how I would spend my 4 years and that was how I was successful accomplishing everything I planned to, including becoming the Lincoln Laureate."

She encouraged students to manage their time wisely.

"Good time management skills and consistency go a long way. Know how to manage yourself. It takes a lot of energy and practice to be disciplined but trust the process because the results always pay off. If I can do it, so can you!"