The Circle Remains Unbroken: Robert and Lois Self, A Legacy of Good Work


By Angela Johansson, M.A. '05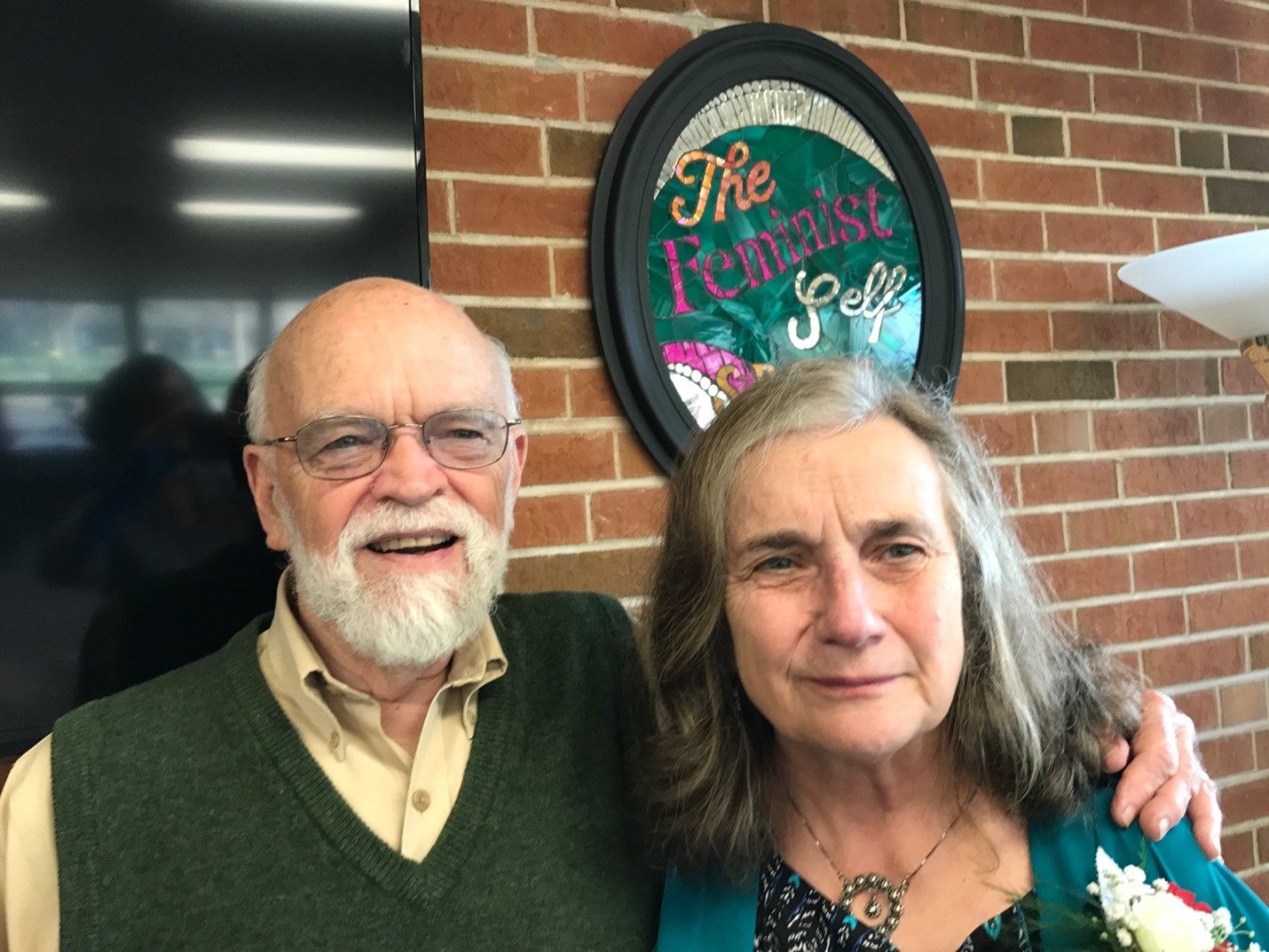 Emeriti faculty members Bob and Lois Self invested 80 years of their lives at NIU. Their philanthropy ensures their good work continues.
Nothing is more enduring than the impression a great teacher leaves on a student. It's like a story written on our hearts that unfolds throughout our lives and becomes part of us.

Those who have had the good fortune to learn from emeriti faculty members Bob and Lois Self know that story well. Collectively, the couple invested 80 years of their lives as teachers, scholars, administrators, activists, program leaders, and mentors at NIU.

Their contributions span disciplines and generations.

Throughout their careers, the couple shared an appreciation of the power of higher education to open minds, build bridges, and make the world a better place.

"We had similar interests in rhetoric, social movements, and popular culture," Bob recalls. "We were always able to share with each other what we were researching, teaching, and thinking about."

Over the years, Bob and Lois have created several endowments through the NIU Foundation to support the programs they built and causes they've championed. "We want to make sure that those who come after us can continue to do good work," Bob says.

Decades of good work
Robert Self is an emeritus professor of English and a Distinguished Professor of the College of Liberal Arts and Sciences who served NIU from 1969-2009.
During his tenure, he served as director of the First-Year Composition program, director of graduate studies in English, interim chair of English, and associate dean of the College of Liberal Arts & Sciences. He was instrumental in developing NIU's exceptional film and literature curriculum, and his two academic books established him as a national scholar on film director Robert Altman.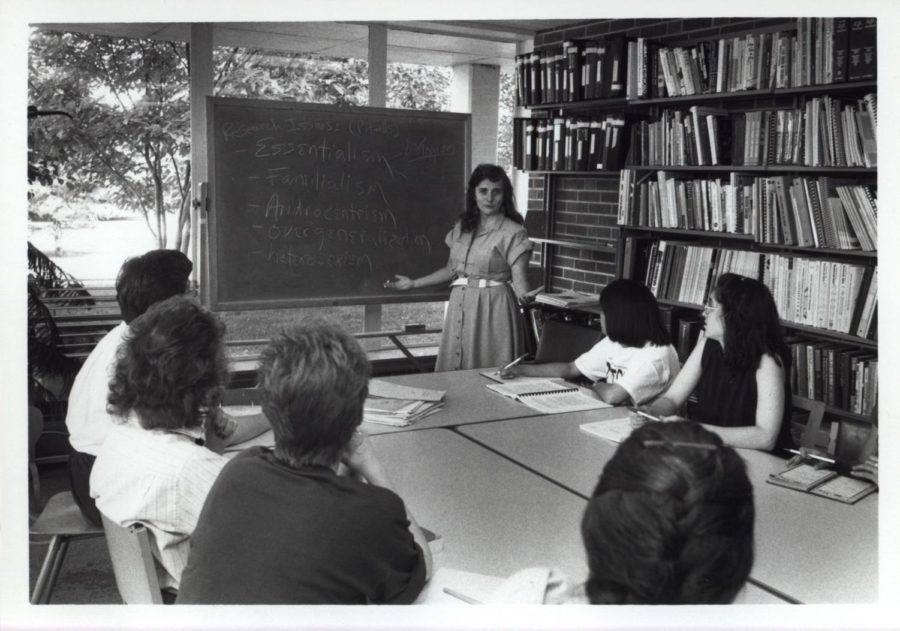 Under his leadership, computer-assisted instruction became a central feature of the composition curriculum, and NIU was influential as one of the first universities nationally to use computers for first-year writing.

In addition, he and emeritus professor in communication, Jeffrey Chown, co-directed the popular and impactful study-abroad program Media and Culture in Ireland, a program that "Dr. Bob" and "Dr. Lois" took part in together for fifteen years.

Lois Self served the Department of Communication from 1979 to 2009. She began her work at NIU in 1971 as an instructor in Communication Studies and later became an instructor in the Fundamentals of Communication course.

In 1979, after completing a Ph.D. in Communication Arts at the University of Wisconsin-Madison, Lois joined NIU as an assistant professor and coordinator of the speech communication skills program for educationally disadvantaged undergraduates.

In 1986, Lois was selected as the Director of Women's Studies, the interdisciplinary program that established the basis for the current Center for the Study of Women, Gender, and Sexuality. She served as director for nine years, expanding its curriculum, enlarging its degree options, increasing its faculty, and pioneering its graduate concentration.

In 1995 she was recognized by the NIU Presidential Commission on the Status of Women as the first recipient of the annual Wilma Strickland Award for "Enhancing the Campus Climate for Women." In 1997, she was honored by her national professional organization, the National Communication Association, with their Francine Merritt Award for contributions to the status of women in the discipline.

Throughout her leadership in women's studies, Lois continued to teach the rhetoric of social movements and gender and communications and to share her research in these areas at professional conferences. In 1996, she became chair of the Communication Department, a position she held for nine years.

After formally retiring in 2006, Lois organized the College of Liberal Arts and Sciences 50th Anniversary celebration and helped create the college communications office. In recognition of her outstanding contributions to the university, profession, and community, Lois was named a College of Liberal Arts and Sciences Distinguished Professor in 2013.

Supporting the student experience
"Bob and Lois want to give students meaningful, immersive experiences that they remember and carry forward," says Laura Knight, Senior Director of Advancement for the College of Liberal Arts and Sciences.

"These experiences build the bridge for students as they enter the wider academic and professional communities," says Knight.

A vital, yet sometimes overlooked, need for graduate students is funding to cover expenses for activities like conducting research, attending professional conferences, and presenting scholarly research papers.

For years, Lois and Bob have helped students engage in these activities through two endowments: the Robert T. Self Graduate Award in English and the Lois S. Self Graduate Professional Engagement Fund in Communication.

Doctoral candidate in English, Josh Sopiarz, says this support opened a new world.

By day, Sopiarz is a professor and academic librarian at Governors State University in University Park, Illinois. At night, you can find him burning the midnight oil working on his dissertation examining the representation of boxing in film and literature after the Second World War.

Sopiarz's research requires him to visit archives across the country. Thanks to an award from the Selfs, he can travel to various archives including the renowned Joyce Sports Research Archive at the University of Notre Dame.

"I would like to thank Robert and Lois Self not only for supporting my research, but for opening the door for me to make important professional connections. Thanks to their generosity, I've gotten to know the archives director and staff at Notre Dame," he says.

For doctoral candidate in English, Gerald O'Malley, an award from the Selfs is a great help in his research aimed at increasing understanding of those who have been sexually abused.

"I'm working to establish sexual abuse as an identity, which is both the reality of the situation and a rhetorical argument that fosters increased justice for this marginalized group," he says. O'Malley hopes to continue this effort until abuse studies is a commonplace feature at American universities.

"I'm deeply grateful, and I will make sure that the award helps not only me, but hopefully the entire sexually abused community and the field of English generally," he says.

The Dr. Lois Self Fund for the Study of Women, Gender, and Sexuality
The Selfs' most recent gift supports the Center for the Study of Women, Gender, and Sexuality. This endowment provides support for the center director in areas of greatest need and opportunity.

The gift is a tribute to Lois' significant contributions to the field of women's studies that later evolved into the center. Many of the courses and programs developed under her leadership served as the basis for the center's thriving, interdisciplinary academic community.

Tara Scolire, '08, recalls that as a student she found an academic home at the center amongst its close-knit support system of students, teaching assistants, and professors.


"Majoring in women's studies allowed me to pull from different disciplines-- psychology, sociology, literature, writing, media arts, and history--to achieve an incredibly well-rounded education," she says.

Today, the grateful alumna is an educator herself, teaching English and college dual-enrollment classes within the Chicago Public Schools at Steinmetz College Prep.

"The center gave me the confidence to lead and support others and recognize that we all have very different experiences but should always be welcome at the same table," Scolire says. "It shaped me as a teacher and helped me become the person I am today," she adds.

"Lois and I think about how useful this center would have been back in our day," Bob says. "It would have helped so many students. We want to support its future."

"Lois and I remember what it was like as faculty members developing programs amid constant budget cuts," he adds. "There was never really a good time to ask the dean's office for money."

Lois and Bob say their gift is intended to make financial support for programming easier for current and future administrators. "We want the funds used as Center leaders see fit," Bob says. "It's a vote of confidence in the Center's vision, its leadership, and its impact."

The circle continues
And so it goes, the circle of education, the passing of knowledge and inspiration from one generation to the next.

"Our best teachers and former mentors have now passed on," says Bob, "but they are forever part of us." He adds," We have in turn loved seeing the world through our students' eyes and are forever enriched by the subsequent effects of their own professional careers."

Lois and Bob share delight and joy in seeing the next generation's accomplishments and what their students have gone on to achieve.

"It's our legacy," Bob says. "We continue to receive the best of what's grown out of our shared experiences. That's the reward of teaching and giving back."