Brunch with Mission and Victor E. - LOCATION CHANGE
Saturday, Oct. 14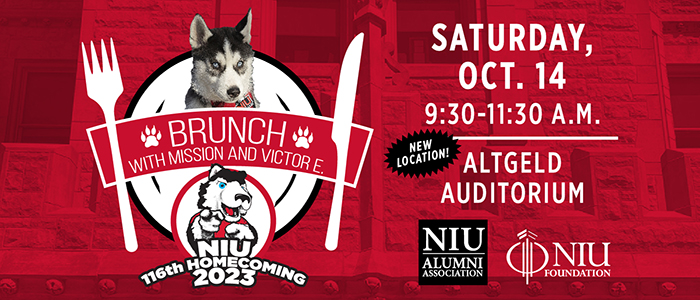 The Third Annual Brunch with Mission and Victor E., hosted by the NIU Alumni Association and NIU Foundation, will take place from 9:30-11:30 a.m. on Saturday. Oct. 14 in NIU's historic and picturesque Altgeld Auditorium.

There will be plenty of opportunities to take pictures with our favorite mascot, Mission III, so wear your Huskie gear!

Each registration includes a full buffet of scrambled eggs, hashbrown casserole, bacon, fresh fruit, biscuits and gravy, assorted pastries, coffee and juice. With their tickets, guests who are over 21 years old will receive one ticket for a Dawgma beer from Pollyanna Brewing & Distilling or a bloody mary featuring Blue Ice Handcrafted Vodka. Additional bar beverage tickets will be available for purchase for $5.

Parking is available in the lot on the north side of the lagoon, as well as in the art building parking lot, which are both located off of College Ave.

Following the brunch, keep the festivities going and head over to Mission's Grove.

Questions? Please contact Dana King, '05, at dking1@niu.edu or 815-753-5421.

All sales are final. No refunds will be given.