John J. "Ski" Sygielski, Ed.D. '98, Receives the F.R. Geigle Service Award


By Eva Richards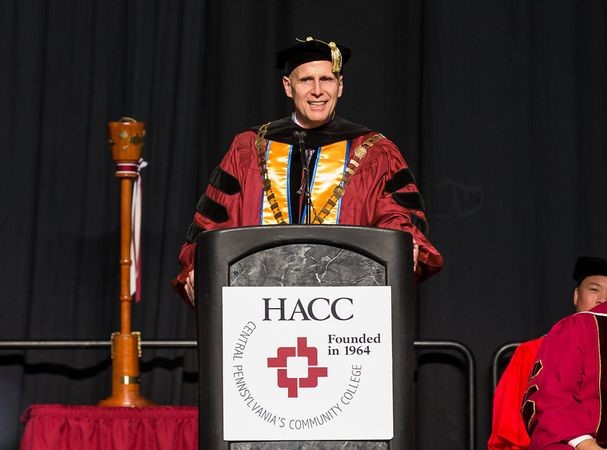 John "Ski" Sygielski serves as president of HACC in Harrisburg, Pennsylvania.
John J. "Ski" Sygielski, Ed.D. '98, knows first-hand how education can positively impact a person's future.

Growing up in Cleveland, Sygielski was a member of a working-class, devout, Roman-Catholic family, and he worked hard at St. Ignatius Jesuit High School in Cleveland. The first college graduate in his family, he began his collegiate experience at Marquette University in Milwaukee. He earned his bachelor's in philosophy and education with honors from St. Alphonsus in Suffield, Connecticut, followed by his M.S. and M.B.A. from Aurora University in Aurora, Illinois, before earning his Ed.D. in continuing adult education from NIU.

Today, Sygielski has had a two decade-long tenure as the first out gay president of HACC, Central Pennsylvania's Community College in Harrisburg, Pennsylvania. Sygielski, known as "Dr. Ski" to his college community, sees himself as a student advocate, serving over 1,300 employees, 19 trustees and more than 20,000 students daily.

Sygielski's dedication to public service is why he is this year's recipient of the F.R. Geigle Service Award from the NIU Alumni Association.

"These days, a college president is a town minister and not as much of an academic philosopher," he said. "Knowing the difference an education made in my life and having seen the difference it makes in the lives of those who attain a higher education, I am highly motivated to ensure everyone—no matter their race or social status in our 11-county, 65-school district service area—knows about the college. I want them to know how affordable and possible it is for anyone to attend college and how it can change the trajectory of a person's life."

Knowing he was gay from an early age, Sygielski felt he would be limited in career options, and he considered careers in health, education or ministry.

In the 1990s, he began seriously considering his calling to become a community college president, despite not knowing of any presidents who were openly gay. He worked at College of DuPage in Glen Ellyn, Illinois, as an adjunct faculty and administrator, and many of his colleagues had either attended or were attending NIU for various graduate degrees and highly recommended the doctoral program. In addition to NIU's proximity to the College of DuPage, the college provided a generous tuition reimbursement program to NIU.

"I knew that NIU's education department had a solid regional reputation and had several distinguished world-renowned faculty members within the program, as well," he said. "My experience at NIU, as a commuting graduate student, was one of the most transformative experiences in my life. The instruction, the community engagement, and the cohort of students from various educational institutions, backgrounds and experiences throughout the region and state, all added to my fund of learning."

Focusing on community college leadership for his dissertation, Sygielski formed a community of experienced NIU community college leaders and faculty to study ways to enhance the systems within a community college to ensure all students had access to a higher education.

While earning his doctorate at NIU, he met some important role models in his career journey. As a member of the Community College's League of Innovation Executive Leadership Institute class, he met and spoke with an out-gay college president—Stephen Millelstet, the now-deceased former president emeritus of Richland College in Dallas, Texas. He also talked with Bill Wenrich, the then-highly esteemed chancellor of the then-Dallas County Community College System and a strong ally of gay and lesbian college professionals.

Several months later, Sygielski attended the American Council on Education in Washington, D.C., and was introduced to another out-gay president, Charles Middleton, now president emeritus of Roosevelt University, and several others. Lastly, he met DeRionne Pollard, who was then an out-gay vice president of academic affairs at Lake County Community College in Grayslake, Illinois and is currently president of Nevada State University in Las Vegas. These mentors changed Sygielski's path forever.

"These individuals provided me with hope that my dream of becoming a college president could be realized, not easily but with renewed possibility. After serving as the first vice chancellor for workforce development and continuing education for the Virginia Community College System, I then assumed my first presidency of Lord Fairfax Community College, with campuses in Middletown and Warrenton, Virginia," he said. "Thanks to these early pioneers and others who, over the years, knew who I really was and supported me, I am not sure I would have endured the journey as well as I have. Having a support network like the LGBTQ Presidents Alliance and friends has been very important to me."

After serving as president at Lord Fairfax Community College, Sygielski served as president at Mt. Hood Community College in Gresham, Oregon, for three years. He has been in his role at HACC since 2011.

Sygielski knows that community colleges are an on-ramp to higher education, and he believes in the education HACC provides, from offering ESL classes for immigrants to associate degrees in nursing—and everything in between.

"We educate those from ages 13 to 100," he said. "In essence, a college president upholds the college's values and purpose through completely dedicating him or herself to the institution and those they are called to serve. As I say often, our work at HACC is all about changing the lives, destinies and family trees of our students."

Throughout his tenures as president, he has been appointed to numerous national, state, regional and local boards. He was appointed by several governors to serve on their transition committees and been appointed to state boards, such as the State Manufacturing Board in Virginia and the Workforce Investment Boards in Oregon and Pennsylvania.

"Probably the greatest honor I received was being elected by my peers to serve as chairman of the board of the American Association of Community Colleges. I was recently elected to serve again on the AACC board for three years," he said.

Over time, Sygielski and his husband Steve Perrault have been invited into classrooms to speak about their sexual identity and their 38-year relationship. Over the past several years, he has also been asked to speak at educational conferences throughout HACC's service region and around the United States with colleagues who are gay or lesbian college leaders.

"Once again, education has the ability to inform people and eliminate the ignorance," he said.

Even with his success, being openly gay in his role has not always been easy. He and his college's board have received many critiques and homophobic statements from alumni and stakeholders, based on his sexual identity. Still, Sygielski strives to be a role model and deliver hope to LGBTQ+ individuals who may have similar dreams to hold leadership roles in education and industry.

"I remember both the fear and the exhilaration of knowing there were others like me achieving their professional goals," he said. "Even though many of the gay college leaders I mentor today feel the same as I did, it is amazing how much has changed, depending on where you reside, as well as the color of your skin. The best advice I can give is, if you are a gay administrator interested in becoming a community college president, know that it is possible!"

His negative experiences as a gay president have pushed him to lead an inclusive and anti-racist institution. In 2019, HACC was recognized with a national award by the Association of Community College Trustees for its work in diversity, inclusion and belonging.

"I am most proud of working with a group of highly-committed professionals who are student-focused, striving to be anti-racist and making a difference," he said. "Being able to influence educational policy at the national, state, regional and local levels has been affirming. In addition, I look forward to attending graduations and seeing the individuals who never thought it possible celebrate their achievement."

Sygielski notes that NIU had a huge impact on his career, allowing for him to succeed in his dream role.

"NIU opened many professional opportunities in fields I never considered as a working professional," he said. "The university equipped me to compete effectively in the job market as I sought other positions around the country. NIU provided me greater economic stability and security, which is something my working-class family struggled with throughout their working lives, without education. And the university exposed me to best practices in higher education and continuing education from around the world, while I experienced diversity in my classmates and in thought."