Center for Black Studies, Black Alumni Council Host Homecoming Events for Connection, Celebration


By Tony Scott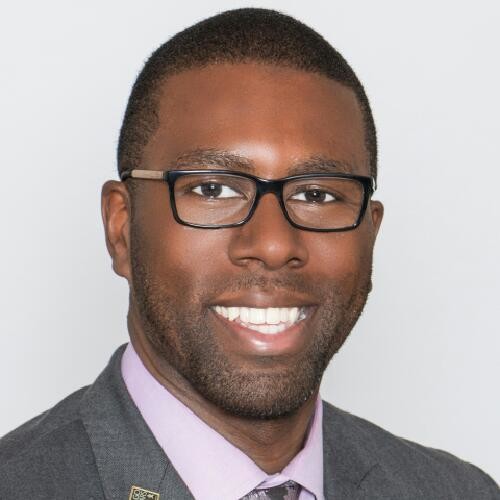 Michael Johns, '07, M.S.Ed. '10, a member of the Center for Black Studies Homecoming Planning Committee, is looking forward to the various CBS and BAC Homecoming festivities.
For the third year in a row, the Center for Black Studies and the NIU Black Alumni Council are hosting their popular Homecoming events during NIU's annual Homecoming celebration. These events have attracted more than 1,000 NIU alumni to campus to celebrate being a Huskie, make connections, and reminisce about their college experience.

The events include

the Black Alumni Council Variety Show at 7 p.m. on Friday evening, Oct. 13, in the Altgeld Hall Auditorium;

the Black Alumni Council Day Party at 3 p.m. on Saturday, Oct. 14, in the Duke Ellington Ballroom at the Holmes Student Center;

and the Black Alumni Council Brunch at 10 a.m. on Sunday, Oct. 15, at the Community Center in the Patterson Hall Complex (formerly known as New Hall).

More Black Alumni Council and Center For Black Studies sponsored Homecoming events can be found here.

Michael Johns, '07, M.S.Ed. '10, a member of the Center for Black Studies Homecoming Planning Committee, made up of alumni volunteers, said the Homecoming events came about during a discussion he had with Anne Edwards, the former director of the Center for Black Studies during the Black Alumni Council Annual Labor Day Weekend Picnic.

"During our discussion, I shared my vision of crafting a distinctive homecoming experience that would resonate with all-black alumni, igniting their desire to return to NIU," he said. "At the time, primarily members of Black Greek letter organizations participated in Homecoming festivities. My concept aimed to transform Homecoming into a platform that allowed alumni to revisit NIU, have enjoyable activities and facilitate a more profound engagement with NIU's community."

He continued, "This engagement was designed to encompass meaningful interactions that would extend support to current students and bolster the growth of our alumni network. By establishing this tradition, we sought to bridge the gap between generations, creating a powerful network that celebrates our shared past and contributes to the ongoing success of current students and the university."

The activities have grown and become even more popular since that first year, Johns said.

"It started as a simple event at the Center for Black Studies and now is a series of events taking place over the entire weekend, something that I am truly proud of helping to establish," he said.

The Homecoming events are all about sharing memories but also making new ones, Johns said. The events are all about connection.

"I hope my fellow NIU Black alumni gain a deep sense of connection, nostalgia, and inspiration from these events," he said. "It's an opportunity to rekindle friendships, establish new relationships, and be reminded of the vibrant spirit of our time at NIU. For those considering attending for the first time, these events offer a unique chance to be part of a welcoming community with common backgrounds and experiences. Attending will allow you to relive cherished memories and create new ones. You'll find a warm atmosphere where alumni from various generations come together, network, and create a genuine sense of belonging. It's a chance to celebrate our shared journey and contribute to the legacy of our alma mater."

Johns said he enjoys all of the Homecoming festivities, but he is personally looking forward to the annual Day Party on Saturday afternoon, Oct. 14.

"The Day Party has become the premier event for black alumni during NIU's Homecoming," he said. "The atmosphere is truly electric, reminiscent of the vibrant energy we experienced on campus as students. The lineup features a diverse group of NIU DJs spinning nostalgic and current tracks, instantly transporting us back to those memorable moments. What makes it even more remarkable is the presence of generations of Black alumni, creating a powerful sense of unity and connection. It even features some of our favorite foods from our student days, adding to our nostalgia. All in all, it's an unforgettable experience, celebrating our shared history and the incredible journey that brought us to where we are today."

As an alumni volunteer, Johns is proud to give back to his alma mater, especially for these Homecoming events.

"Being involved as an alumnus in a volunteer capacity to organize these events holds immense importance for me as it's a way of giving back to the institution that shaped us," he said. "Volunteering reinforces our unique bond with our alma mater. It nurtures community among fellow alumni, fostering connections and celebrating shared experiences. Through these events, we create a bridge between generations of black alumni, offering mentorship to recent graduates and reaffirming our enduring ties to the university."

He continued, "The presence of alumni during Homecoming sends a strong message to current students about their lifelong connection to the institution. Volunteering contributes to passing the legacy and cherished experiences to the upcoming graduating classes. It's a fulfilling way to invest in NIU's future and maintain its ongoing success.