Dr. Glendening's Musical Madness
Sunday, Nov. 12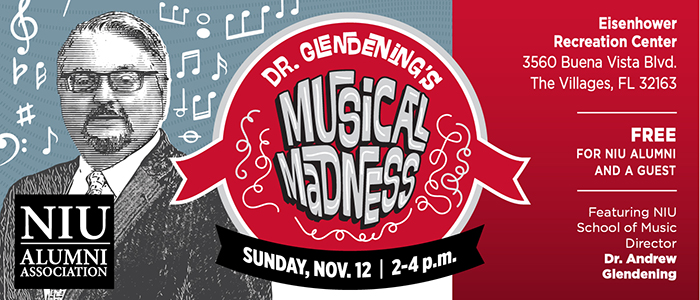 As a professor of music and the director of the Northern Illinois University School of Music, Dr. Andrew Glendening knows quite a lot about various musical instruments...and some obscure ones too!

Join fellow NIU alumni and friends for this free event from 2-4 p.m. ET on Sunday, Nov. 12, the Eisenhower Recreation Center, located at 3560 Buena Vista Blvd., The Villages, Florida 32163 for "Dr. Glendening's Musical Madness" and learn how you can make music from just about....anything.

Glendening previously served on the faculties of the University of Redlands, Denison University, Morehead State University and Northeastern Illinois University. A native of Logansport, Indiana, he earned a Bachelor of Music degree in trombone performance from the Oberlin Conservatory of Music before attending Indiana University, where he was awarded the school's highest honor: the Performer's Certificate, a Master of Music degree and was the first-ever recipient of the Doctor of Music degree in trombone performance.

For 15 seasons he served as principal trombonist of the Redlands Symphony Orchestra and has performed as a substitute with the Chicago Symphony Orchestra, the San Diego Symphony Orchestra and the California Philharmonic. Six of his students have won the U.S. Army Band National Solo Competition. Dr. Glendening was host and artistic advisor for the 2017 International Trombone Festival and has performed, judged and/or presented at the International Trombone Festivals in Cleveland, Illinois, North Texas, Eastman, Iowa and Ball State as well as the 2019 International Women's Brass Festival. He is the author of critically acclaimed book, The Art and Science of Trombone Teaching, published by IMD.

Questions? Please contact Dana King, '05, at dking1@niu.edu or 815-753-5421.
Event Information
Cost: Free
Please RSVP so we know who is coming
When:
2:00PM - 4:00PM Sun 12 Nov 2023, Eastern timezone

Where:
Eisenhower Recreation Center
3560 Buena Vista Blvd
The Villages, Florida 32163
[ Get Directions ]