2023 Rockford Alumni Holiday Reception
Tuesday, Dec. 5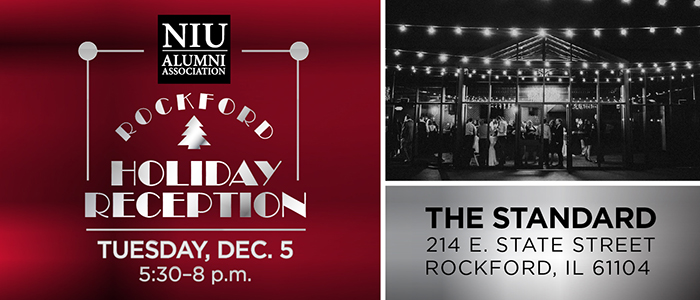 Join NIU President Lisa Freeman and Rockford-area officials for our inaugural Rockford Holiday Reception from 5:30-8 p.m. on Tuesday, Dec. 5 at The Standard on State in the Rooftop Conservatory.

Celebrate the holidays with our host committee:
• Joe Sosnowski '99, M.P.A '22 and Roxanne Sosnowski, '01, J.D. '04 Partner at Sosnowski Szeto, LLP
• Carla Redd '93 Rockford Police Chief
• Michele Pankow M.P.A. '08 Rockford Fire Chief
• Samantha Hochmann '13, M.A. '15 Executive Director at Tinker Cottage and Eric Hochmann '15, M.S. '17 Mechanical Engineer at Rockford Manufacturing Group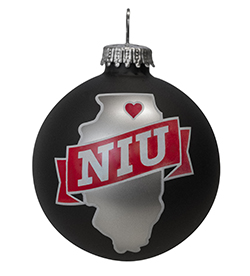 The holiday reception will feature heavy hors d'oeuvres and two complimentary drinks.

Limited NIU alumni gear and swag will be available for purchase during the event for all your holiday shopping needs, including our new holiday ornament!

You can also purchase items ahead of time at NIUAlumniStore.com, and pick them up that night. If you choose to purchase items in advance, please be sure to select the pickup option at check out and use the "Add a note" feature to let us know you will pick your order up at the Rockford Holiday Reception. All pickup orders must be placed prior to Dec. 4.

Questions? Please contact Malerie Schumaker, assistant director of NIU Foundation & Alumni Events, at mschumaker@niu.edu or 815-753-5088.
Event Information
Event Registration ONLY:
Online Registration - $35; $25 for Young Alumni (alumni 32 and younger)
Registrations at the Door - $40; $30 for Young Alumni


When:
5:30PM - 8:00PM Tue 5 Dec 2023, Central timezone

Where:
The Standard on State
214 E. State St.
Rockford, IL 61104
[ Get Directions ]