Student Spotlight: Ryan Jensen


By Tony Scott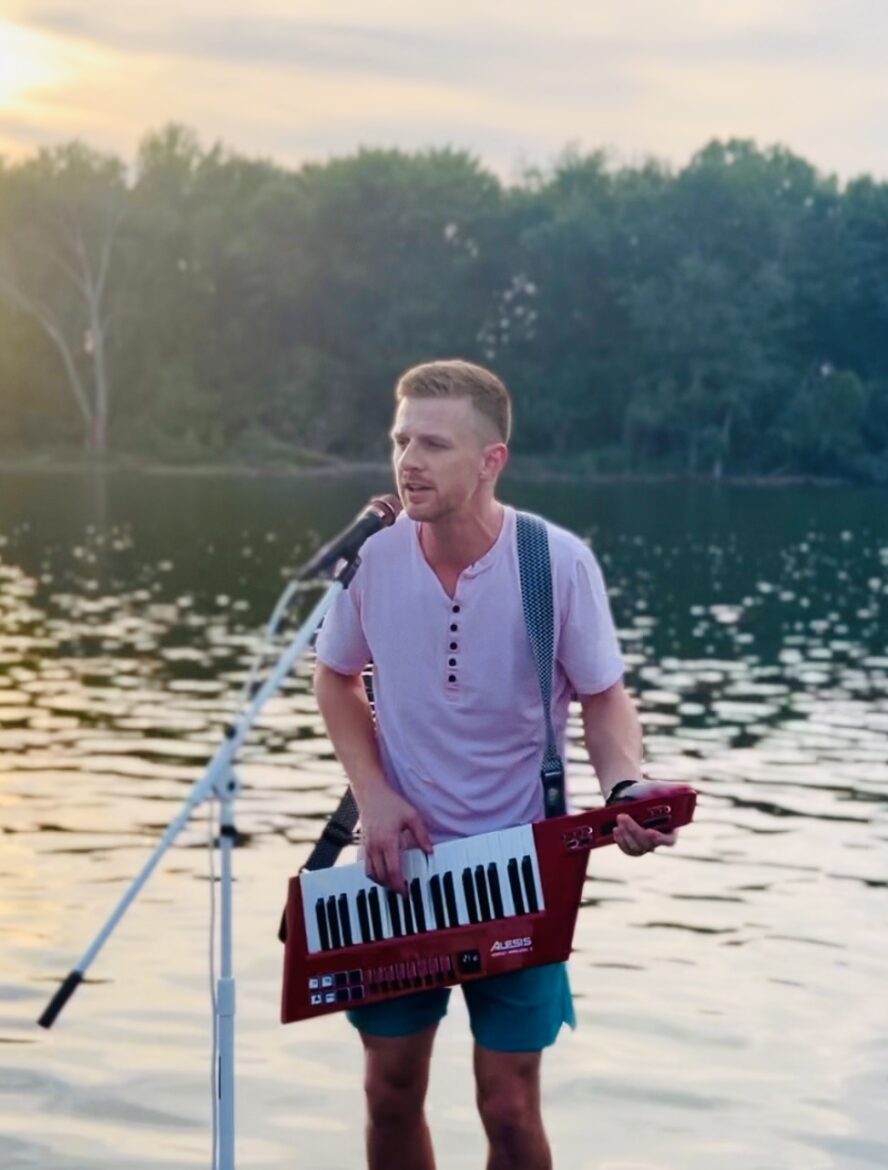 Ryan Jensen is a working dad who received help from scholarships to finish his college degree.
When the youngest of Ryan Jensen's two sons was old enough to start preschool this year, he decided to go back to school as well, and finish his college degree at NIU.

Jensen, a vocal music education major who plans to graduate in December 2025, currently works as a music director at his local church and comes from a musical family.

His father, Kevin Jensen, was the band director at Harlem High School in Machesney Park, Illinois, for 30 years, directed the Rockford Wind Ensemble for 20 years, and directed the Rockford Symphony Orchestra in 2022. His mother, Amy Jensen, M.M. '08, was the choral director at Hononegah High School in Rockton, Ill., for 30 years; she received her bachelor's degree at Illinois State University but earned a master's degree from NIU. He, along with his older sister and brother, were all involved in choir, band and drama from a young age.

"I am a non-traditional student with a bit of a unique story on how I ended up at NIU," he said.

Jensen began his college years at Millikin University in 2006 but did not finish his bachelor's degree there; he did receive an associate degree from Rock Valley College in 2012. For six years, he worked for Easterseals Academy as a community outreach coordinator for children and young adults with autism but resigned in 2018 when his oldest son was born in order to stay at home with him.

When his younger son was born in 2020, he continued to be a stay-at-home dad until this year when his son was ready to go to preschool.

"With both of my boys being in school, I had an opportunity to finish my degree, and NIU was at the top of my list," he said. "I chose NIU because of the proximity, but also because of the amazing faculty that work in the music department."

Jensen has received assistance from scholarships, including the Lynne M. Waldeland Scholarship in Vocal Music, to help him finish his degree. He said he is grateful to donors for giving him the boost he needed.

"When I was chosen as the recipient of a scholarship, I was beyond thrilled and felt supported and encouraged," he said. "Being selected made me realize that there is a support system for me that goes beyond my family, which has inspired me to succeed here at NIU and in my future career."

While at NIU, he has been involved in a number of organizations and activities.

"I am a member of the National Society of Leadership and Success, and am also a founding member of a brand new chapter of the National Association of Teachers of Singing here at NIU," he said. "I wanted to take advantage of new opportunities that were provided by NIU to get access to more scholarships, to build skills about leadership and teaching, to create a network of peers, and to invest in my future."

Jensen has worked as the director of music for Riverside Community Church in Machesney Park since 2015 and continues to work while attending school.

"As the director of music, I have about four hours of rehearsals each week for a traditional choir, handbell choir, and contemporary worship band," he said. "I also serve as the church's webmaster and manage all the social media accounts. I also play a supporting role as ministries coordinator for the church, and do a lot of communication to help out the different ministries at the church, plug new members into existing ministries, or form new small groups. A lot of the work can be done in the evening from my phone or computer, but it definitely has its challenges."

As a working dad who is also going to school to finish up his college degree, Jensen said he makes it a priority to balance his various responsibilities.

"It is very important that I make good use of my time when I'm on campus," he said. "I also prioritize my two boys over everything else, so it's imperative that I make time for them every chance that I can. I grew up in a family that was very active and had busy schedules, so it is not abnormal for me, but time management - and sleep! - are really the most important things in my control."

Jensen encourages fellow students who are starting their NIU experience to take full advantage of the opportunities on campus.

"The years at college go by so quickly, yet the days can seem long and difficult while you're in them," he said. "I would encourage them to buy in to the culture, seize every opportunity that comes your way, and embrace the challenges of being a student. Someday you will look back at your time in college, and you might have fond memories and you might have bad ones, but I guarantee that you will remember your experience vividly. So, make the most of every opportunity, every class, every social event, every day. Meet new people and break out of your comfort zone. You will not regret it!"

To those who have helped him along his journey, Jensen is grateful. He said scholarships help relieve financial burdens but that they provide so much more, and encouraged others to give if they are able.

"Your donation is a gesture of faith," he said. "It is an investment in someone's potential. The stresses of paying for college when combined with the demands of the degree programs can be overwhelming, but for those who are considering making a contribution, know that you could be the inspiration that a student needs to reach their potential."