Forever In The Game: Raymond and Joan Clay's 60-Year-Long Romance


By Tony Scott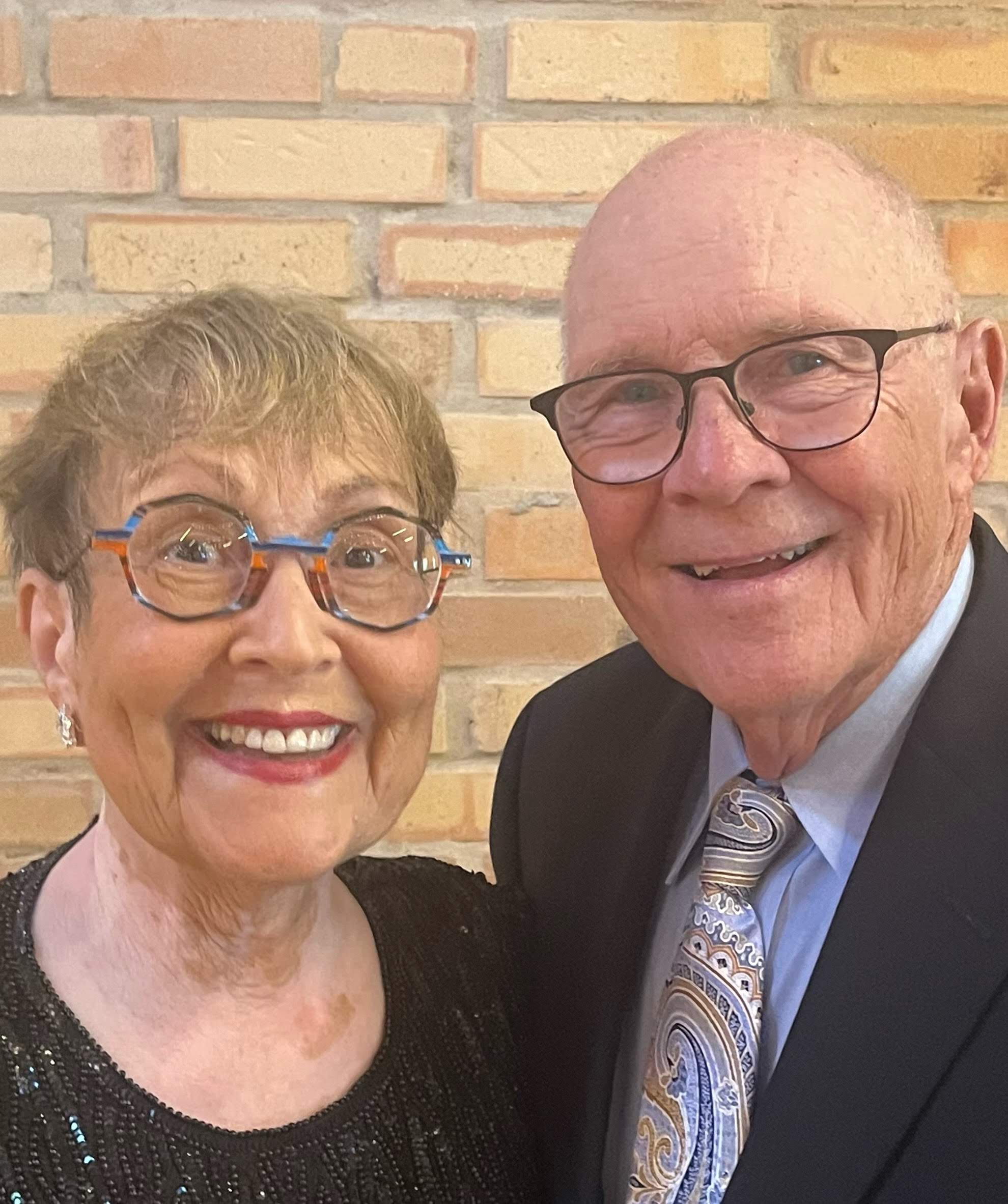 Joan and Raymond Clay met at an NIU football game as students in 1963. They have been married for 57 years.
Being an NIU student brings its share of memories and experiences, including meeting new friends and impactful mentors, but for Double Huskies like Raymond, '66, M.A.S. '68, and Joan Clay, '67, NIU is where they met the love of a lifetime.

The Clays met almost exactly 60 years ago, in November of 1963, at an NIU football game where the Huskies were on the road against Central Michigan. They were engaged in September of 1965 and have now been married for 57 years.

On Oct. 31, the Clays are planning to travel to Central Michigan once again to root on the Huskies, just as they did 60 years ago.

The story of the Clays involves two working-class Chicago kids (Joan from the West Side, Raymond from the South Side) who found their way to NIU, graduated and made successful careers in higher education.

"NIU was the foundation for my wonderful career in teaching and it was also a great place to meet a great husband (with the help of Dean Ruth Haddock)," said Joan.

Growing up on Chicago's West Side, Joan attended Farragut High School. She and her two older sisters were encouraged from a young age to make attending college a goal. Both of her parents knew the struggle of getting an education, as they both had to quit school early to help support their families. Her father later earned his high school diploma by going to night school.

Joan's sisters were teachers who attended Chicago Teachers College, a commuter school. In the summers, she would attend classes with them. She would get up early in the morning, take a one-hour bus ride to campus, sit with them in their classes all day and then take the bus home.

"My parents always valued education and made it a priority for us while growing up," Joan said.

One fall when she was 13, Joan joined her aunt and uncle who were taking her cousin back to NIU.

"She lived on the top floor of Neptune North with multiple beds in one huge room," she recalled. "I had never seen such an amazing sight. That one visit sold me on NIU and dormitory life."

However, while she fell in love immediately with NIU, she didn't think she would be able to attend as a freshman for financial reasons. So, she planned to attend junior college for two years, work part time and save enough money to finish up at NIU. But in her senior year of high school, she received a pair of scholarships, the Chicago Public Schools Science Fair Scholarship and the Miss Betty Crocker Illinois Junior Homemaker of the Year Scholarship. With that help, she moved into Neptune North as a freshman in January 1963.

She would live in that residence hall, along with Lincoln Hall and Neptune West, during her time living on campus.

After graduation, Joan began a lengthy career in education, beginning at the junior high school level and spending many years at the university level, teaching at Indiana State, Texas Tech, and the College of St. Mary in Omaha, Nebraska, finally receiving her Ph.D. in management at the University of North Texas, where she taught for 26 years in its Department of Hospitality Management. After retiring from teaching, she is now back in school studying for her 300-hour yoga teacher training certificate.

"NIU was a fantastic place to get a teaching degree," she said. "I was so well prepared for future success. I always knew I was a teacher, and NIU helped me develop a love of teaching and the skills I needed."

Raymond was born in the Back of the Yards neighborhood on Chicago's South Side. He was the first in his extended family to attend college. Raymond, the quintessential south sider, won a position as a bat boy for the Chicago White Sox as a youth, what he calls his "biggest claim to fame."

He chose NIU because of its cost and that it was close to home. He went home every weekend until he and Joan met.

"I chose accounting as my major because I liked math and heard some high school acquaintances had not flunked out as accounting majors," he said. "I didn't really know anything about majors, college life, etcetera."

After graduation, Raymond taught as a professor at Indiana State, University of Kentucky, Texas Tech, and for 28 years at the University of North Texas. He was also director of professional development for Union Pacific Corporation for three years. He has a consulting practice and teaches professional ethics courses to CPAs.

"I had never lived away from home and NIU helped me interact with others outside my neighborhood," he said. "I got an excellent accounting education."

Football and Fate

Joan remembers having everything she needed at school – 21 meals a week, shampoo, and stamps to write letters home, so by November in the fall 1963 semester she had only spent 10 cents for one Coke in the student union. She decided to splurge, and spent $10 to take the student bus trip to the Central Michigan game set for Nov. 9.

"My roommate and I planned the outing, but then her boyfriend decided to make the trip too," she said. "Getting on the bus for the seven-and-a-half-hour ride to Mount Pleasant, Michigan, I realized everyone on the bus had a friend to sit with except me. The only seat left was with the chaperone, Dean of Women Ruth Haddock."

At the game, Joan decided to leave Dr. Haddock and instead mingled and sat with the other students.

"I sat next to this really cute guy," she said. "He asked where I was from and then never spoke another word to me throughout the whole game. Can you believe, he came to watch George Bork play football?"

The Huskies Football Team at the time were on their way to an undefeated season and earned the Associated Press small college national champion title that year. They were led by future College Football Hall of Fame quarterback George Bork, who set several national collegiate passing records.

"My roommate and I went on the bus trip to see George Bork and NIU win the small college national championship in 1963, and they did," Raymond recalled. "A cute girl sat next to me at the game, but I was only interested in the game."

The red-hot Huskies beat Central Michigan that day 27-22, and Raymond and Joan managed to find each other again after the game.

"After the game we all went to the Central Michigan Union for burgers," Joan said. "I 'just happened' to sit next to that same cute guy from the game and we chatted."

When the students boarded the bus for the ride back to DeKalb, Dr. Haddock was standing at the front and announced, for everyone to hear, that Joan was to "sit next to that cute boy you've been talking to."

"I was mortified – oh no, what was she thinking?" Joan said. "Ray's roommate got on the bus and Dean Haddock sat down next to him. When Ray got on, he was told to sit with Joan at the back of the bus in the only vacant seat. A spark developed in that seven-and-a-half-hour bus ride, and we started dating."

Raymond added, "I spent $10 to see this championship game and find a wife, with the help of Dean Haddock."

Dr. Haddock apparently had a knack for being a campus Cupid, according to Joan.

"When we got engaged in September 1965, we went to show Dean Haddock my ring," Joan said. "She was thrilled and excited to share that we were the third couple she had put together. What a matchmaker!"