Finding His Own Rhythm To Success: Iajhi Hampden, M.M. '05, Tours, Records with Music Greats


By Tony Scott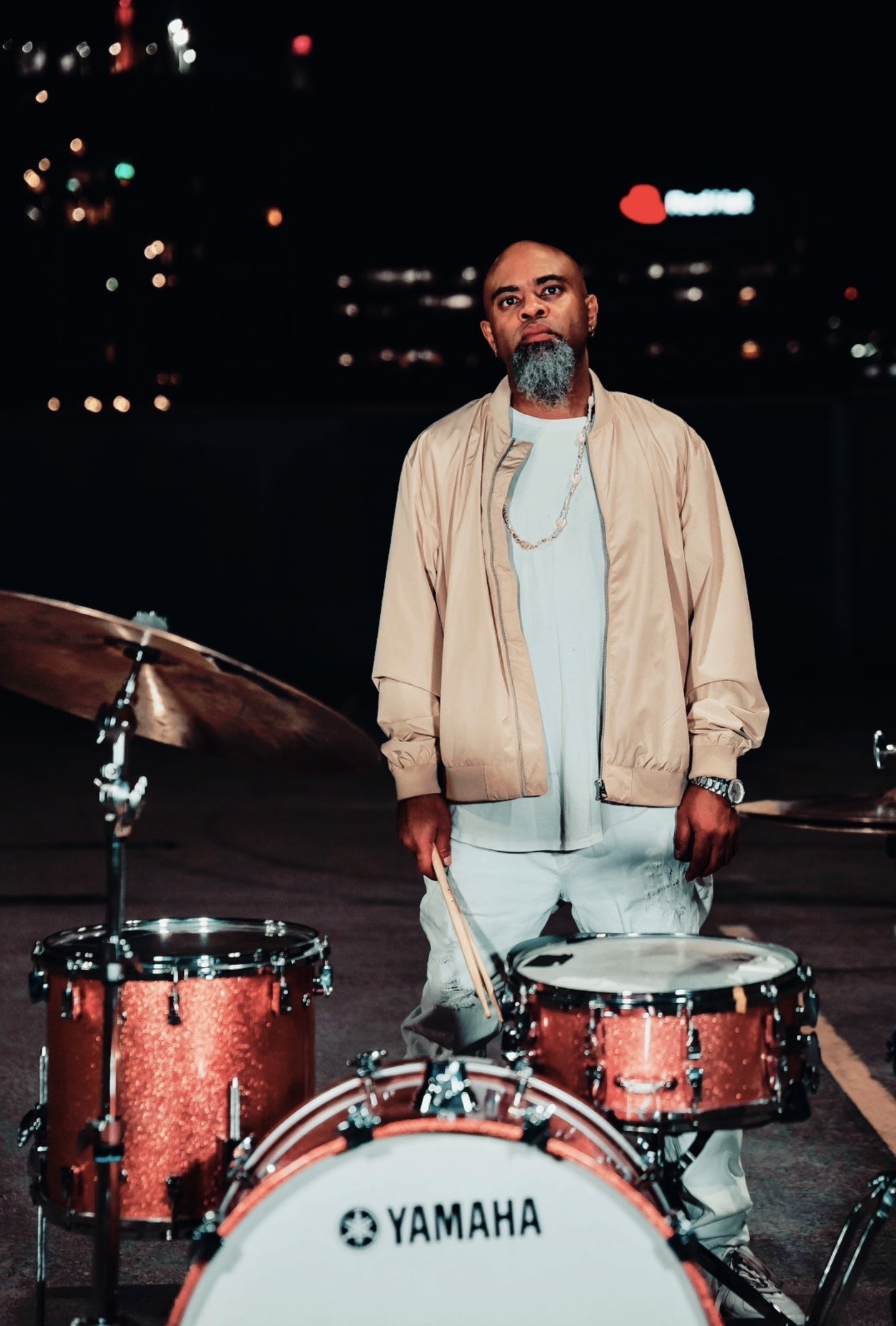 Iajhi Hampden, M.M. '05, has made a career as a professional musician, touring and recording with the likes of John Legend, Raphael Saadiq and others. (Photo by S. Fooks Media)
As a full-time touring musician, music director, studio session drummer and composer, Iajhi Hampden, M.M. '05, has shared stages and rubbed elbows with some of the hottest stars and legends in the music industry.

Over the years, Hampden has toured or recorded with Aly & A.J., Macy Gray, John Legend, Engelbert Humperdink, Everlast, and Nikka Costa to name a few. His impressive career has even afforded him the opportunity to meet music legends like Mick Jagger and many others.

"More recently I started working with Raphael Saadiq in the studio as a session drummer and worked on the National Geographic Genius series on Aretha Franklin," he said. "I also had the opportunity to play on the John Legend Christmas Album and later the deluxe release; I met Smokey Robinson and Diana Ross during those sessions."

Currently, Hampden is splitting time between two touring bands: a Michael Jackson tribute called Who's Bad, which recently played the Egyptian Theater in DeKalb, and jazz funk jam band called the Isaac Hadden Organ Trio.

Hampden comes from a family of talented musicians. Growing up in North Carolina, he was born in New York City to a mother who was a pianist and arranger, was part of the Broadway theater scene in New York and a music business attorney who taught at Seton Hall Law School. His father is a professional drummer who toured with Luther Vandross from 1986 until Vandross's death in 2005. He also has a younger brother and an older brother who both play drums.

"Growing up in North Carolina with my mother, I spent a lot of time in church playing drums, and playing musical theater and for school choruses," he recalled.

He decided to come to NIU for graduate school after speaking with a drummer friend who told him he should audition for the jazz department at NIU.

"I auditioned specifically for a graduate assistantship," he said. "As a part of being a grad assistant, you are required to teach undergrad courses big and small. I eventually became a Liberace Scholar and was a part of the flagship jazz combo of the school of music, the Liberace Jazztet."

Hampden has a number of special memories from his time at NIU, including doing a workshop and performing with Wynton Marsalis, and performing at a jazz festival in Lima, Peru, under the direction of professor Ronald Carter, one of his mentors.

"My experience was amazing," he said. "Coming from a smaller music program, I had never studied in a higher education setting that had its own school of music. There was so much to do. I was a part of one of the steel pan ensembles; I took tabla lessons, arranged music for a Brazilian ensemble, participated in countless student ensembles, and ran a party band of my own co-led by Albert Strong called Junk in the Trunk. We played every Thursday night at Otto's from 2003-2005."

Hampden pointed to four professors who specifically made their mark on him during his time at NIU, the first being Carter.

"Professor Carter taught me how to be a teacher, a leader, how to embrace swing, and translate the Black American music tradition to anyone of any race, color or background," he said. "American music is an oral and aural tradition; he would tell us that all the time."

Another was professor Orlando Cotto, a Latin music professor who taught Hampden marimba and vibes.

"His level of discipline and technique was insane," he said of Cotto. "He was very strict when he needed to be but also knew how to have fun with the music when it was time."

Another was Dr. Robert Chappell, who taught tabla and Gamelan ensemble.

"He was a very well-traveled and warm human being," Hampden said. "He opened me up to world music instruments and helped me learn to embrace the pedagogy behind them."

Another person who made a positive impact on him was professor Cliff Alexis, a co-founder of the steelpan program.

"Although I didn't have any classes with him, Professor Alexis was the high school band director for one of my all-time favorite bands Mint Condition," he said. "Just hanging around him and hearing him tell stories was an education in itself."

Hampden moved to Los Angeles in 2006 and began his career in the music profession. In 2008, he was the drummer for Aly & AJ when they were the opening act on Miley Cyrus' Best of Both Worlds Tour. After that, he drummed for jazz guitarist Norman Brown, followed by Macy Gray. In 2010, while drumming for Macy Gray, he also began playing with a UK artist named VV Brown.

"The record label at the time was trying to break her as an artist in the States, so a lot of our performances were promotional and I did a lot of TV that year," he said. "Played on Leno, Letterman, Craig Ferguson, Kimmel, Rachael Ray, Good Morning America, Ellen two different times, The View, and a few others."


Being in the music business has given Hampden a number of opportunities that have impacted him greatly.

"I've gotten a chance to stand next to Prince on the side of a stage watching Chaka Khan perform, and later got a chance to play an impromptu set with Prince," he said. "I met Mick Jagger in a rehearsal studio. I opened for Maroon 5 with VV Brown for a month. Adam and the band would take us out to dinner from time to time. I also played a surprise birthday party for Don Cheadle at his house, and I met Matt Damon and a host of other movie and TV stars who were personal friends of his. The list of stories goes on and on."

His job has its ups and downs. The biggest challenge for him as a touring musician is the amount of travel it takes.

"I think most people equate traveling for work to doing it for a vacation (which can be taxing on its own)," he said. "But on a vacation, once you get there, you can sightsee, etc. Once we get there, we have to go to work."

He continued, "I love my gift, and I love people. Being able to touch people with my gift as a craft week after week is its own reward. I do also love to travel, don't get me wrong, but standing in a hotel lobby at 4:45 in the morning after a night of a physically demanding drumming performance isn't my favorite."

In addition to his professional music career, Hampden teaches part time as an adjunct professor at the Herb Alpert Music Center at Los Angeles City College.

"Teaching is a reward for me," he said. "Sharing my knowledge of music with students is a passion of mine."

For current students, especially those studying music, Hampden recommends they take advantage of the time they have while in school to perfect their craft. He also said they should remain humble even as they find success.

"After you graduate, you will not have the same amount of time to perfect the things you learned, at least not in the same manner, and not uninterrupted by bills and general 'adulting,'" he said. "Refine your professional interests now while you have the time. And no matter how great or talented you become, always remember you are still a person first. Don't be arrogant just because you are good. Someone not as good with a better personality will take your job."

He quotes the late drumming great Aaron Spears: "It is nice to be important, but it is more important to be nice."