NIU College of Engineering and Engineering Technology
Spring Job and Internship Fair
Join us on
Thursday,

February 22, 2018,

for the NIU College of Engineering & Engineering Technology Spring Job & Internship Fair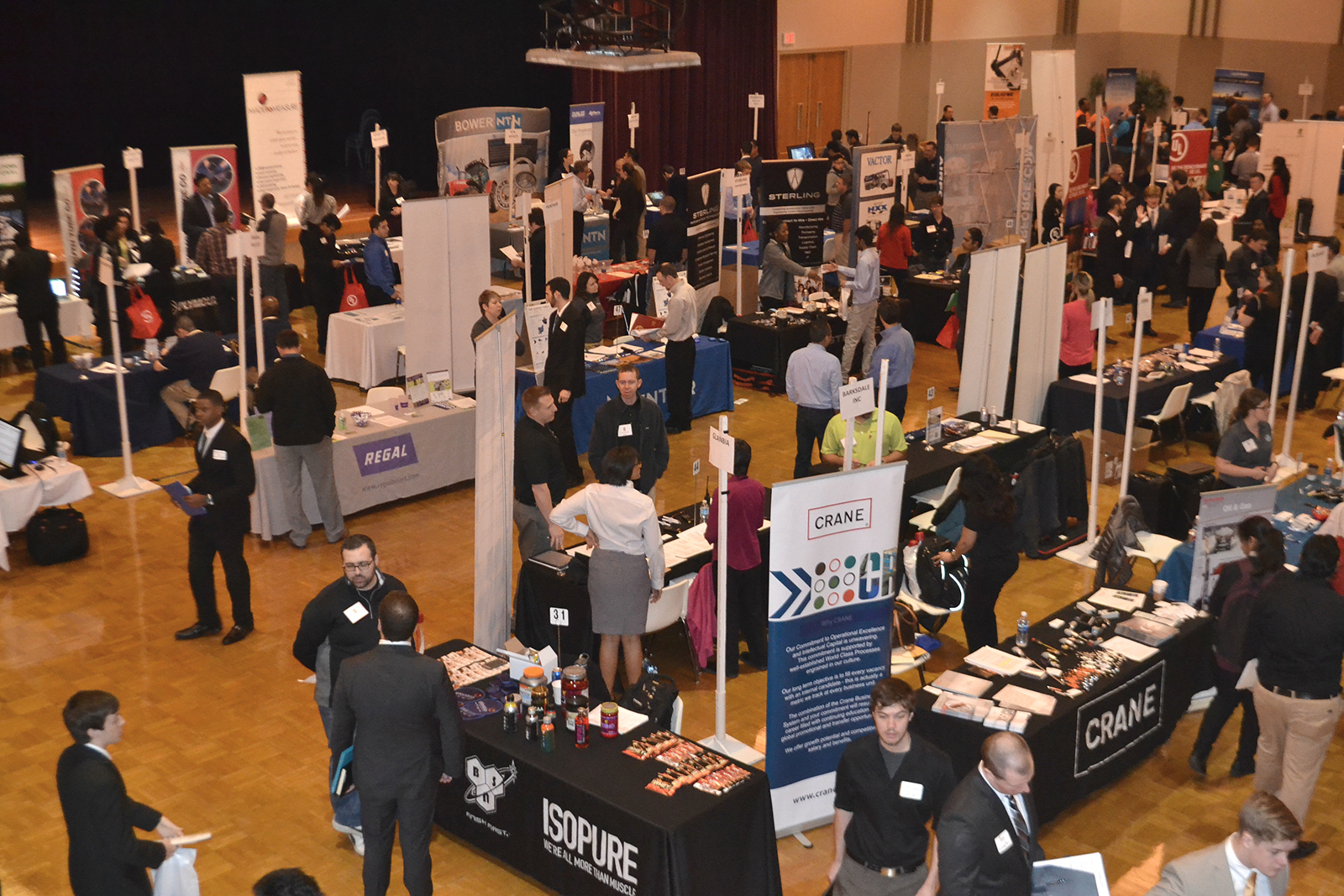 "NIU has very impressive candidates. Every year we come here, and every year we hire someone."
- Miki Leombruni, Ingersoll Machine Tools
Our job fairs showcase only technology and engineering students, so you won't waste time sifting through students with the wrong qualifications. More than 400 students attended the Spring 2017 Job & Internship Fair. These events are perfect for finding co-ops, internships, and part-time and full-time professionals.
Registration
Registration is $350. Nonprofit companies can register at a discounted rate of $175. (Fair market value is $300.) The registration fee is per table, not per company. If you prefer to have two booth spaces at the fair, you must register for each space separately.
Registration is limited to 60 companies and closes two weeks before the fair date. If your preferred date is unavailable, email atkins@niu.edu to be placed on a waiting list. Companies on the waiting list will be contacted if space becomes available.
Event Details
The fair will be held from 10:30 a.m. until 3 p.m. in the Duke Ellington Ballroom of the Holmes Student Center. Recruiter setup occurs from 9:30 until 10:30 a.m.
Included in your registration is one table, two chairs, a continental breakfast, lunch for two recruiters and parking for two vehicles. Electricity is available. Additional lunches may be purchased for $10 each and additional parking passes for $5 each; orders must be placed no later than two weeks before the fair. There are dining options located inside the Holmes Student Center. CEET is not responsible for tickets that guests may incur for campus parking violations.



If you wish to pay by check, please contact Jelmir Atkins by email or at 815-753-1278. Once registered, you will receive an email confirmation of your registration and detailed information regarding the fair.
EVENT DETAILS
What:
NIU College of Engineering & Engineering Technology Spring Job and Internship Fair

When:
Thursday, February 22, 2018
10:30 a.m. - 3 p.m.
Price (Per Table):
$350 for companies
$175 for non-profit companies

Contact Information:
Dana Herra
Engineering Building 346
Northern Illinois University
DeKalb, Illinois 60115
815-752-8211
dherra@niu.edu
When:
Thursday, 02/22/18 at 9:30am - 3:00pm | iCal
Where:
Duke Ellington Ballroom (Holmes Student Center)
340 Carroll Ave
DeKalb, IL 60115 USA
[ Get Directions ]