The Hull Family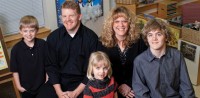 After being remembered in the estate of their great aunt, the Hull family was faced with a decision: how could they use the gift to do something meaningful for their family?

The answer came to Brian and Betsy in the car: give to the place that lovingly cared for their three preschool children – the NIU Campus Child Care Center.
Thanks to the Hulls, the center has a set of outdoor bongo drums. Thanks to the center, the Hull family has three children who were given a great start to their education and a great lesson on philanthropy.