Barbra Thomas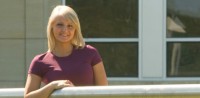 Recent grad ready to give back
"Everything I learned at NIU is paying off…BIG time. I am working SO hard … and I LOVE it. After I graduated, I landed a sales job with the Chicago Office Technology Group, and I can't even tell you how much I've grown since.

So often I am reminded of something my professors taught me, and when I encounter those lessons in the real world, I just have to smile. I'm grateful now for every book I ever had to read…every assignment I had to write…every hard question I had to answer.

I'm even more grateful for the scholarship support that made my education possible. I had no idea how I was going to pay my last tuition bill. When I got the letter in the mail telling me that I had been selected as a recipient of the Herb Eldean Scholarship, I was so relieved! I was able to pay my bill on time, thanks to that scholarship. Now every morning when I head off to work, I think about the generosity that has given me the opportunities I have today.

I'm thrilled to be in a position to return the favor and give back to NIU students through the Annual Fund.

I know my support will make my donor, Herb Eldean, proud!!"